Americans are increasingly likely to feel anger towards part of their government and this week's Economist/YouGov Poll finds much of that anger directed towards Congress.

51% say they are angry at Congress, up from 43% in early 2010. Just 9% are satisfied, down from 16% last year.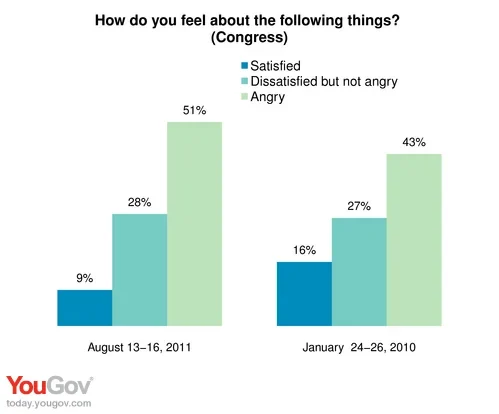 Anger at President Obama has also risen, although 31% remain satisfied with him. The Supreme Court has seen no significant rise in anger in the last year. 21% are angry at the Court, but even more, 28%, say they are satisfied with the Court.

There are clear policy causes. Four in ten are still angry at the health care reform legislation; 51% are currently angry at the handling of the financial crisis. And the debt ceiling debate and its increase makes 36% of Americans angry.
Economist/YouGov poll archives can found here.
Photo source: Press Association