A recent poll indicates that two-thirds of Miami denizens think local authorities address their city's needs
As various elections occur across the country today, including a mayoral election in Miami, recent data from YouGov Omnibus shows that 67% of people living in Miami-Fort Lauderdale say their city government is generally responsive to addressing the needs of their city. This percentage makes them the most likely group of citizens out of the nation's 20 most populated metro areas to agree with this outlook.
Following just behind Miami-Fort Lauderdale comes Minneapolis-St. Paul, where 66% of its residents report that their city government is either "very responsive" or "somewhat responsive" to the needs of their city. The battle for third place is a three-way tie between Orlando-Daytona Beach-Melbourne (64%), Boston (64%), and Dallas-Fort Worth (64%).
Metro areas least likely to agree that their local government addresses their city's needs include Seattle-Tacoma (54%), Chicago (55%), Houston (55%), and Atlanta (55%).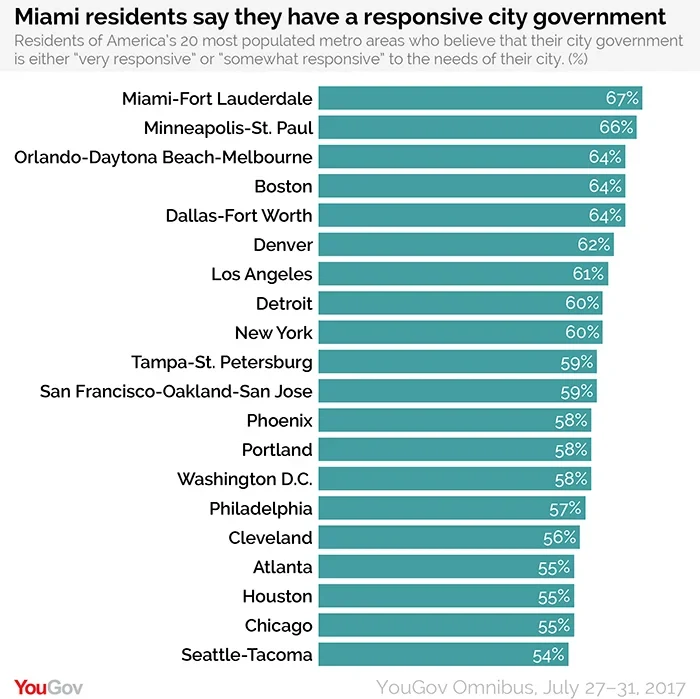 Methodology: Total sample size was 4,019 US adults aged 18+ (i.e. approximately 200 people per metro area). Interviews were conducted online between July 27-31, 2017. All figures have been weighted and are representative of the adult population of each metro area.
Photo: Getty