59% of Republicans now say false accusations of sexual assault are a bigger problem than sexual assaults that go unreported or unpunished
Roy Moore's defeat in the Senate election in Alabama Tuesday prevented Congress from having to respond to demands that a new Senator submit to an Ethics Committee investigation – something Americans overwhelmingly say they wanted should Moore have been elected. There is still a desire for punishing offenders, and Americans in the latest Economist/YouGov Poll say the resignations of Senator Al Franken and Representative John Conyers were appropriate.
But the Moore campaign – and the candidate's response to the charges – may have made Republicans more suspicious about sexual harassment claims in general.
How could the Roy Moore case change minds? It is a case that differs from the Franken and Conyers situations. Franken admitted bad behavior, while Conyers used government money to pay a former staffer who charged him with harassment. Moore did something different: he denied all the charges. Despite that denial, most adults – nationally, at least – believe Moore did in fact engage in improper sexual conduct with high school students when he was a local prosecutor.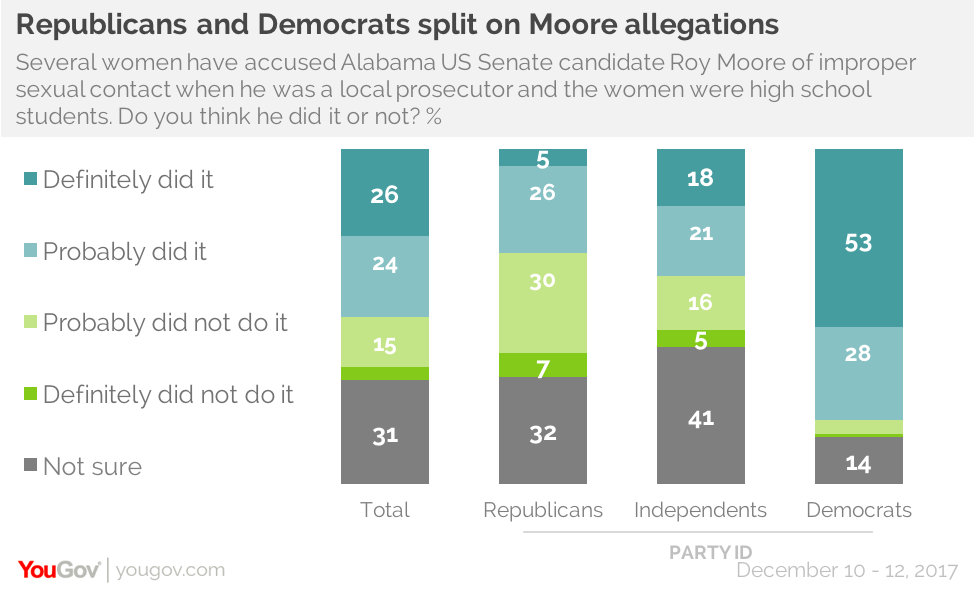 Republicans – narrowly – disagree. More Republicans agree with the majority opinion and would have supported an ethics investigation had Moore won the Senate election, but only by the narrow margin of 43% to 38%. 61% overall favored some sort of a probe, and only 18% disagreed.
What the Moore campaign may have done is make Republicans worry far more than Democrats about the problem of false accusations. In the last three weeks, an increasing share of Republicans – male and female – believed false accusations are a bigger problem than sexual assaults that go unreported or unpunished. In the last three weeks, Republican women have changed from saying unreported or unpunished claims are a bigger problem than false claims to saying the opposite. The share of Republican men, who consistently have been more worried about false reports, has only increased in the same period of time.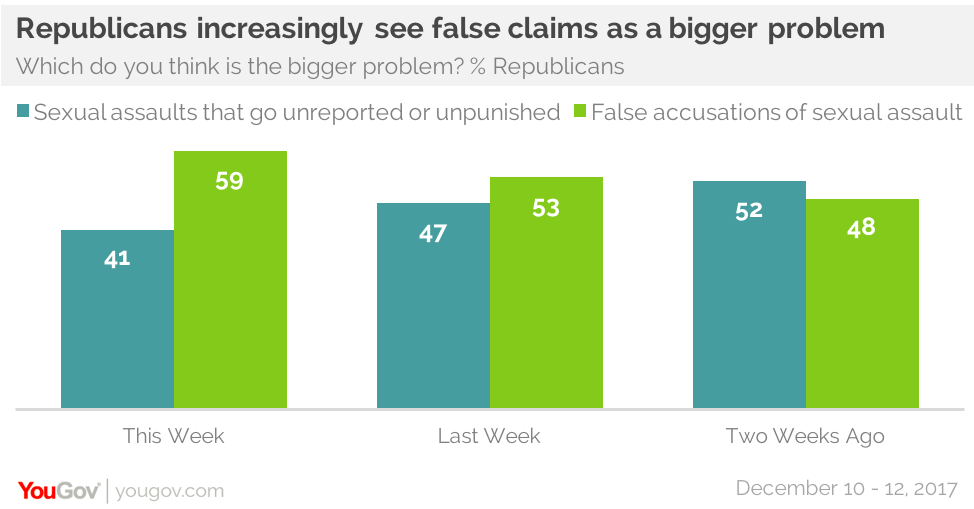 This week, 78% of Democrats and 57% of independents say unreported or unpunished cases of harassment are a bigger problem than false reports.
Those who worry about false reports are much less likely to approve of Time Magazine's choice of "The Silence Breakers" as its Person of the Year. Overall, Americans support Time's choice by two to one. But Republicans are less happy with the choice, as are those who describe false reporting as a bigger problem than unreported sexual assaults.
President Trump has also faced charges of inappropriate sexual contact. In his case, too, Americans generally think he did the things he described on the Access Hollywood tape, and overwhelmingly believe it actually was his voice on the tape. While one in four Republicans agree with the majority that Mr. Trump did the things he bragged about, nearly half do not.