But 52% of Americans think Donald Trump will pay less under the new tax plan
With the new year comes the new tax law. The latest Economist/YouGov Poll finds a little improvement in how the public sees the law: the gap between support and opposition has narrowed, with nearly as many now saying they support the law as saying they oppose it. Still, relatively few think they will personally benefit from the law.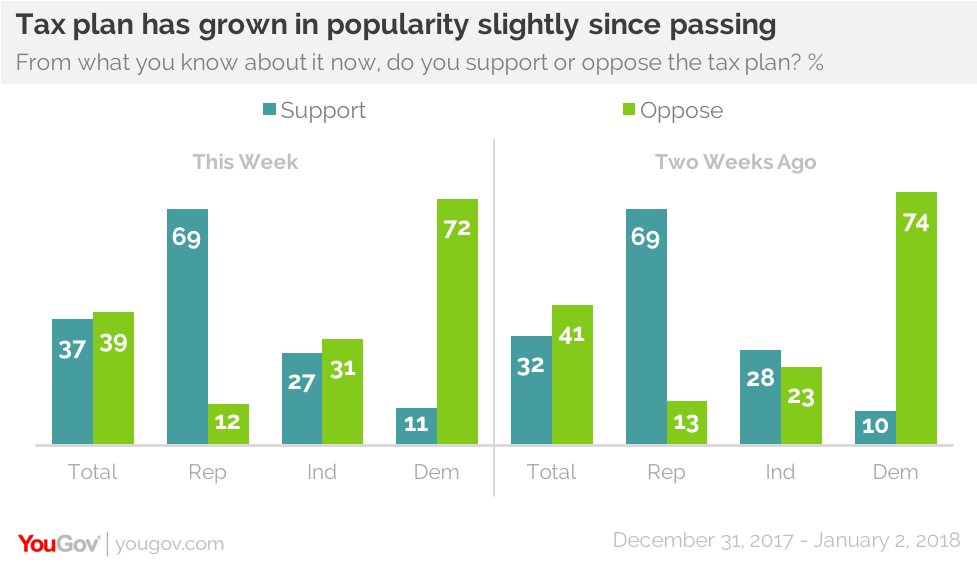 The biggest improvement has taken place among political independents. Two weeks ago, independents narrowly opposed the bill. Now they narrowly support it.
A few more people now see savings for themselves in the new tax bill than expected a tax cut before the bill became law. However, there remains a lot of skepticism. A majority say they expect no change in their tax bill – or that they may even pay more. Majorities expect the bill will benefit wealthy individuals, including President Trump, while just one in five say they personally will benefit from lower tax rates.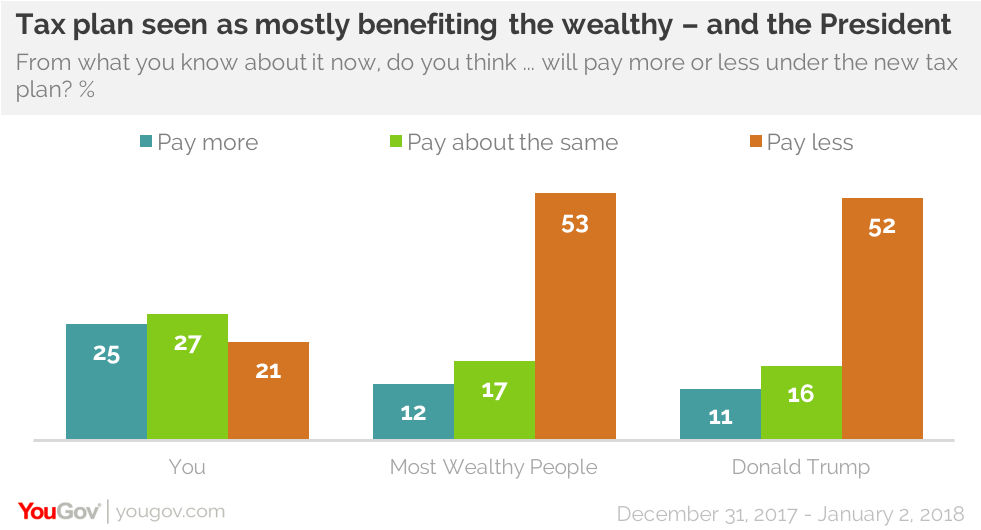 Two weeks ago, just 16% expected the tax bill to reduce their own taxes.
One major change in the bill is the doubling of the standard deduction, which should reduce tax payments for those who file their taxes without itemizing. However, there is not much difference in the expectations for the new bill between those who itemize and those who take the standard deduction. Among both groups, as many said they expect their taxes to go up as expect them to go down.
Approval of the President's overall handling of taxes remains low: this week, 38% approve and 47% disapprove. That's not much different than it was before the bill was passed, and is similar to the President's current overall approval rating.
One issue that hasn't gone away is the question of President Trump's own tax returns. In the middle of the 2016 campaign, Americans in the Economist/YouGov Poll wanted him to release them, which as of yet he has not done - making him the only president in four decades not to do so. The public – except for Republicans -- still wants to see them.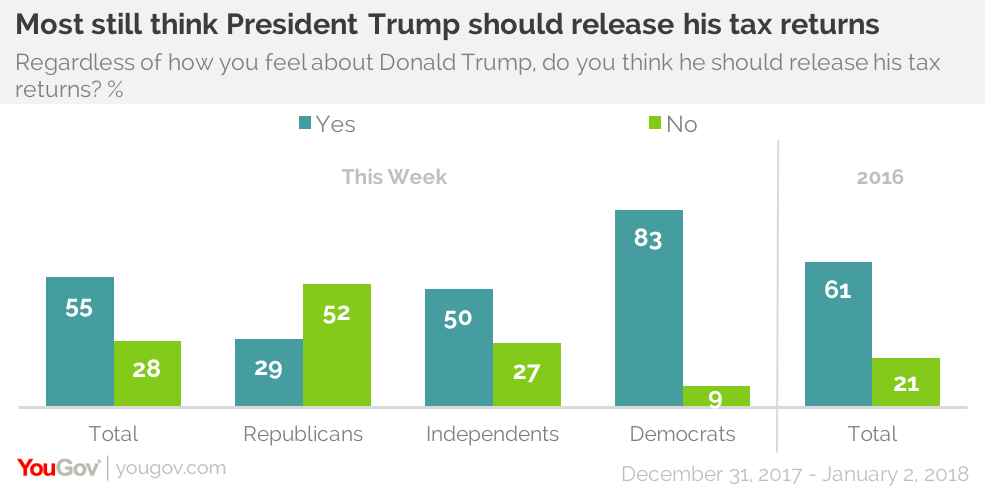 In 2016, there was a bit more desire for then-candidate Trump to release his returns. Then, as Trump was about to clinch the GOP nomination, Republicans were evenly divided on whether or not he should release his returns. Now, nearly twice as many Republicans think he should not release his returns as say he should.