70% of Republicans think President Trump is more honest and trustworthy than Steve Bannon
Despite the publication of an extremely negative book, and the re-emergence of a campaign critic, Republicans are sticking with Donald Trump. In the latest Economist/YouGov Poll, they are judging many other Republicans by how they are working with (or against) the President. While the President's overall approval rating remains at 38% overall, 83% of Republicans approve of how he is doing his job, just about the same percentage of Republicans who said that at the start of the Trump Presidency.
The President clearly has "won" among Republicans – beating back the criticisms of his former chief strategist Steve Bannon. Bannon, who was fired last August, was quoted in Michael Wolff's book Fire and Fury as attacking the President's ability to serve, as well as several members of the President's family. Even after Bannon was fired, Republicans were divided when they judged Bannon. Now, they have definitely turned negative.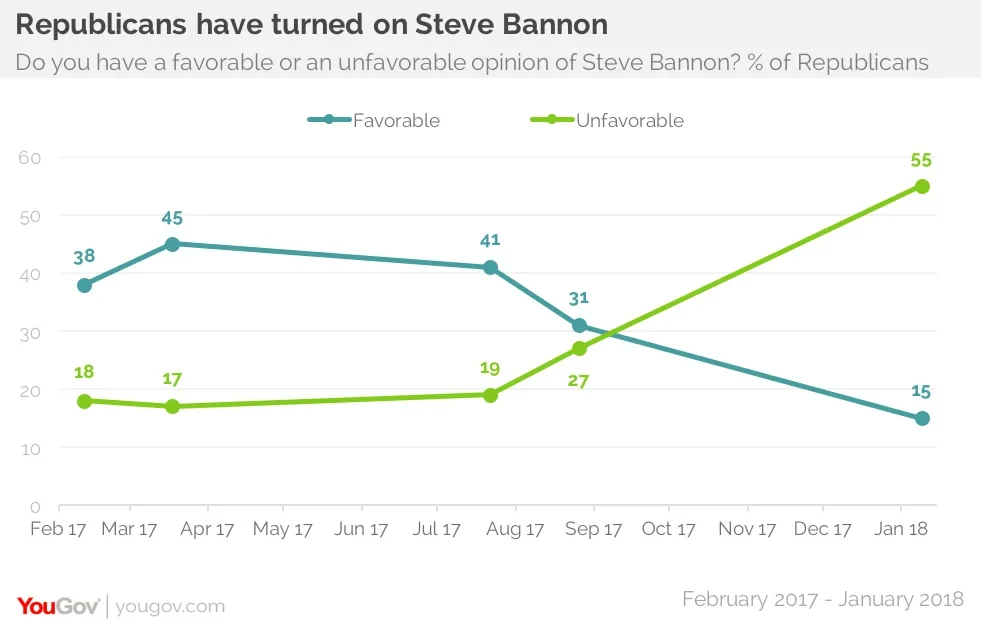 The public as a whole never liked Bannon. Throughout 2017, about twice as many held an unfavorable view of Bannon as had a positive one.
By more than five to one, Republicans now approve of Bannon's firing. As for his remarks to Michael Wolff, Republicans clearly don't find Bannon credible. Just 8% of Republicans think Bannon is honest and trustworthy (as do 8% of Democrats). And Republicans overwhelmingly say it is Trump who is the more honest and trustworthy person.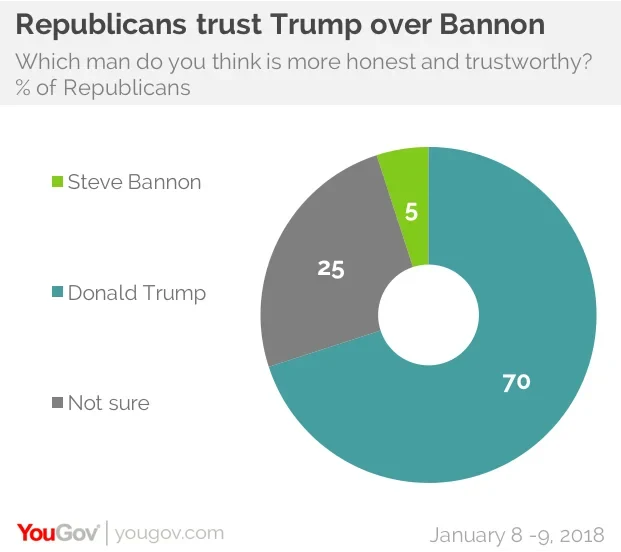 Most Democrats and independents don't choose either the President or his former strategist when asked this question, perhaps not all that surprising. Only 5% of Democrats and 27% of independents regard President Trump as honest, compared to two-thirds of Republicans who say this.
There is at least one Republican Trump critic who remains popular with the party rank and file, though perhaps not as popular as he was with them when he challenged President Barack Obama in 2012. A majority of Republicans have a favorable view of former Massachusetts Governor Mitt Romney, who is now considering a run for a U.S Senate seat in Utah when Senator Orrin Hatch retires.
However, a third of Republicans have an unfavorable view of Romney. Even more than 40% of Republicans who supported Donald Trump during the GOP primaries dislike Romney. Last March, in the heat of the campaign, Romney called then-candidate Trump a "phony" and a "fraud."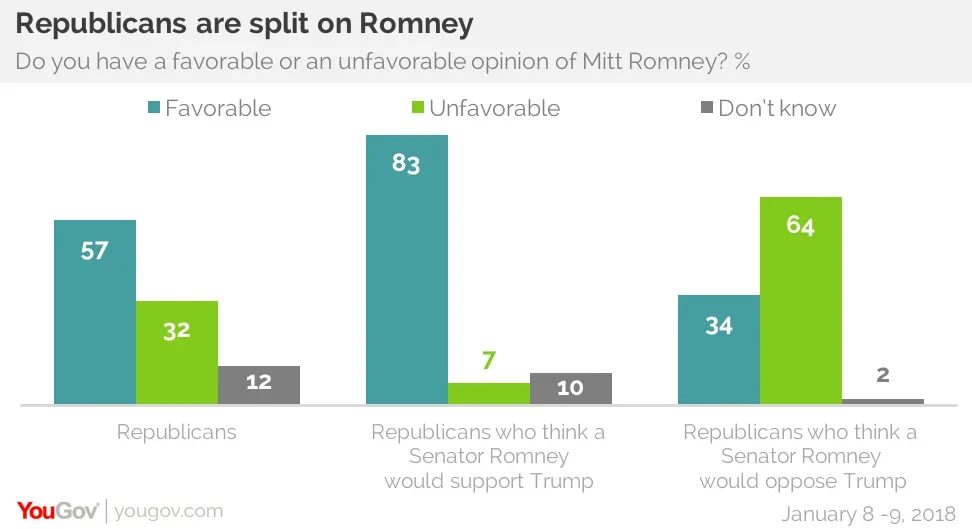 Republicans aren't all that sure that Romney should run for Hatch's seat. In part, it appears it is because they are not sure he would support the President. In the poll, 34% of Republicans say a Senator Romney would support the President, and 38% say he would oppose Trump. Those who expect Romney would support President Trump want him to run – and have a favorable view of Romney. Those who think Romney would oppose the President don't think he should run – and don't like him.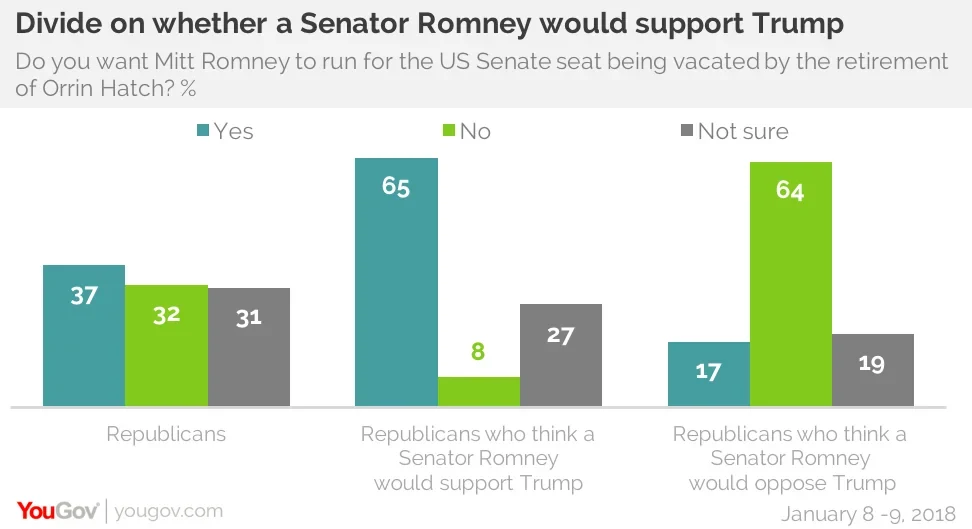 Two in three Republicans have consistently said in Economist/YouGov Polls they want the President to run for re-election in 2020. This week 66% of Republicans say that. And most Republicans also don't want to see him challenged in the GOP primaries either. One in four would like some other Republicans to challenge the President, and that group of Republicans is much more likely to worry that a 2020 nominee Trump would lose the general election.
Overall, nearly as many Republicans think the President is likely to lose in 2020 as he is to win. A majority of the public overall believe he will lose.