Republicans are nearly twice as likely to have a favorable view of Justice Anthony Kennedy now than they were in 2015.
Mr. Dooley, a fictional Irish immigrant bartender-philosopher invented in the late nineteenth century by Chicago journalist Finley Peter Dunne, once said "The Supreme Court follows the election returns." The latest Economist/YouGov Poll shows how public opinion about the Court follows Court decisions, as Americans change their minds about whether they like the Court or not, depending on what it says.
The poll also makes clear the real impact of elections. After Justice Anthony Kennedy's retirement from the Court, President Donald Trump has the opportunity to make his second appointment, and move the Court in the direction he wants it to go.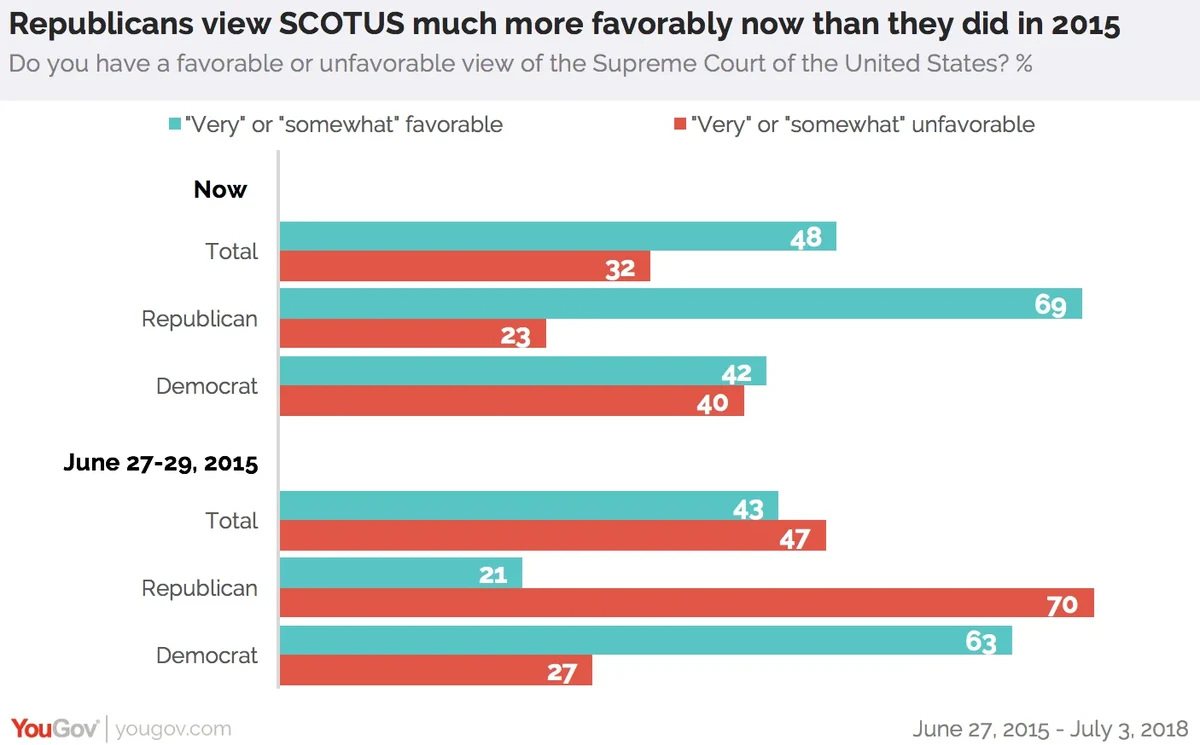 So it is no surprise that in this week's poll, Democrats are divided when it comes to their feelings about the Court, while Republicans are overwhelmingly favorable. That marks a stark contrast to public opinion in June 2015, just after the Court ruling in Obergefell v. Hodges, requiring all states to recognize same-sex marriages. Then, Democrats expressed positive views of the Court, while Republicans were overwhelmingly negative. By May 2018, Republicans once again had a favorable view of the Supreme Court, 54% to 26%; now they are even more positive.
The same-sex marriage decision is one that continues to trouble Republicans. Democrats and independents would not want to have this decision overturned; Republicans, by 61% to 27%, would. Americans overall would not overturn Obergefell v. Hodges.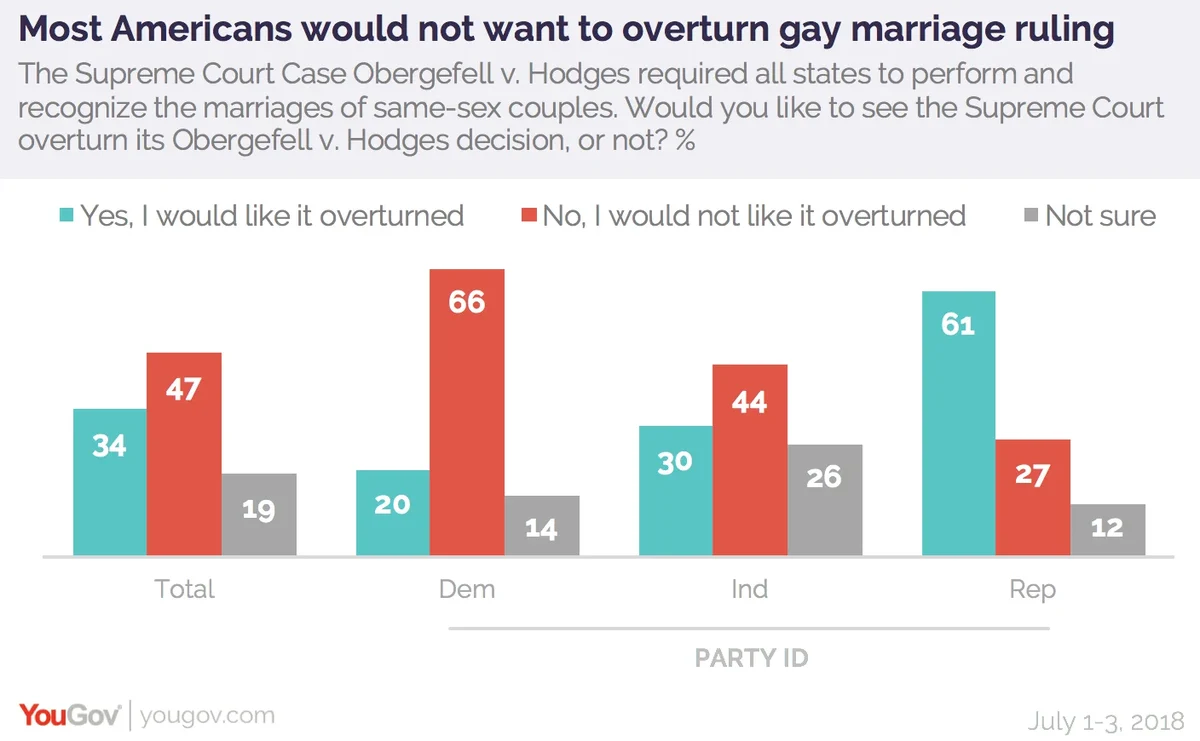 The Court opening caused by Kennedy's retirement matters to many, even though one in four aren't quite sure what ideology Kennedy's replacement should have. Two-thirds of Americans say the choice of the next justice is important to them. They also believe that agreement on things like abortion, affirmative action, immigration and voting rights by the new appointee is important. While Americans accept the right of the Supreme Court to throw out laws it thinks are unconstitutional, there are many who believe the Court favors some groups over others and is too mixed up in politics.Party differences are minimal on these items.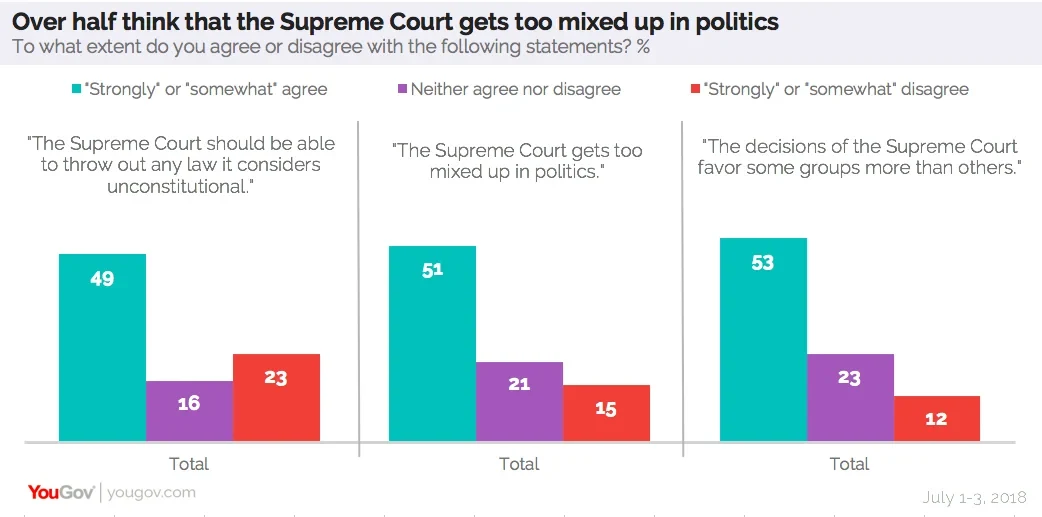 Kennedy himself gets positive reviews from the country, though only 56% rate him at all. Democrats are divided; Republicans see him favorably by more than three to one. This is perhaps a reaction to his retirement; three years ago, after Kennedy cast the deciding vote in the same-sex marriage decision, Democrats viewed him favorably by two to one, while Republicans took a very different view. In 2015, 24% of Republicans had a favorable opinion of Kennedy, while 36% were unfavorable.
Many Americans have no opinion about individual Supreme Court justices. The most well- known are Clarence Thomas (whose confirmation hearings in 1991 received massive television coverage), and Ruth Bader Ginsberg, (whose moniker "the Notorious R.B.G." has made her famous) are the best known.
Both Thomas and Ginsberg get generally positive – but partisan – reviews.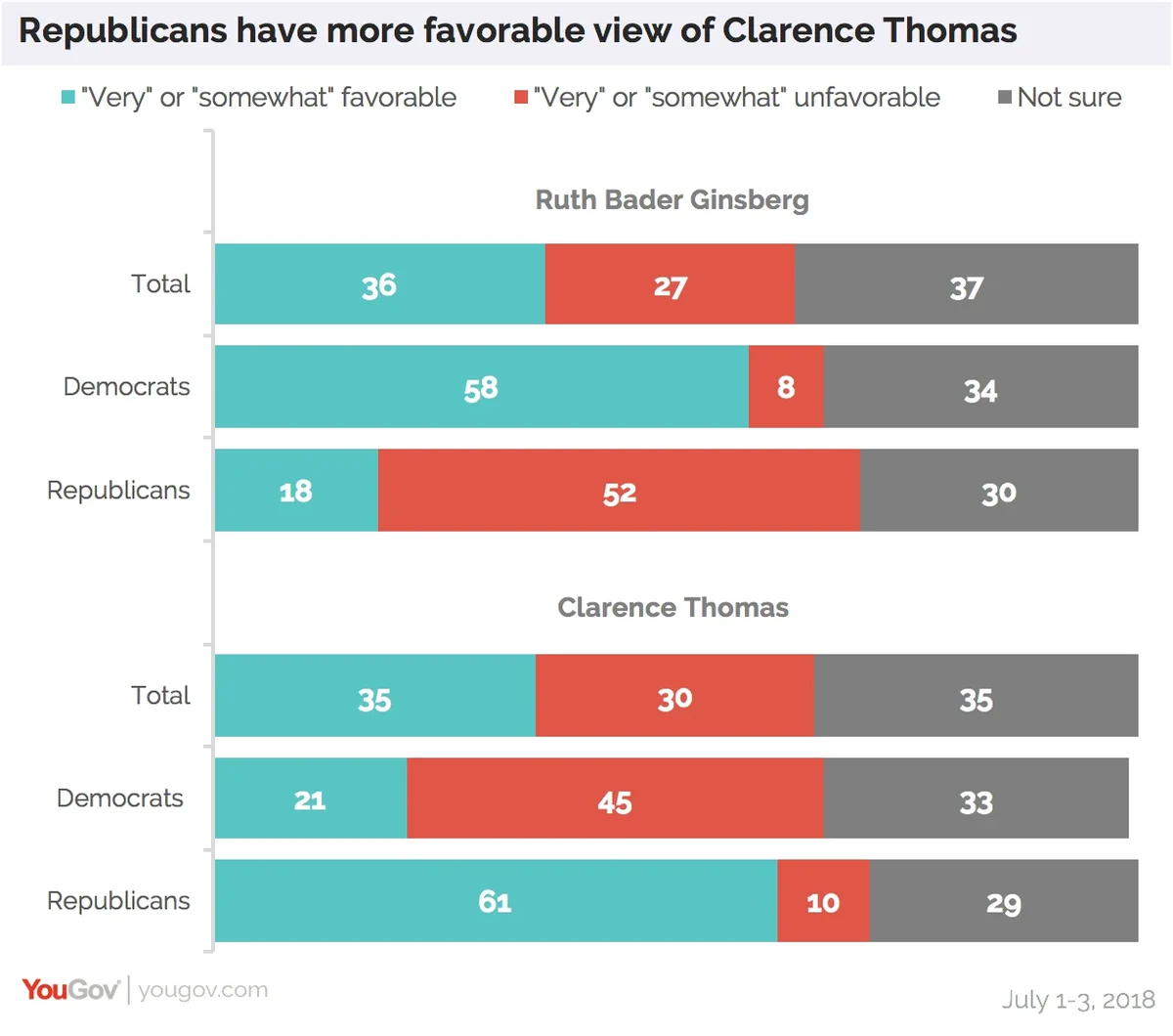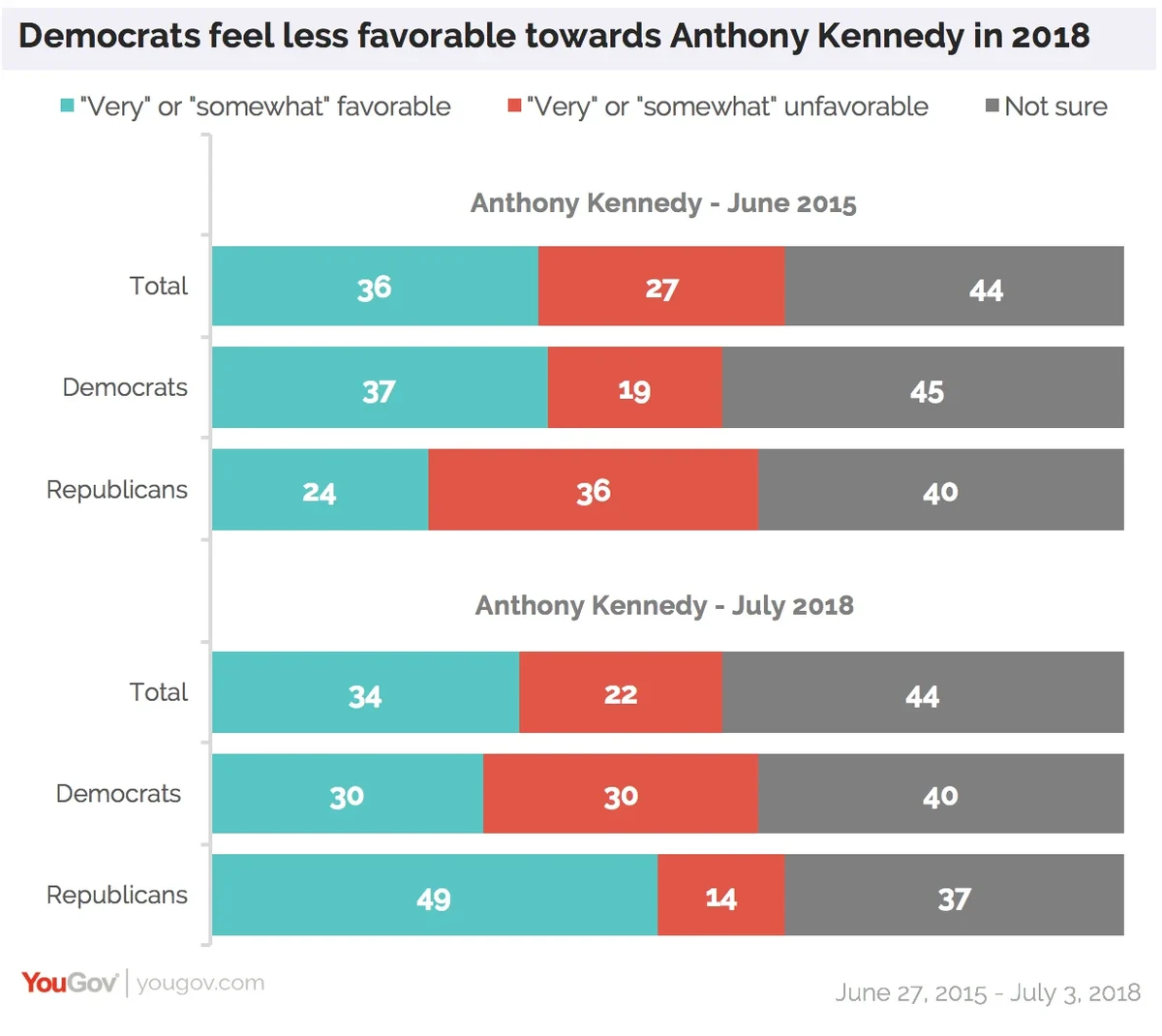 The President's appointment is expected Monday. The replacement to Justice Kennedy's central position as the deciding vote on many cases means that there could be change, and some existing decisions could be overturned. The public generally doesn't want to have the same-sex marriage decision overturned, and they also reject overturning Roe v. Wade, the 1973 decision setting up abortion rights, depending on the stage of a woman's pregnancy.
There is, however, a closer division when it comes to whether or not to overturn an important affirmative action decision made in 2003, and on a 2013 decision that eliminated preclearance of new voting laws in districts with a previous history of racial discrimination. In both cases, a narrow plurality opts for stability over change.