And most don't think the President's tweets represent government policy
Americans aren't sure what to make of President Trump's tweets. In a 24-hour period last week, he attacked Los Angeles Lakers star Lebron James' intelligence (along with that of CNN anchor Don Lemon), then discussed the benefits he sees in tariffs, supported GOP candidates (and a book), and wished the Coast Guard a happy birthday!
The YouGov TweetIIndex has tracked public response to what the President has tweeted. This week, the Economist/YouGov Poll tried to understand how Americans view those tweets in more detail. The anti-LeBron James tweet was described in the TweetIndex as "terrible" by 46%, nearly half the public. It had the fifth lowest overall score (on a 5-point scale that went from "great" to "terrible") in the more than 3400 measured by the TweetIndex since early in the Administration. Democrats ranked it as the worst.
Six in ten Americans in the latest Economist/YouGov Poll think the President's overall tweeting is inappropriate (including one-third of Republicans). That's been what people have said in polls conducted throughout the administration. There is also a lot of disbelief: only one in four say they believe most of what the President says in his tweets (although they think the President does believe what he says).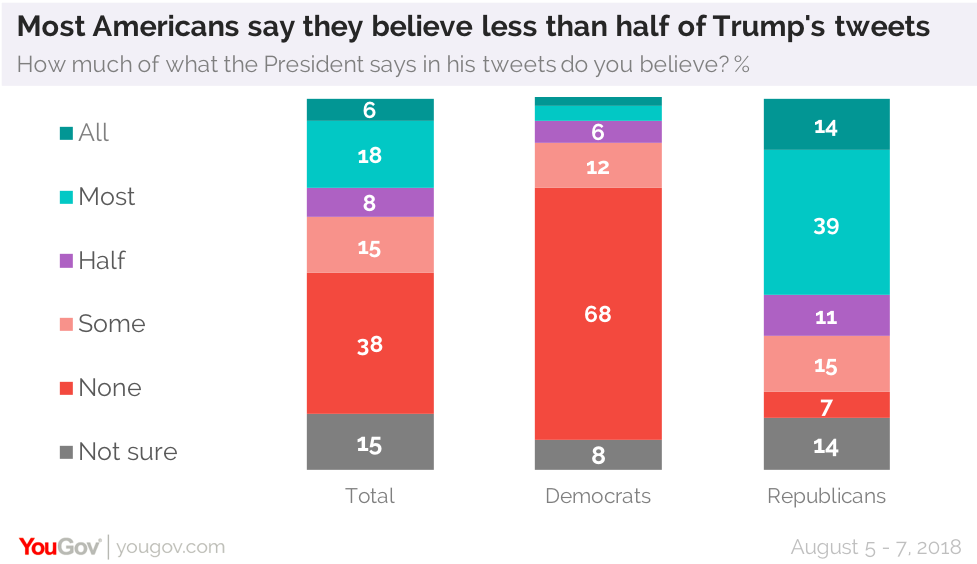 The level of disbelief is extremely high among both Democrats and independents; two-thirds of Democrats and a third of independents say they believe "nothing" in the tweets.
Throughout the Trump Presidency, only about a third of respondents in Economist/YouGov Polls say the President is "honest and trustworthy." So perhaps public questioning the veracity of his tweets may not be surprising. There are many partisan differences in how Americans respond to poll questions, but it is clear that there are tweets that even Republicans say cross a line.
The distinction people make is between policy criticism and personal attacks. Presidential congratulations to groups and individuals are seen as acceptable by those in both parties; attacks on the characteristics of individuals are not. Insulting someone's intelligence does not go over well – Presidential tweets containing attacks on MSNBC anchor Mika Brzezinski's intelligence received even lower scores in the TweetIndex, especially with independents and Republicans.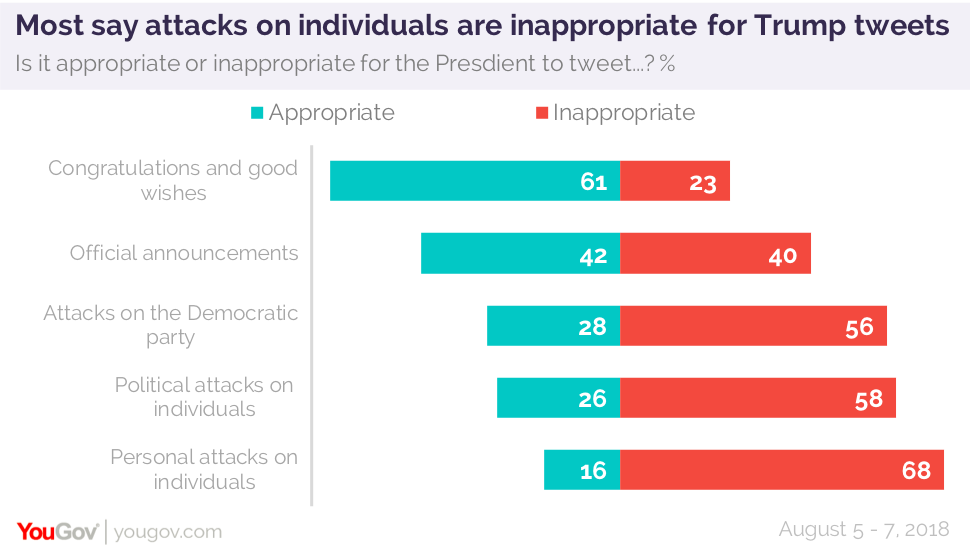 Official announcements by tweet and policy criticism show partisan differences: Republicans find them appropriate, Democrats do not. However, more than a third of Republicans are conflicted when it comes to using tweets to criticize individuals because of their positions. A majority of Republicans have no problems with attacks on the Democratic Party.
Those policy criticisms and the use of tweets to state government decisions (or Presidential firings) raise questions of whether they are official government policy. That's not what the public thinks, though Americans believe that the tweets should be taken seriously (by 45% to 38%).
When asked directly whether the tweets represent government policy, by nearly three to one, Americans believe they do not. Democrats think this by three to one, and by two to one Republicans agree.