Americans frequently express negative views about politicians: they have unfavorable views of their former Republican President and Vice President; they split on their assessment of the current officeholders. And even former New York City Mayor Rudy Giuliani, who was lionized after the 9/11 terrorist attacks, now gets more muted favorable ratings. But this week's Economist/YouGov Poll finds two leaders most Americans rate favorably. Both have been Secretaries of State, one in the Bush Administration and one currently. Both have been mentioned as potential presidents — and one lost in the primaries to the current occupant of the office.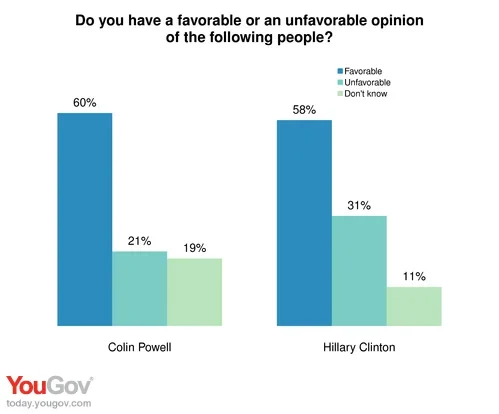 60% have favorable views former Secretary of State (and retired General) Colin Powell; 58% feel that way about Secretary of State (and former Senator) Hillary Clinton. Clinton appears to be the most popular member of the Obama Administration: favorable/unfavorable opinions of both President Barack Obama and Vice President Joe Biden are mixed at best. As for the former President and Vice President, majorities see both George W. Bush and Dick Cheney negatively. 
Do you have a favorable or an unfavorable opinion of the following people?
| | Favorable | Unfavorable | Don't know |
| --- | --- | --- | --- |
| Barack Obama | 46% | 46% | 8% |
| Joe Biden | 39% | 41% | 20% |
| George W. Bush | 37% | 55% | 8% |
| Dick Cheney | 26% | 57% | 18% |
| Condoleezza Rice | 46% | 32% | 21% |
Condoleezza Rice, who followed Powell as the Bush Administration's Secretary of State, gets positive ratings, though they are not as high as those received by either her predecessor or by the woman who followed her in office. 
As for Giuliani, who this week was the choice of 9% of registered voters who say they will participate in a Republican primary or caucus next year, 44% hold favorable views of him. But 34% see him unfavorably. A majority of Democrats dislike the former Mayor. 
Economist/YouGov poll archives can found here.
Photo source: Press Association