Texas Governor Rick Perry is definitely now the frontrunner for the GOP nomination: in the three weeks since the announcement of his candidacy, he has soared to the top of the list for registered voters who say they will participate in a Republican primary or caucus next year, and in this week's Economist/YouGov Poll, he leads former Massachusetts Governor Mitt Romney by more than two to one — 29% to 13%.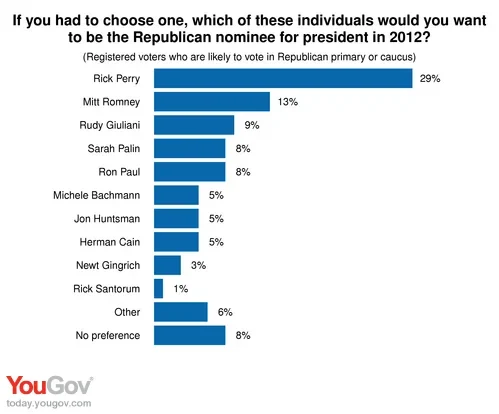 Perry has maintained a lead over Romney in this poll since the Texan announced his candidacy. Support has come mostly from Tea Party adherents, but this week Perry holds clear leads with Republicans voters who identify with the Tea Party movement, and with those who do not. Minnesota Congresswoman Michele Bachmann and Romney run second and third among Tea party adherents; Romney and former New York Mayor Rudy Giuliani are the second and third choices for those Republican voters who are not Tea Party identifiers.
If you had to choose one, which of these individuals would you want to be the Republican nominee for president in 2012?
Republicans registered voters who are likely to vote in Republican primary or caucus

Sarah Palin

8%

6%

9%

Mitt Romney

13%

7%

16%

Newt Gingrich

3%

3%

3%

Michele Bachmann

5%

9%

2%

Jon Huntsman

5%

0%

9%

Ron Paul

8%

9%

7%

Rudy Giuliani

9%

5%

11%

Herman Cain

5%

6%

4%

Rick Santorum

1%

1%

1%

Rick Perry

29%

39%

23%

Other

6%

6%

7%

No preference

8%

8%

9%
Nearly one in four Republican voters favor someone who is not yet in the race. The Economist/YouGov Poll on GOP choice includes two people who have not yet made an announcement of their candidacy or non-candidacy for the nomination. Both Giuliani and former Alaska Governor Sarah Palin get significant support: 9% of Republican voters choose Giuliani, 8% Palin. 6% cite "someone else."
Tea Party identifiers are generally more satisfied with the official field of announced candidates than non-Tea Partiers are.
Economist/YouGov poll archives can found here.
Photo source: Press Association