For Women's History Month, YouGov asks Americans how much they know about historic milestones for women
Women's History Month is all about celebrating female-led milestones that shaped America's past and guide its future. Despite a national focus on women's achievements in March, new data from a YouGov Omnibus poll indicates that men are consistently more confident than women when it comes to their personal knowledge of women's history.
In 1920, the 19th Amendment to the Constitution awarded women the right to vote after the long-fought Women's Suffrage Movement. By 1972, Title IX prohibited discrimination on the basis of sex in any federally funded educational activity. That same year, Shirley Chisholm ran for president as the first black female candidate. In 1981, Sandra Day O'Connor was named the first woman to the US Supreme Court. Even more recently, a national #MeToo Movement led by women encouraged people to speak out against sexual harassment and assault.
In each category listed, men are more—or equally—confident in their awareness when compared to women. It is worth noting, however, that it is a well-known phenomenon in public opinion polling that men are more likely to say they know a lot about a topic than women. Whether or not this self-assessment is accurate is another matter.
On average, men rated themselves eight percentage points higher than women on understanding O'Connor's appointment to the US Supreme Court and the Title IX of the Education Amendments of 1972. A seven-point gap appeared for Chisholm's presidential run—an event that both genders were the least likely to consider themselves knowledgeable on. Men were seven percentage points more confident in their knowledge of the 19th Amendment. Men and women tied (61%) on their self-assessed knowledge surrounding the Women's Suffrage Movement and The #MeToo Movement (70%).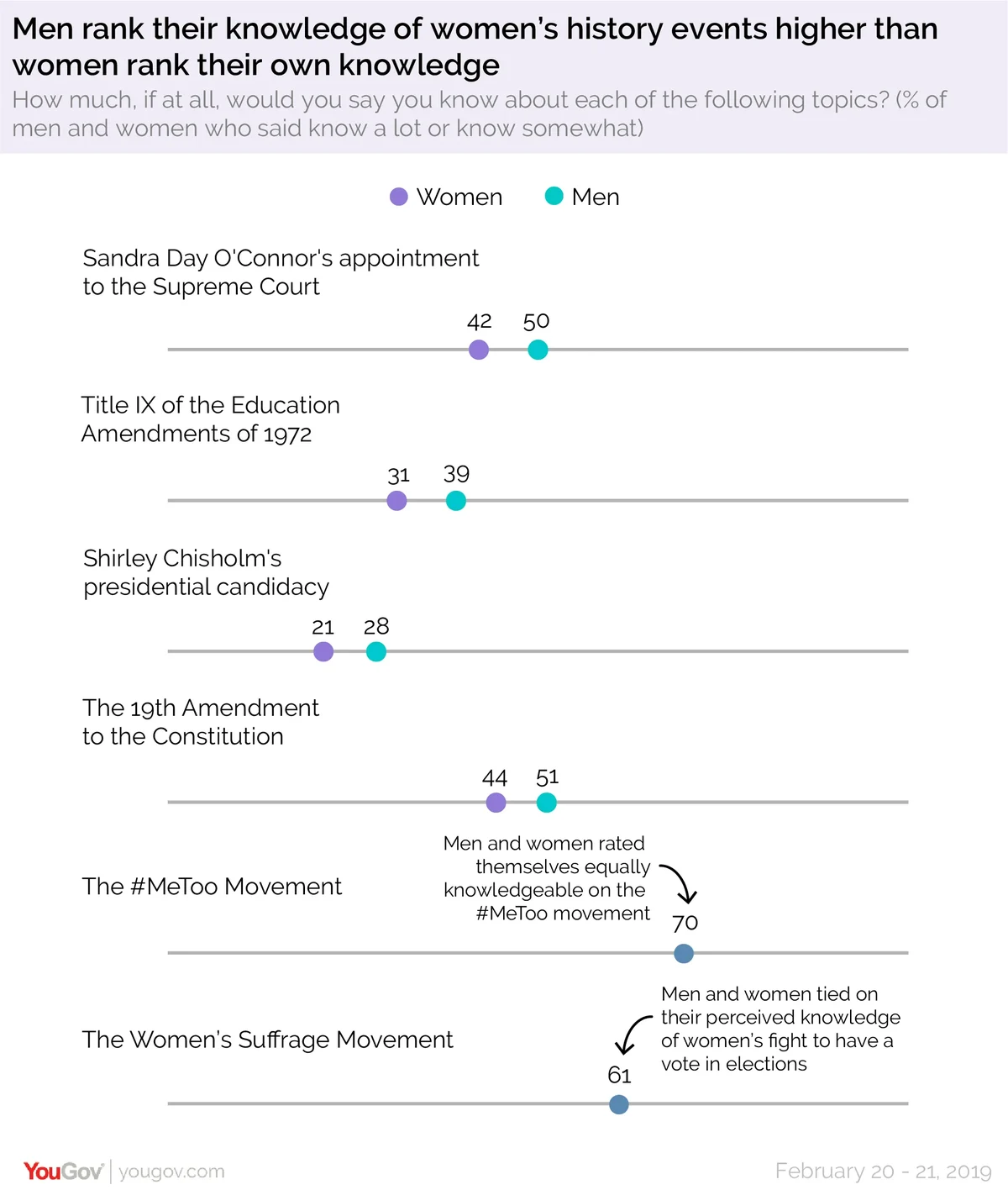 See the full YouGov results here and learn more about YouGov Omnibus.
YouGov Methodology: Total sample size was 1,241 US adults aged 18+, including 639 females and 602 males. Interviews were conducted online between February 21-22, 2019.
Image: Getty