Black women make up three of the top five female choices for influential women in US history
When people across America were asked by YouGov to choose the female leaders who they believed most significantly impacted US history, one certainty emerged: Rosa Parks' legacy remains powerful in every region, with every generation, and among all races.
YouGov Omnibus asked over 1,000 Americans to write-in their submissions for the female figures they think have made the most important impact on US history. The most-popular nominees were selected, then redistributed to a new pool of panelists so Americans could choose among the top 10. Data from that poll indicates that Rosa Parks (25%) is women's top choice as the most influential woman in US history.
Parks – the civil rights activist who refused to give up her bus seat to a white person and sparked the Montgomery bus boycott – also ranks first among men (23%), as well as among black (36%), white (24%), and Hispanic (21%) panelists.
She remains the most influential woman across US regions, with 26% of panelists in the Midwest voting for her, 25% in the Northeast, 24% in the South, and 21% in the West. Generation X was the most likely to vote for Parks (26%), followed by millennials (24%), and Baby Boomers (23%).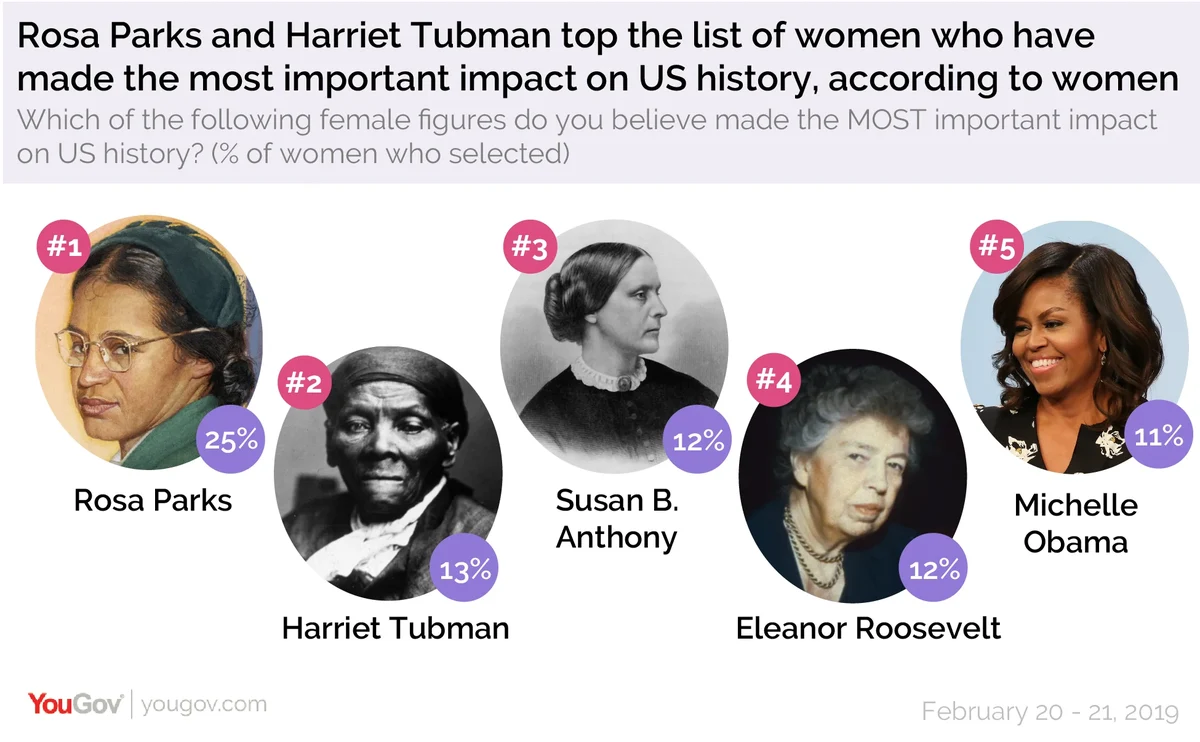 Harriet Tubman, an abolitionist who escaped slavery and helped coordinate the Underground Railroad, earned the second spot with 13% of women voting for her. Tubman's support was strongest among millennials (17%), Black Americans (23%), and in the Northeast (16%).
A leader in the movement to secure women's right to vote, Susan B. Anthony, was the top choice for 12% of women. Eleanor Roosevelt, the longest-serving first lady who worked as a delegate to the United Nations to advocate for world peace, also received 12% of the vote. Roosevelt is followed by another fellow former first lady, Michelle Obama, at 11%. Obama became the first African-American first lady when her husband, President Barack Obama, became the first African-American man to win the White House.
Following American women's top five choices for influential women in history, Associate Justice of the Supreme Court Ruth Bader Ginsburg took the sixth-highest spot (7%). The woman credited with making the first American flag, Betsy Ross, followed Ginsburg with 5% of the female vote.
Rounding out the list of influential women is Clara Barton (4%), who founded the American Red Cross. Barton received the same vote as Oprah Winfrey (4%), who remains one of America's most popular TV personalities. In the final spot, former first lady and secretary of state Hillary Clinton earned 3% of women's votes. In 2016, Clinton became the first female presidential candidate nominated by a major party.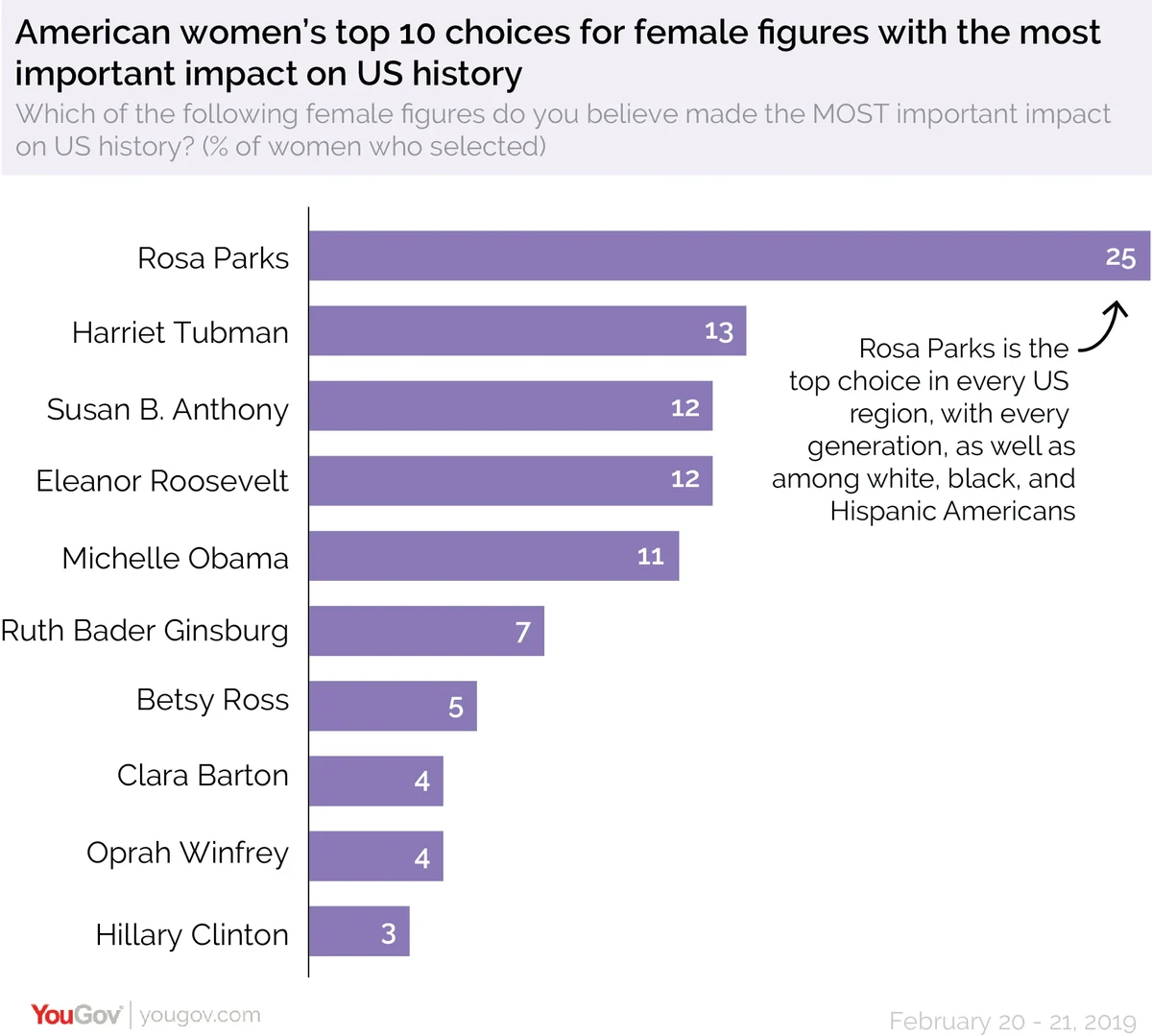 In contrast, men also gave Rosa Parks the top spot (23%) but lifted Eleanor Roosevelt to second (14%) with Harriet Tubman (12%) in third. Susan B. Anthony (11%) took the fourth most-popular spot among men, with Betsy Ross (9%) taking the fifth spot. Overall, men were more likely than women to select Betsy Ross by four percentage points, and less likely than women to select Michelle Obama by six percentage points.
When you factor all Americans together, Rosa Parks earned 24% of all votes, followed by Eleanor Roosevelt (13%), Harriet Tubman (13%), Susan B. Anthony (11%), Michelle Obama (8%), Betsy Ross (7%), Ruth Bader Ginsburg (7%), Hillary Clinton (4%), Clara Barton (4%), and Oprah Winfrey (3%).
See full results from this poll here and learn more about YouGov Omnibus.
YouGov Methodology: Total sample size was 1,241 US adults aged 18+, including 639 women and 602 men, 418 millennials (birth year 1982-1999), 302 people from Generation X (birth year 1965-1981), and 426 baby boomers (birth year 1946-1964), 221 people in the Northeast, 261 people in the Midwest, 467 people in the South, and 293 people in the West surveyed. Interviews were conducted online between February 21 - 22, 2019.
Image: Getty