Republicans approval rating of Special Counsel Robert Mueller has risen 20 points from three weeks ago
President Donald Trump has enjoyed solid support from Republicans throughout his Presidency. In the latest Economist/YouGov Poll, which went into the field just before the Attorney General released his four-page summary of Special Counsel Robert Mueller's investigation into Russian involvement in the 2016 presidential election on Sunday, 87% of Republicans approve of the way President Trump is handling his job, which is among the highest levels of approval from Republicans in the Trump Administration.
Republicans agree with the President on the investigation: like him, two-thirds of them see the Special Counsel's investigation as a "witch hunt."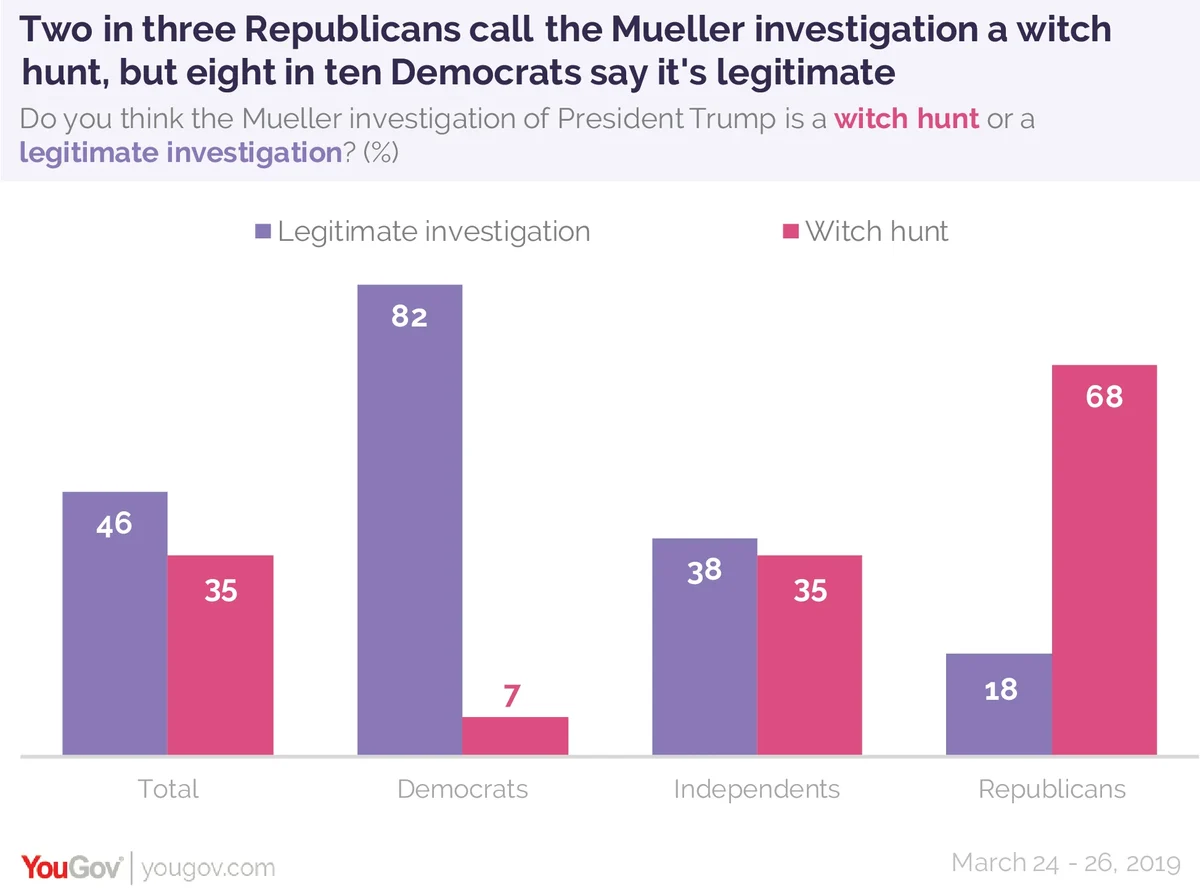 This is not a new belief. Republicans continue to disbelieve some of what the Special Counsel's investigation has determined: that Russia hacked Democratic National Committee's emails and that Russia created and spread fake news stories to influence the 2016 election. That determination led Mueller's team to indict twenty-nine Russian nationals. Three in four Republicans say they believe those actions are not true – or at least were not done to benefit the Trump campaign.
That leaves Republicans – at least for now – feeling negatively toward the Mueller investigation. Just 29% of Republicans have been following the investigation very closely, and 40% say they have followed the release of the report very closely. Meanwhile, Democrats have been much more attentive.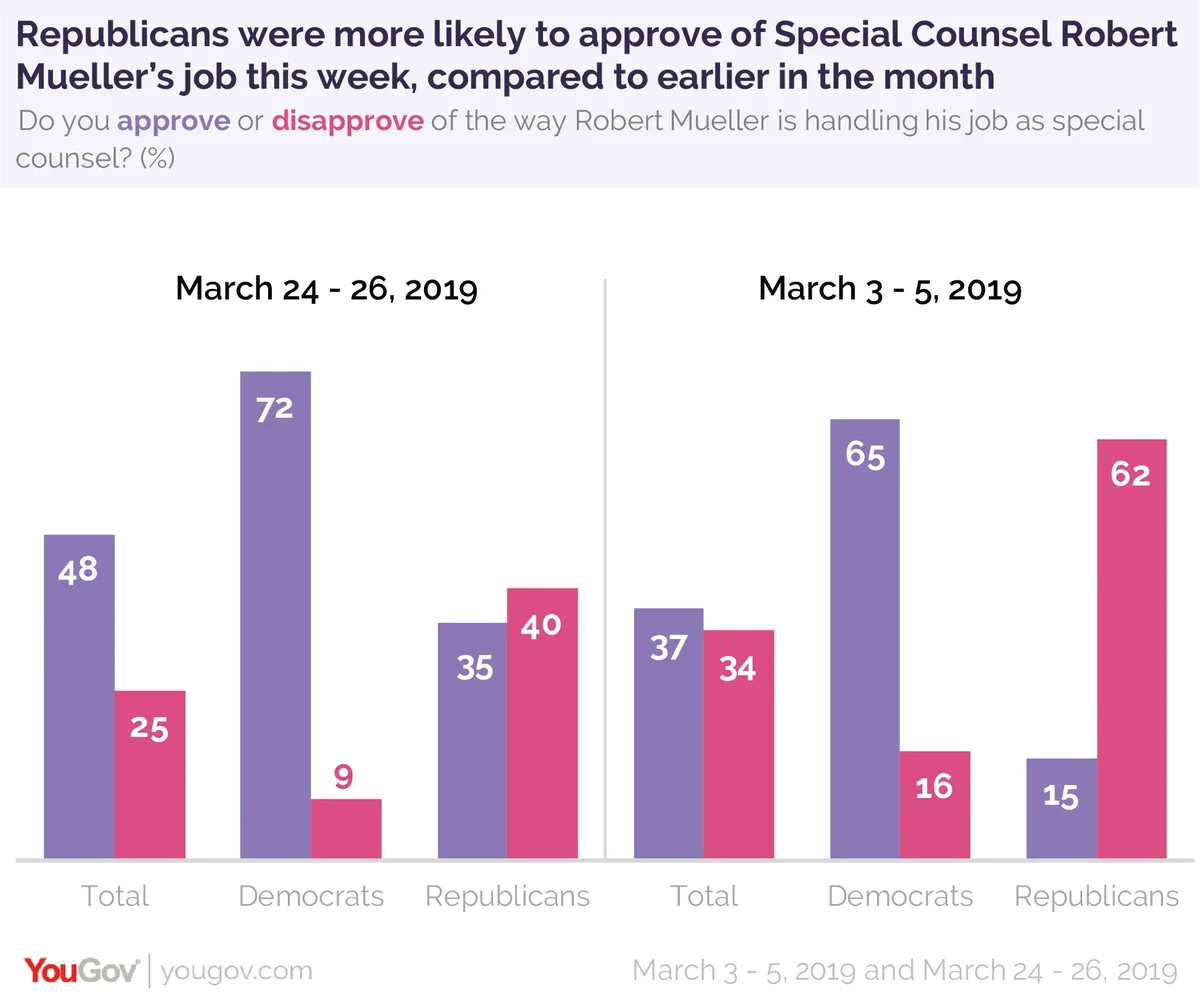 However, Republicans are less negative about Mueller today than they were three weeks ago. Though Republicans are more likely to disapprove than approve of the way Mueller has handled his job, their approval rating has risen 20 points from three weeks ago. Democratic evaluations of Mueller's job performance changed little in the same period.
There was never a massive public belief that the President himself colluded with Russia. In an Economist/YouGov Poll conducted earlier this month, just 41% said they believed the President accepted Russian help; even fewer, 31%, thought he asked for it.
One thing both Republicans and Democrats agree on is that the Special Counsel's report should be released in its entirety, though more Democrats than Republicans believe this. Eight in ten Democrats and a majority of Republicans would release the full contents of the Mueller report.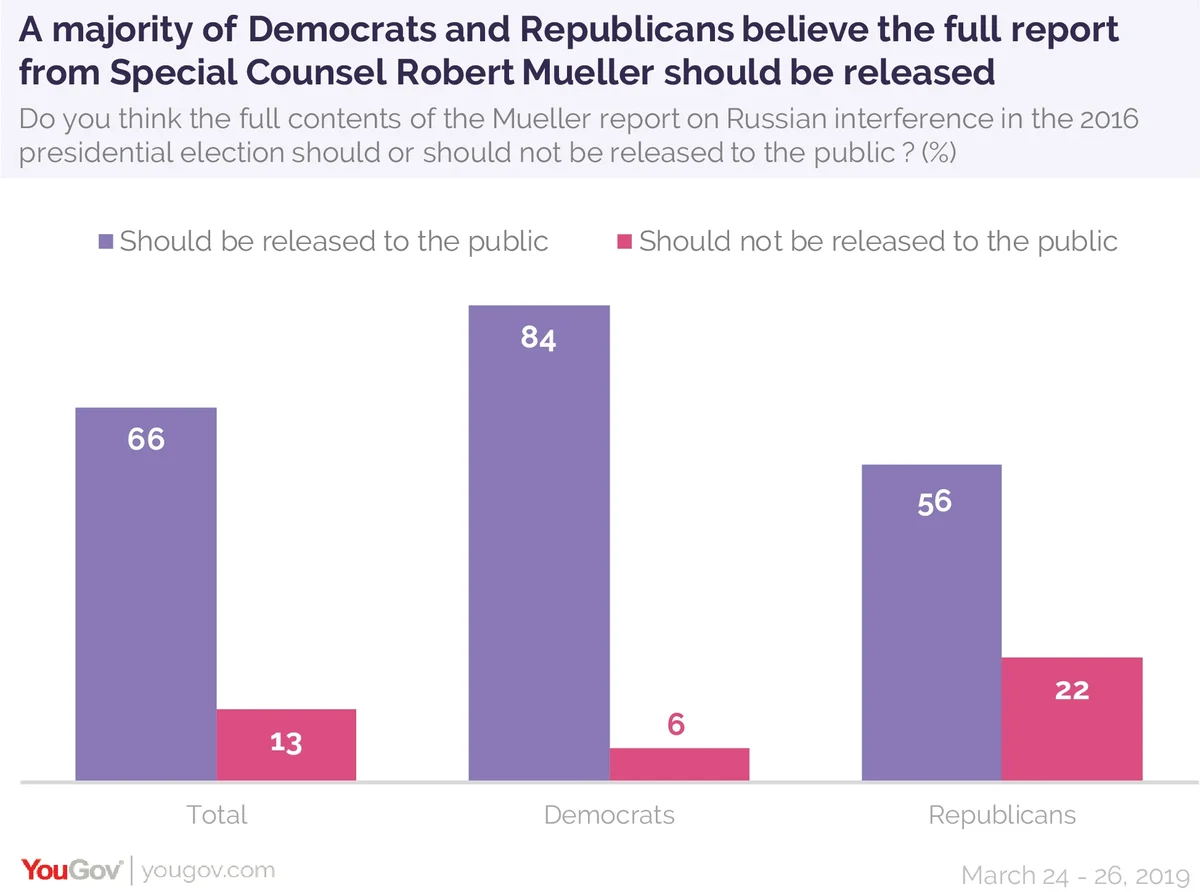 The President himself has said he is willing for the full report to be made public, even without White House review.
While the full political impact of Trump-Russia investigation can't be known for a while, as news about it becomes more complete (and perhaps a full report becomes available), the President may have been helped by it. His overall approval rating in the latest poll is 43%, up since last week's measure and higher than average. His disapproval rating, however, remains higher at 49% overall.
Related: What is terrorism? For Americans, who matters more than what
See the full toplines and tables results here.
Image: Getty