55% of Democrats believe it's likely Donald Trump will be defeated in his bid for re-election
Democrats in the latest Economist/YouGov Poll are settling in with their current presidential contenders, as favorable opinions for nearly all of them have increased in the last week. Most startling, perhaps, is the rise in the percentage of favorable opinions about South Bend Mayor Pete Buttigieg. It jumped 17 points in the last week.
Positive assessments of Buttigieg as just about as high among Democrats today as those for former Housing and Urban Development Secretary Julian Castro (who also has been a mayor – of San Antonio) and Senator Amy Klobuchar of Minnesota, and just below those of New York Senator Kirsten Gillibrand. All three of these candidates saw smaller gains in favorability this week.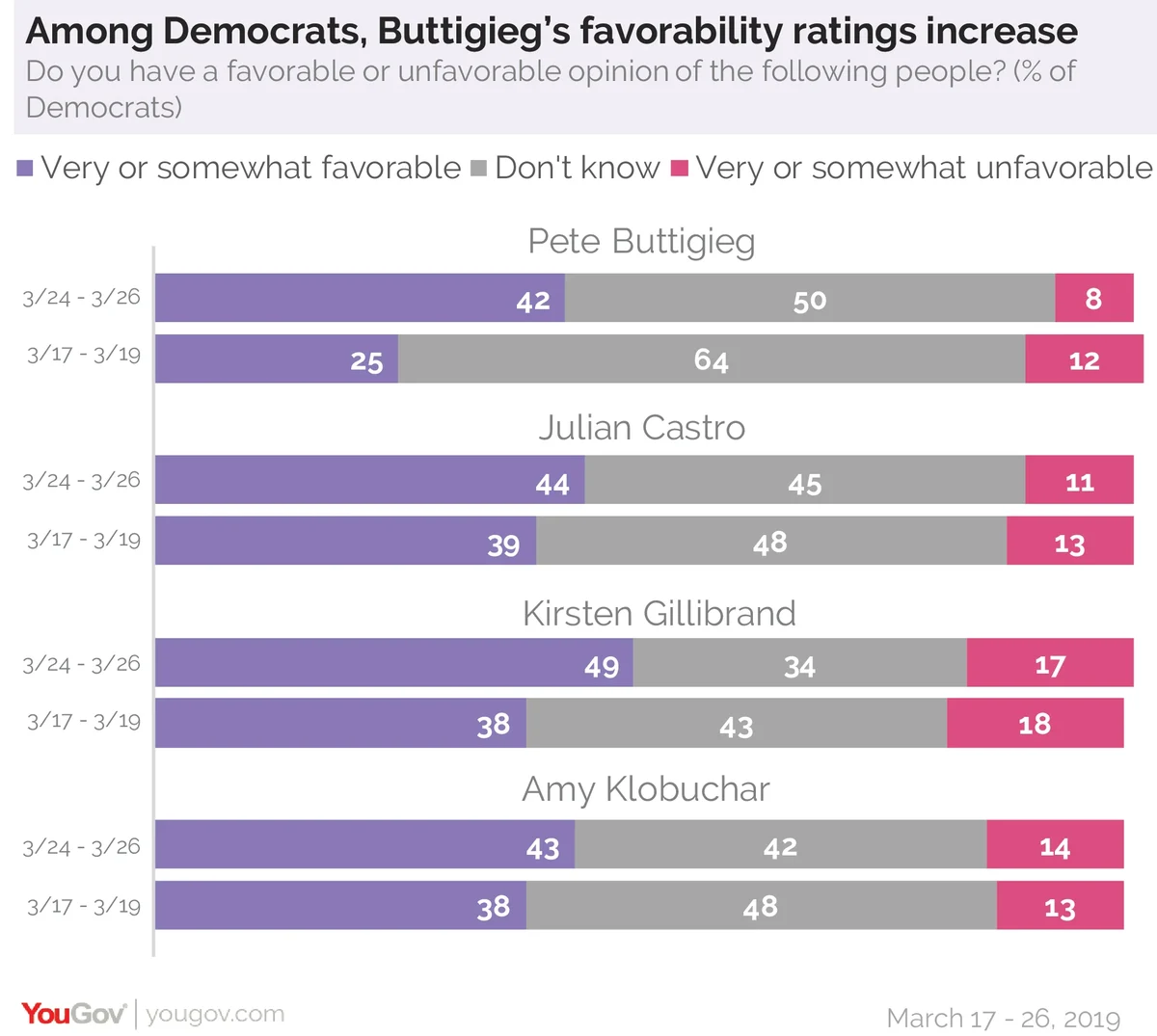 Perhaps surprisingly for the 37-year old Buttigieg, Democrats 65 years old and over are exceptionally positive: 52% of senior citizens view him favorably, only 5% do not. Half of liberal Democrats see him favorably, just 4% do not.
Former Vice President Joe Biden continues to have the highest favorable rating from Democrats (81%), followed by Vermont Senator Bernie Sanders (71%) and Massachusetts Senator Elizabeth Warren (70%). California Senator Kamala Harris, New Jersey Senator Cory Booker and former Texas Congressman Beto O'Rourke follow in favorability.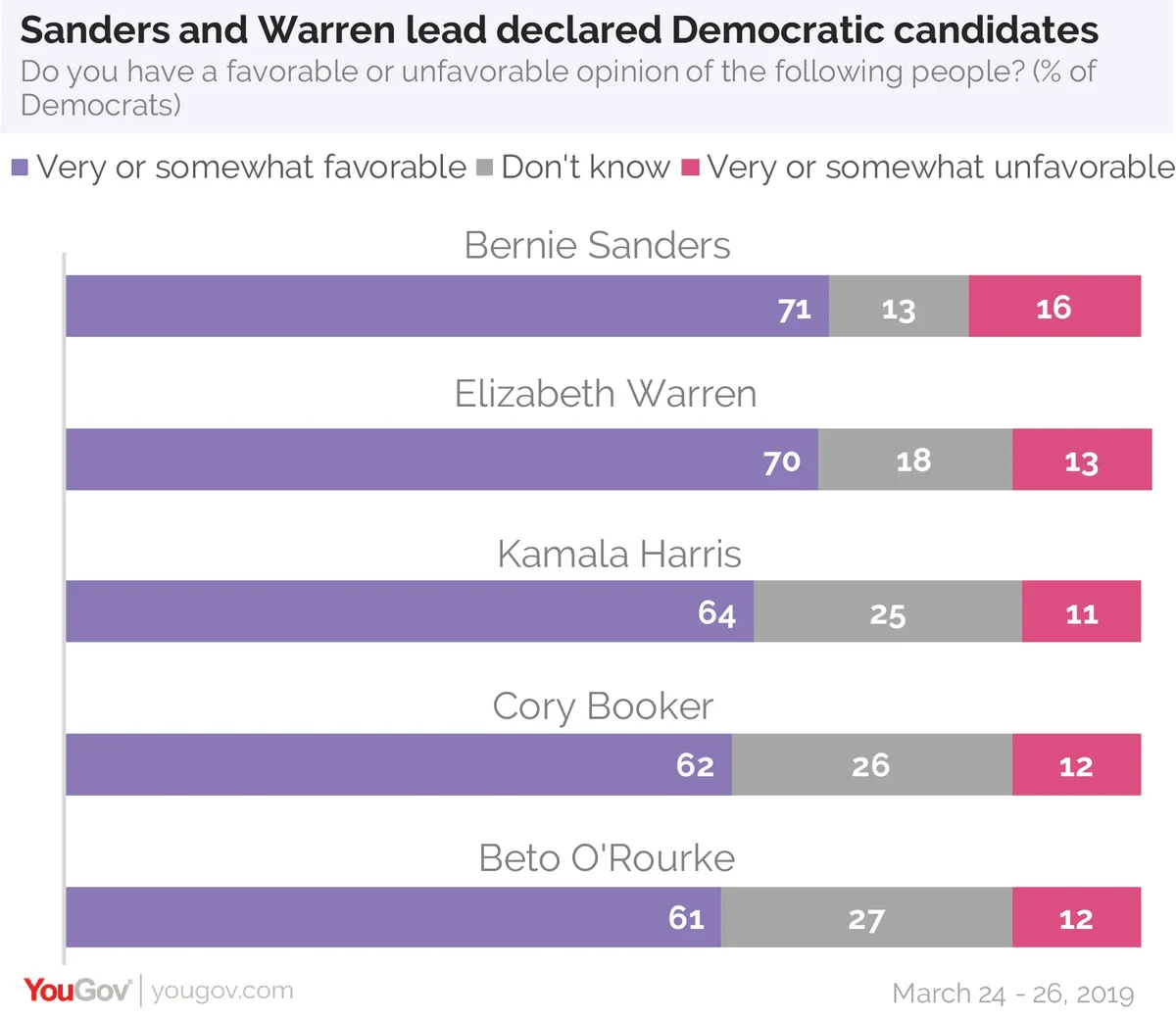 Senators Harris and Warren are the best known female candidates, and when Democrats are asked which one they like better, they seem to have a hard time choosing. Of the options, 30% name Harris, 29% Warren, and 28% like both equally. Just about one in ten Democrats don't like either one.
There are few demographic differences on this question, but there is one political one. Those Democrats who say they supported Hillary Clinton in 2016 prefer Harris; those Democrats who voted for Bernie Sanders favor Warren.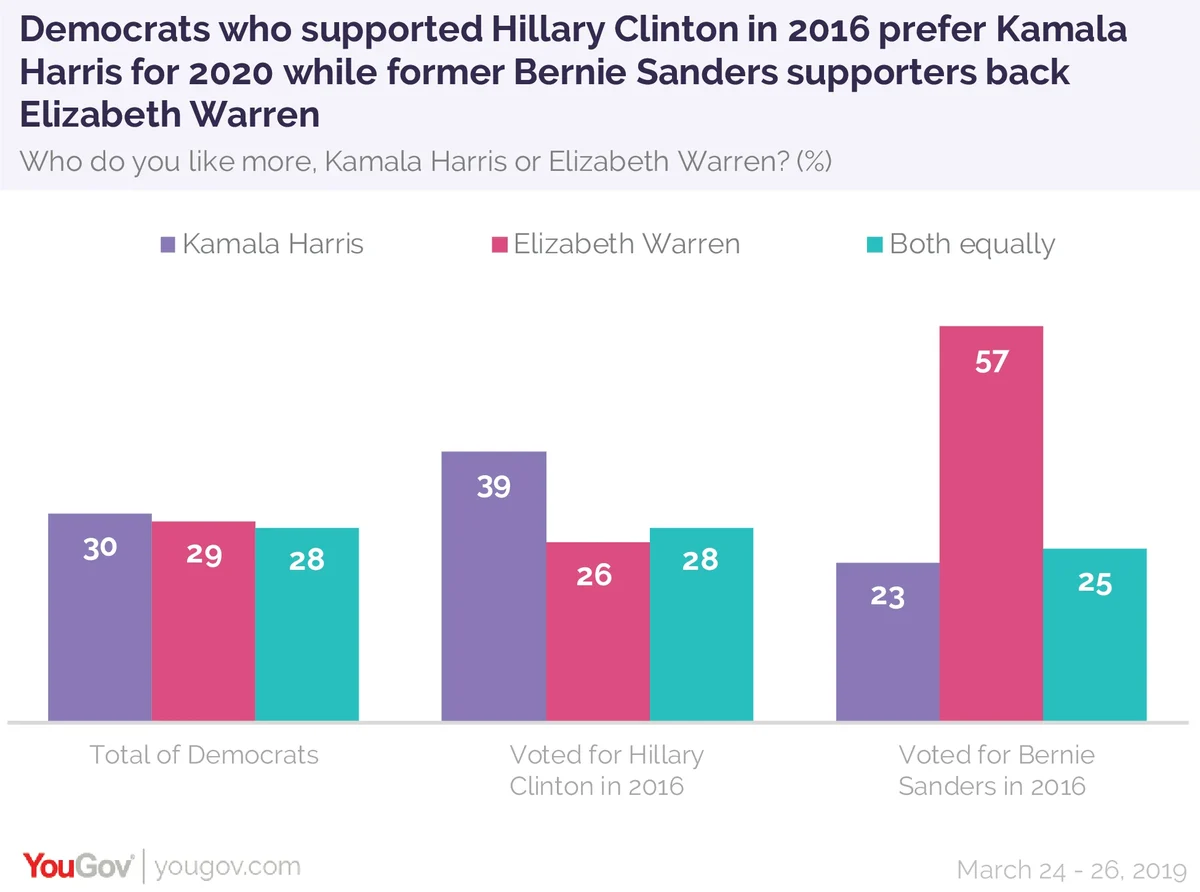 While Democrats like their candidates, Republicans are antagonistic toward the Republicans who may be considering challenging President Trump in 2020. They hold unfavorable views of former Ohio Governor John Kasich (just 22% of Republicans view Kasich favorably, while 43% do not).
At the moment, relatively few have opinions about former Massachusetts Governor William Weld and Maryland Governor Larry Hogan. That compares to the overwhelming popularity of President Trump with Republicans: 84% of Republicans have a favorable opinion of Mr. Trump; 76% say they want him to run for re-election.
Democrats continue to be hopeful about a possible victory in 2020: in this week's poll, 55% of them believe it's likely Donald Trump will be defeated for re-election, while just 30% of Democrats disagree. Of course, in 2016 the Democratic candidate received more votes than Donald Trump did nationally, making her the second of two Democrats in less than two decades to win the popular vote but lose in the Electoral College. The Electoral College, established in the Constitution, is an institution that Democrats now dislike but Republicans love.
That makes for an even division on opinion overall, as more than two-thirds of Democrats hold an unfavorable opinion of the Electoral College, and more than two-thirds of Republicans have a favorable one. Similarly, there is split opinion on the National Popular Vote Interstate Compact, a plan where states agree they will award their electoral votes to whoever won the national popular vote. As of today, it has been passed by state legislators in twelve states and the District of Columbia.
That plan would bypass changing the Constitution to elect as President the winner of the national popular vote. A plurality would support doing that, but support is nowhere near a majority. Again, partisans take opposing positions on a Constitutional change versus the Electoral College, and independents narrowly side with Democrats.