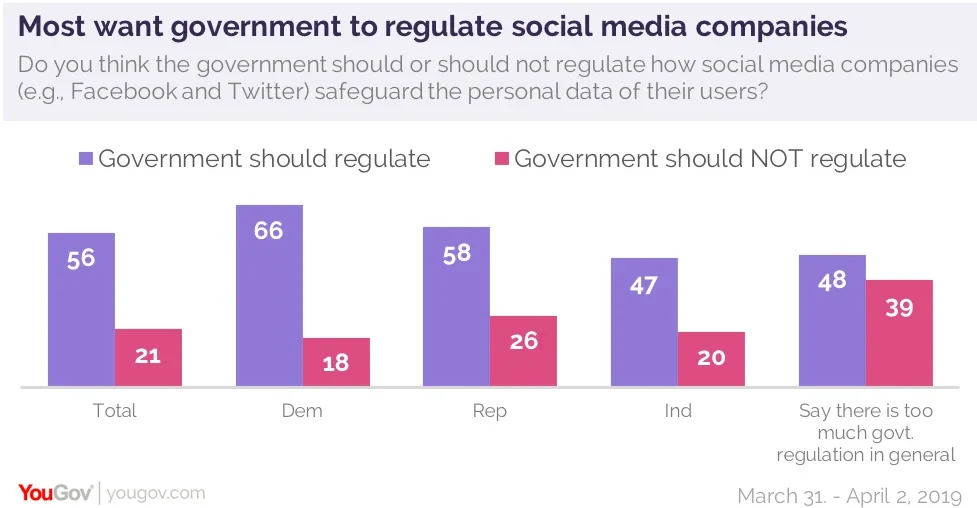 Majorities of both Republicans and Democrats want regulation of the use of personal data. That is unusual for Republicans, many of whom are not fans of government regulation. Nearly half of Republicans believe that there is too much regulation of business by government. Democrats, on the other hand, say there is "too little" regulation. But when it comes to personal information, even those who say there is too much regulation in general still want the government to regulate how social media companies use personal data.
Facebook CEO Mark Zuckerberg has also some out in favor of government regulation when it comes to privacy.
But there are other areas where social media organizations have been criticized, but where support for government regulation is not quite as strong. Although most Americans, whether or not they use social media, believe the use of targeted ads that discriminate on the basis of income, gender, race or family composition is inappropriate, far fewer think that there should be government regulation to prevent advertisers from discriminating this way.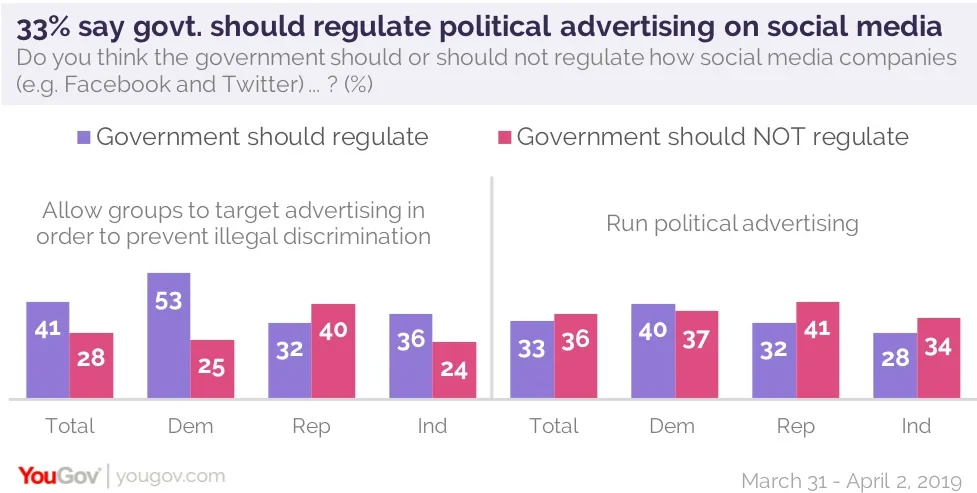 And there is even less support for government regulation of how social media companies run political advertising.
There is one group for which Americans accept discrimination in job opportunity – non-citizens. 45% think targeting employment ads on social media to limit viewership to citizens is appropriate, while a third disagree. Immigration is the top issue for Republicans, and Republicans overwhelmingly find limiting access to job ads to citizens only appropriate, 64% to 20%.
Nearly half of adults (47%) say they remember having seen a political advertisement in the last year. Six in ten of those who remember seeing an ad say a friend shared an ad with them. Far fewer (37%) say they have shared an ad with friends. Republicans (particularly older Republicans) are a little more likely than Democrats to have done both of these things.
Remembering seeing ads has little impact on whether or not a person supports government regulations on them. But there are other reasons: many, especially Republicans, don't expect social media companies to be fair in applying any new rules. More than two-thirds of Republicans are distrustful, along with a narrow plurality of Democrats.