Three in four Democrats are satisfied with the candidates now running for the 2020 Democratic nomination for President
He has been accused of making women uncomfortable with his unsolicited affection. He has issued a public apology. He has yet to announce that he is, in fact, running for President. But, former Vice President Joe Biden remains very well-liked by Democrats and is being considered by more who say they will participate in a Democratic primary or caucus than any announced candidate.



More than half of women who say they will vote in a Democratic primary or caucus are currently considering Biden. Women are just as likely as they were a week ago to say they are considering him.

Biden remains more popular than Vermont Senator Bernie Sanders, as well as the rest of the field. When asked directly whom they like better – Biden or Sanders – Democrats pick Biden 43% to 32%. Women provide the bulk of the difference: for Democratic men, Biden has only a four-point edge over Sanders; among Democratic women, the gap is 17 points, 45% to 28%.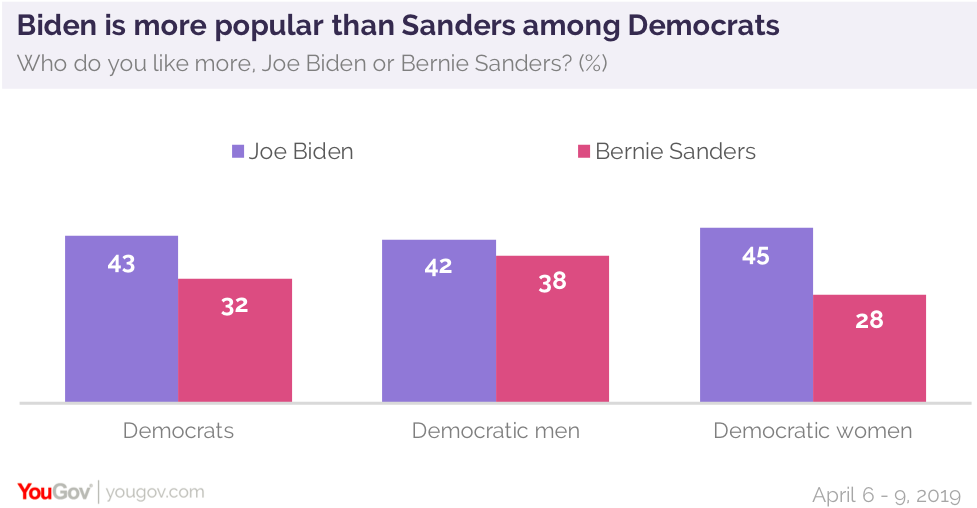 Some of that may be name recognition, but there also appears to be residual feelings from the 2016 Democratic campaign, when Sanders challenged Hillary Clinton for the nomination. Female Democratic voters who supported Clinton for the nomination are especially positive about Biden: 59% are considering supporting him for this year's nomination, while only 31% are considering Sanders. More Democratic women who supported Clinton say they are considering two other women candidates, Kamala Harris (48%) and Elizabeth Warren (36%), than say they are considering Sanders.

The New York Times reported that Biden's team considered asking Stacey Abrams, the former Minority Leader of the Georgia House and last year's Democratic nominee for that state's Governorship, to run with him as his Vice Presidential choice. Abrams gave the Democratic response to the President's February State of the Union Address. She is generally liked by Democrats: 56% have a favorable opinion of her and just 8% are unfavorable. Even the public overall is narrowly favorable. Biden's rating from the public overall is also narrowly positive.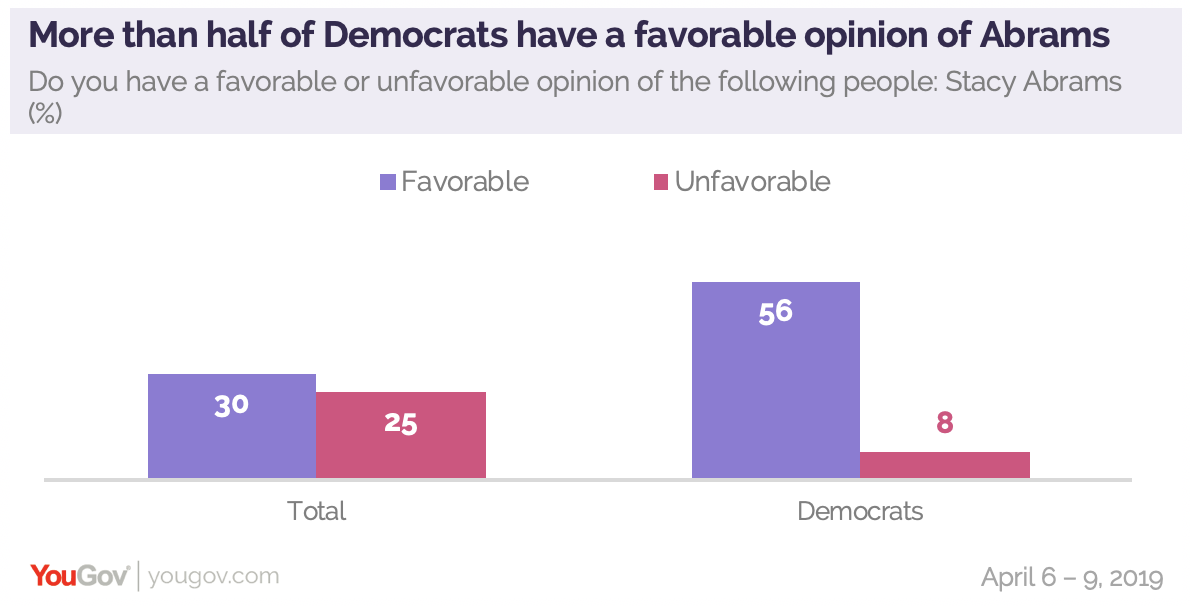 Almost half (45%) the public overall and a third (35%) of Democrats have yet to form an opinion of Abrams.

A majority (76%) of Democrats say they are satisfied with their current options in the contest – though 24% wish there were more choices. That latter figure is down from 30% last week. The least satisfied Democratic voters are those who don't think of themselves as liberals. Republicans appear to be just as satisfied should Donald Trump be the only GOP candidate. However, fewer women than men who are Republican voters, as well as younger Republican voters, say they are satisfied.




See the full toplines and tables results here

Photo: Getty