The leaders in the Republican race for the GOP presidential nomination continue to change. And this week, despite the media frenzy over the possible candidacy of the Governor of New Jersey (who took himself out of contention Tuesday), it is Florida straw poll winner and businessman Herman Cain who now leads the Economist/YouGov Poll.
Given a list of announced candidates and three unannounced possibilities (New Jersey's Chris Christie, former Alaska Governor Sarah Palin and former New York City Mayor Rudy Giuliani), Cain gets 21% of the vote from registered voters who say they will vote in a 2012 Republican primary or caucus. His closest challenger is former Massachusetts Governor Mitt Romney, with Texas Governor Rick Perry, Texas Congressman Ron Paul and Christie at or near double digits. Reallocating the second choices of those who favor Christie, Palin and Giuliani changes little in the relative standing — although it does move former House Speaker Newt Gingrich into the second tier. 
If you had to choose one, which of these individuals would you want to be the Republican nominee for president in 2012? (Registered voters who are likely to vote in Republican primary or caucus)
For 'announced candidates only' column, chart displays second choice candidate for respondents whose first choice is an unannounced candidate

Sarah Palin

5%

--

Mitt Romney

17%

21%

Newt Gingrich

7%

10%

Michele Bachmann

3%

5%

Jon Huntsman

3%

3%

Ron Paul

8%

9%

Rudy Giuliani

5%

--

Herman Cain

21%

26%

Rick Santorum

1%

1%

Rick Perry

10%

12%

Chris Christie

9%

--

Other

3%

4%

No preference

8%

9%
GOP voters have been fickle in their choices in recent weeks. When Perry announced, he soared to the top, displacing Minnesota Congresswoman Michele Bachmann, and then faded. Christie emerged, and now Cain. One constant has been Romney's continued presence at or near the top of the field.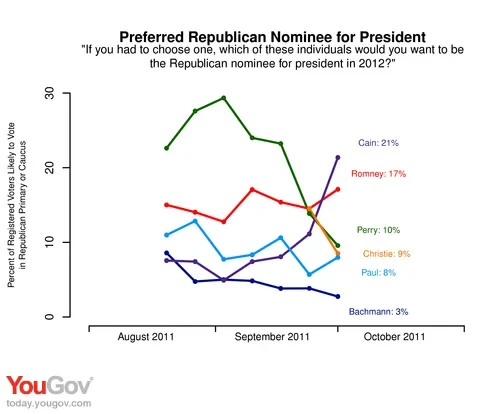 Bachmann and Perry had been favorites of the Tea Party, whose identifiers comprise 42% of Republican primary voters. This week, of all the announced candidates 38% of Tea Party identifiers favor Cain, 15% each choose Perry and Romney. But Cain does well even among those who are not Tea Partiers. He is the choice of 17% of them, trailing only Romney's 25%. 
If you had to choose one, which of these individuals would you want to be the Republican nominee for president in 2012? (Announced candidates only; chart displays second choice candidate for respondents whose first choice is an unannounced candidate)
Registered voters who are likely to vote in Republican primary or caucus

Mitt Romney

21%

15%

25%

Newt Gingrich

10%

11%

8%

Michele Bachmann

5%

5%

5%

Jon Huntsman

3%

2%

4%

Ron Paul

9%

2%

13%

Herman Cain

26%

38%

17%

Rick Santorum

1%

1%

2%

Rick Perry

12%

15%

10%

Other

4%

6%

3%

No preference

9%

5%

12%
Photo source: Press Association