On April 22, the world will celebrate Earth Day, which highlights environmental protection
As America faces dire reports from climate scientists about the negative impacts of global warming, US cities on the West Coast are strongly describing their own citizens as "environmentally conscious."
In Portland, 56% of surveyed residents described the attitude of people in their city as "environmentally conscious." The phrase was most commonly associated with urban areas of the Pacific Northwest, and it topped the list of popular adjectives that West Coast residents used to describe their cities, according to data from YouGov RealTime/CityBus. Following "environmentally conscious," Portland's residents also described themselves as "charitable" (32%) and "intelligent" (31%).
More than half (51%) of the surveyed Americans living in the Seattle and San Francisco regions also lauded their communities as eco-friendly. Close behind the West Coast's environmental pride, people in Denver (45%) and Boston (40%) also considered their cities particularly "environmentally conscious."
Three major cities tied for last place (18%) on considering themselves environmentally mindful: Atlanta, Chicago and Dallas. The Dallas-Fort Worth region is working to reverse its rapid urban heating after an Urban Heat Island Management Study found that the city is warming faster than most other U.S. cities.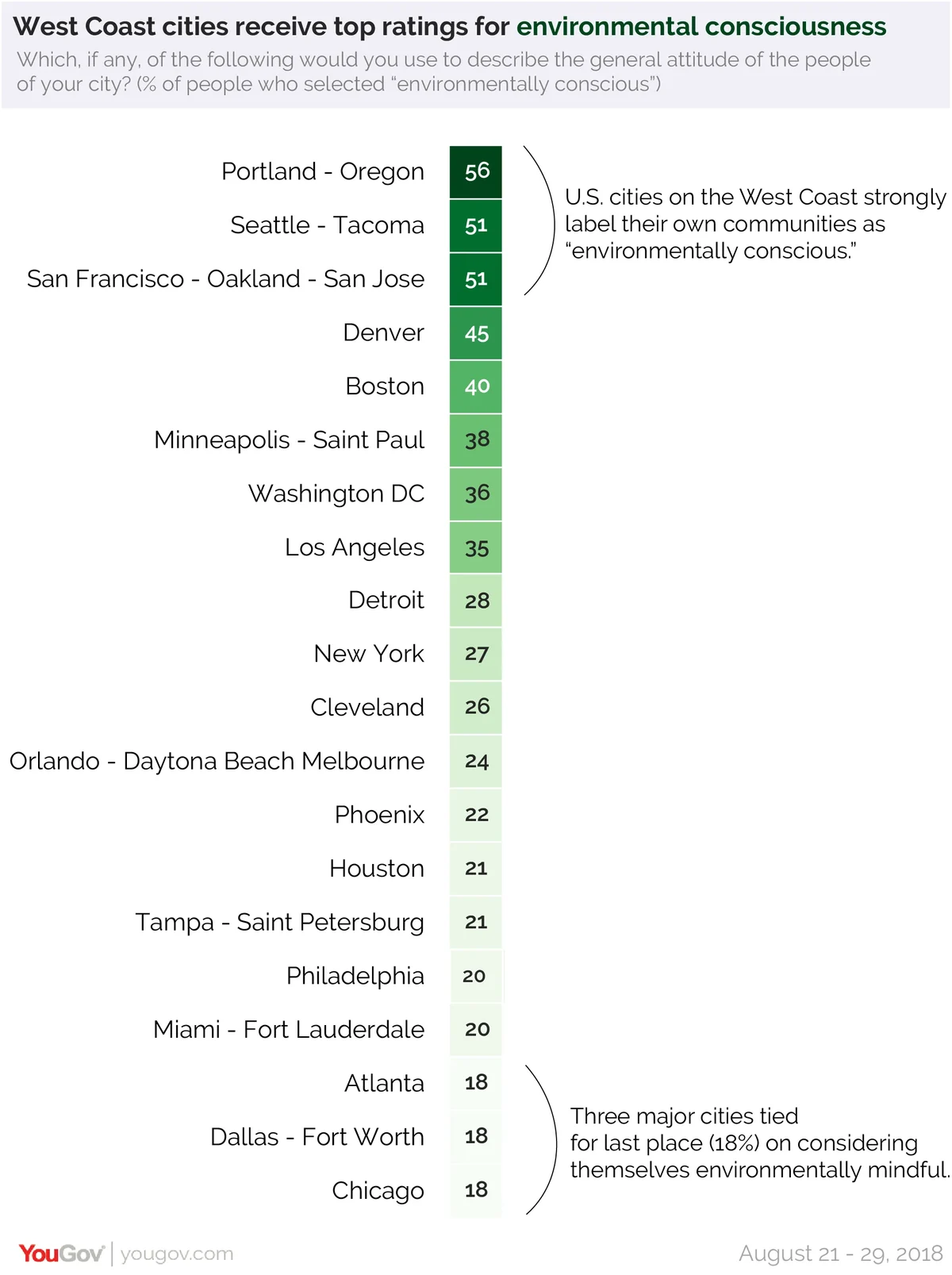 YouGov Methodology: Total sample size was 4,065 US. adults aged 18+ (i.e. approximately 200 people per metro area). Interviews were conducted online between August 21-29, 2018. The respondents surveyed in this study reside in the following Designated Market Areas: Atlanta, Boston, Chicago, Cleveland, Dallas - Fort Worth, Denver, Detroit, Houston, Los Angeles, Miami - Fort Lauderdale, Minneapolis - Saint Paul, New York, Orlando - Daytona Beach Melbourne, Philadelphia, Phoenix, Portland - Oregon, San Francisco - Oakland - San Jose, Seattle - Tacoma, Tampa - Saint Petersburg, Washington DC.

Read the city-by-city data on access to mental health clinics, and learn more about YouGov RealTime polling.
Image: Getty