This cycle's presidential candidates have given the public more reason to think about how age impacts ability. Several Democratic candidates are in their late 70s (or even older). The Republican president they hope to defeat turns 73 this week.
The latest Economist/YouGov Poll asks: how old is too old?
For most Americans, it may be somewhere between the age Donald Trump will reach this week, and the ages of two Democratic frontrunners: former Vice President Joe Biden (currently 76) and Vermont Senator Bernie Sanders (currently 77). The mean answer to the question of how old is too old is 75.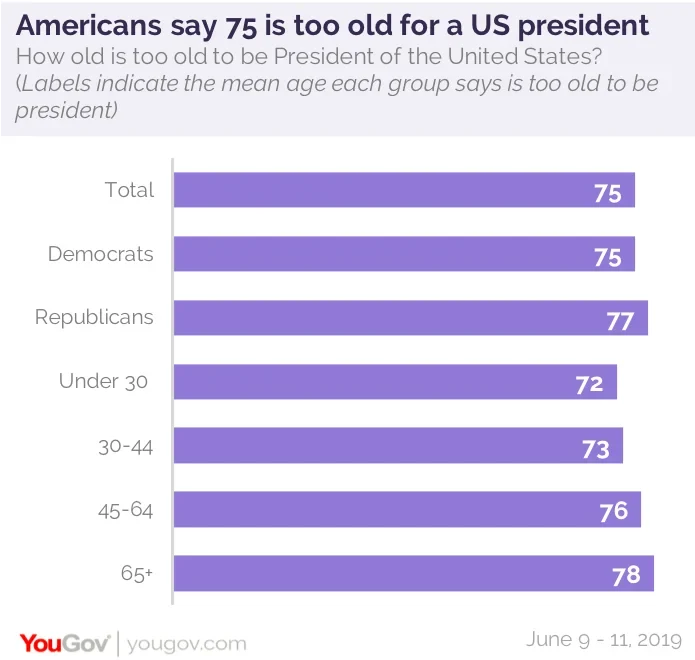 Small differences exist by party and age: the average Democrat places the bar a little lower than the average Republican does (even though two popular Democratic contenders are older than 75). The acceptable presidential age rises as potential voters get older, though not by very much. 37% overall (and a majority of Democrats) say President Trump's will be "too old."
Americans aren't sure who are the oldest and the youngest presidents ever. Although more than half the public say President Trump is below the age at which he would be "too old," one in five Americans believe he is the oldest President ever. That's not true; and nearly twice as many (37%) correctly name Ronald Reagan, who was 77 when left the presidency. If President Trump wins a second term (or if Biden or Sanders become president), they will be older than Reagan during their terms (or in Biden or Sanders case, even before they assume office) and become the oldest presidents ever.
Americans also can't name the youngest president ever. Half think it was John F. Kennedy. Only 10% know it was Theodore Roosevelt, who was sworn in at the age of 42, after the assassination of William McKinley in 1901. At 43, Kennedy was the youngest person to serve after being elected President.
Biden and Sanders would also cross another line. Each would celebrate their 80th birthday in office. A majority say that is too old and that the job that might be too difficult to do at that age. Twice as many think that as believe any wisdom and experience that comes with age would help a president do the job.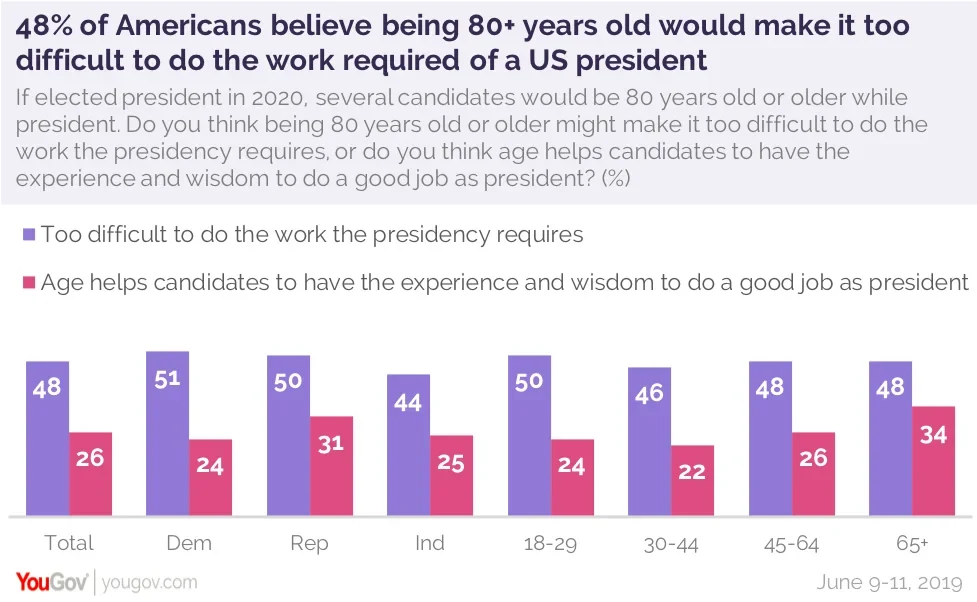 This belief crosses party lines, and also isn't affected by age. Both Republicans and Democrats, as well as those under 30 and those 65 and older say being 80 might make being president too difficult. Those 73 (the President's age after Thursday) also agree, 52% to 36%.
Fewer see age-related problems electing a young President. South Bend Mayor Pete Buttigieg is the most prominent of the younger Democrats running for the presidency this year: he is 37 years old now, and would be 39 (and the youngest President ever) if he is inaugurated in January 2021. As many say that a president under 40 would have fresh ideas as believe a president that age would be too inexperienced.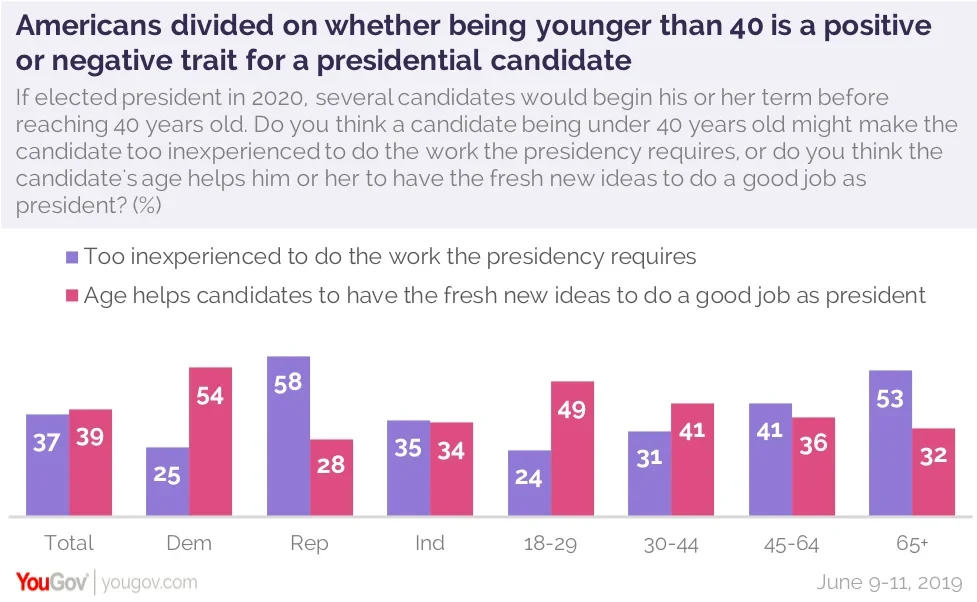 On this question, partisanship matters. Republicans, most of whom say they would vote for President Trump's re-election, see a young president as inexperienced, while Democrats disagree. A respondent's age matters, too. However, Democrats 65 and older are a lot more open to a young candidate. A majority of them (54%), like other Democrats, believe a president under 40 could bring fresh ideas to the office and would not necessarily be too inexperienced.
See full toplines and tables results here.
Related: What the ideal president looks like to Millennials
Image: Getty