Nearly nine in ten American consumers (86%) say they would notice if prices rose on grocery store items they frequently purchase, according to a new YouGov RealTime poll. That's a bipartisan sentiment, too: 89% of Republicans and 88% of Democrats notice rising prices on their frequent purchases.
President Donald Trump relies on the power of tariffs, which are import taxes paid by American merchants on goods brought into the country, to pressure economic adversaries like China and trade partners like Canada and Mexico on a range of issues.
As tariff threats loom, one in five Americans (21%) have a major purchase they will no longer make because they expect the charges to push prices up, though 44% say their purchase plans remain steady. The generation most likely to be pushing off large purchases is Millennials—about a quarter (24%) reported putting off at least one purchase for fear of tariffs pushing prices up compared to 22% of Gen X and 19% of Baby Boomers.
More than half of Republicans (57%) say they still plan to make their planned major purchases amid tariff discussions compared to 46% of Independents and 37% of Democrats. If prices rose on household items like bread, however, more than half of US adults (54%) would look for a less expensive brand.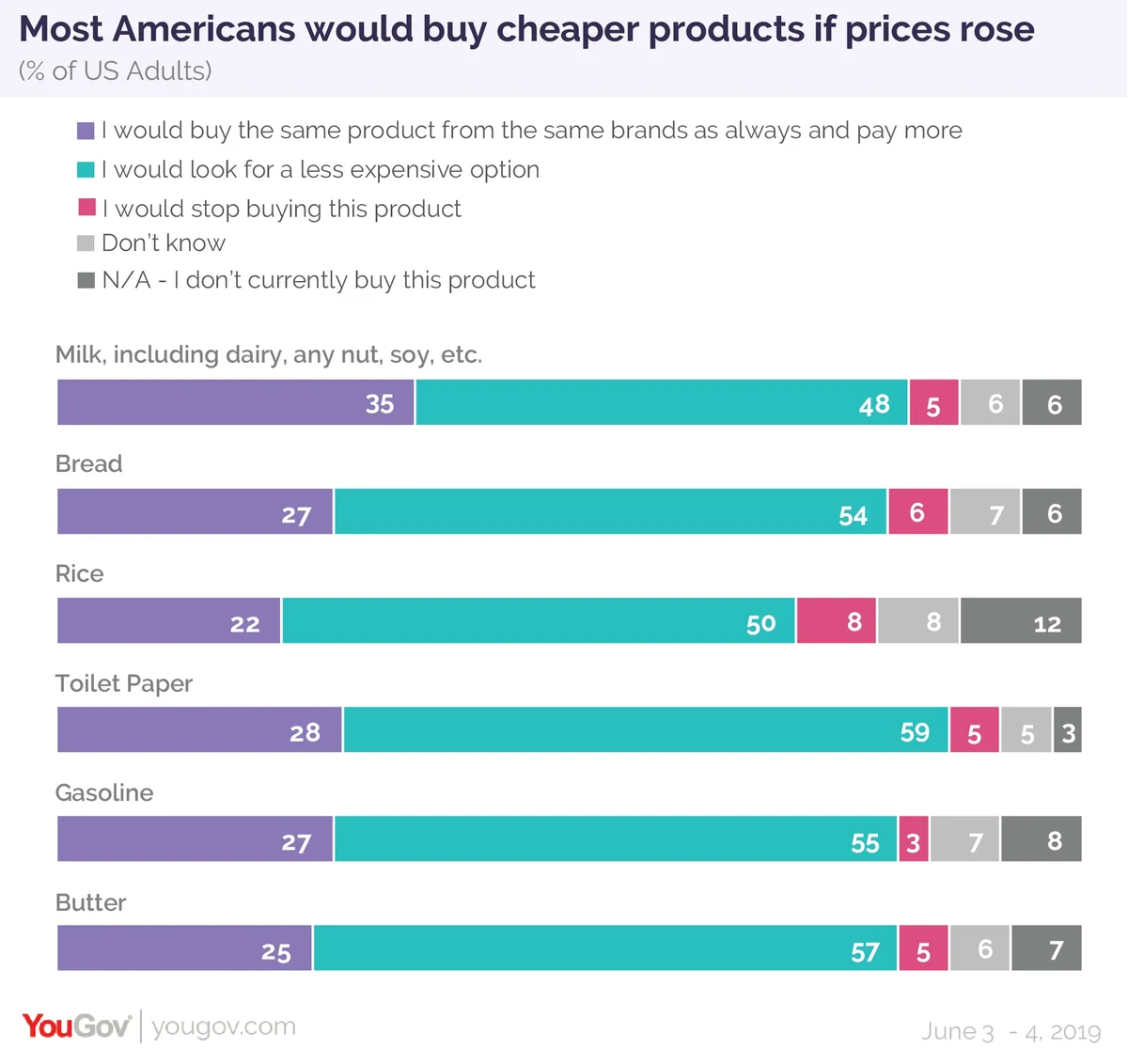 About six in ten Americans (59%) would look for cheaper toilet paper if prices rose. On the low end, just 48% of Americans would look fora cheaper milk brand if prices rose. More than one-third (35%) of Americans would continue to buy the same products and pay more if prices increased. Just one in five (21%) would pay more for their go-to rice brand, while more than one-third (35%) would shell out more cash for their preferred milk.
Methodology: Total unweighted sample size was 1,227 US adults ages 18+. The responding sample is weighted to the profile of the sample definition to provide a representative reporting sample. Interviews were conducted online between June 3 - 4, 2019.
Related: Americans are wary of President Donald Trump's Twitter posts amid China trade conflict
See the full survey results here.
Image: Getty