President Donald Trump took one small step toward confusing Americans with a recent Twitter post telling the NASA to stop talking about traveling to the moon and focus on "the much bigger things we are doing, including Mars (of which the moon is a part)."
Many questioned whether Trump intended to incorrectly imply that Earth's moon is a part of Mars, or if he was simply referencing that NASA's plan for sending humans to Mars requires additional exploration of the moon. Regardless of intent, the tweet sparked a conversation about America's space exploration plans nearly 50 years after humans first walked on the moon.
Trump has posted seven tweets about NASA since YouGov began tracking public sentiment about his daily Twitter posts in February 2017. The president's tweets that provide encouragement to NASA are often well-received by most Americans, but that reaction shifted on June 7 when he reversed his previous support for the federal agency returning to the moon before reaching Mars.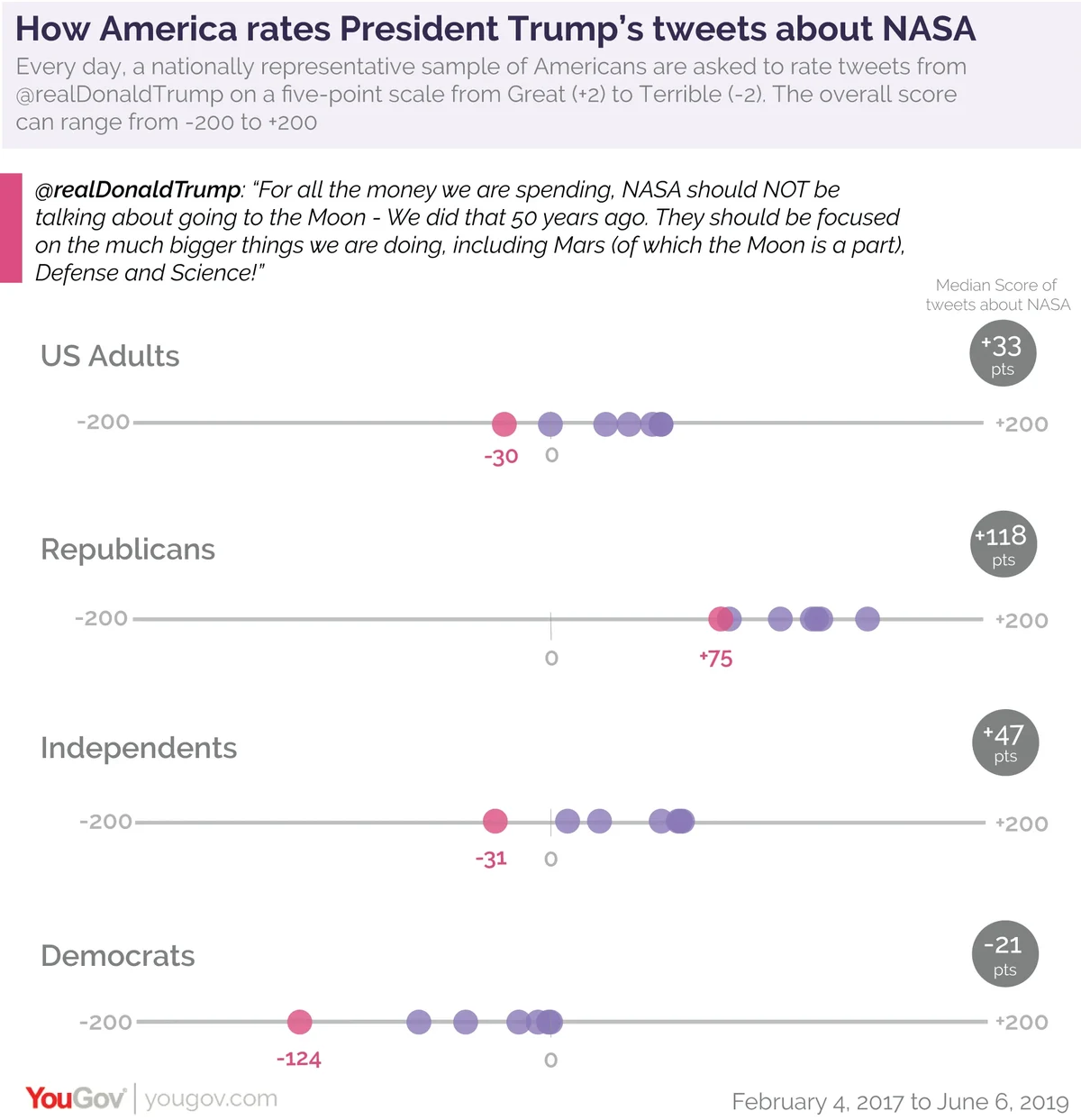 Since YouGov began tracking, the median score for Trump's tweets among the US population as a whole is -18. Analysis of public sentiment around all of the president's tweets about NASA shows they earn a median score of +33. His recent tweet that snubbed moon-travel earned a median score of -30 among the general public, slightly below the median for NASA tweets and his Twitter overall.
Republicans, who give Trump's NASA tweets a median of +118, rated this missive 43-points lower than that. Independents rated it 78-points below their median for NASA posts, and Democrats rated it 103-points lower. Trump's most well-received posts about NASA according to the general public came when he marked the NASA Day of Remembrance (+48) and signed the National Aeronautics and Space Administration Transition Authorization Act of 2017 (+48).
Methodology: YouGov TweetIndex shows how the public rate each tweet from President Donald Trump's official Twitter account. At the end of every day, YouGov shows a representative sample of US adults the tweets sent in the past 24 hours by President Trump. The panelists are asked to rate the posts on a scale Great (+2), Good (+1), OK (0), Bad (-1), and Terrible (-2). Theoretically, scores can range from -200 (if everyone thought the tweet was "Terrible") to +200 (if everyone thought the tweet was "Great").
Related: Americans are wary of President Donald Trump's Twitter posts amid China trade conflict
TweetIndex
You can review the history of our ratings of President Trump's tweets back to February 2017 on our YouGov TweetIndex.