The economy remains the country's most important problem, and American perceptions of it continue to be negative. 30% today think the economy is getting worse, although that is down from the 36% who thought so a year ago. However, there are also fewer Americans today who think things are getting better than there were a year ago. 25% say that is the case today; last year 30% said the economy was getting better.

And when it comes to the general direction of the country, only 29% say it is headed in the right direction today. Last year, 38% believed it was.



When asked directly about various issues, many Americans see things as having gotten worse in the last two years. Majorities say job security, government spending, Social Security and Medicare and the U.S. financial system have gotten worse in the last two years. Nearly half say that about the economy in their area and health care coverage.

As for the U.S. and the world, things are generally worse than they were a year ago, but there is one bright spot. 46% now believe the U.S. is less respected in the world than it was a year ago, up from 38% who felt that way at the end of 2009. Then, 35% saw the U.S. as more respected than it had been; just 21% say that today.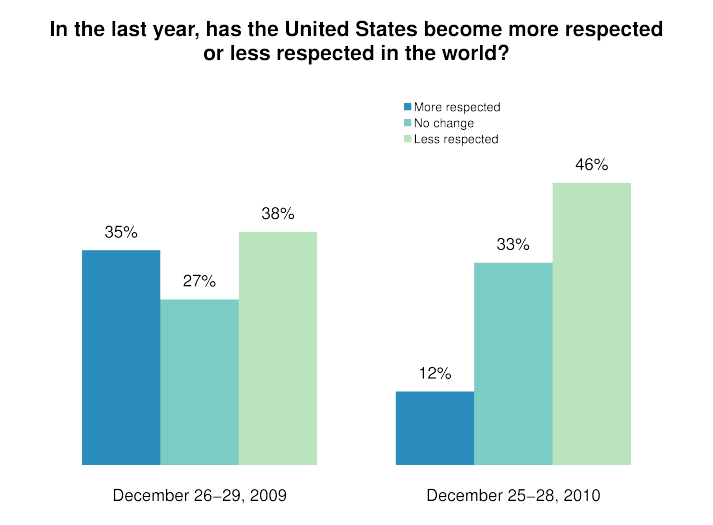 The bright spot is Afghanistan. At the end of 2009, 60% believed things had gotten worse there during the year. Just 35% say that today.