Shortly before the beginning of Pride Month, the US House of Representatives took a major step toward enshrining federal protections for members of the LGBTQ+ community. The House voted 236-173 to pass the Equality Act, which prohibits discrimination in federally funded areas on the basis of gender identity or sexual orientation. The act was passed as an expansion of the Civil Rights Act of 1964, which prohibits discrimination based on race, color, religion, sex, or national origin.
In a release discussing the Equality Act, Speaker of the House Nancy Pelosi and Rep. David Cicilline (D-RI) issued a statement, reading in part, "To dismantle the discrimination undermining our democracy, we must ensure that all Americans, regardless of sexual orientation or gender identity, are treated equally under the law — not just in the workplace, but in education, housing, credit, jury service and public accommodations as well."
Shortly after the legislation was passed by the House, YouGov in partnership with The Hill asked Americans if they support or oppose legislation to ban discrimination in employment, housing, and public accommodations based on sexual orientation and gender identity. Just over half (51%) of people say they support such legislation.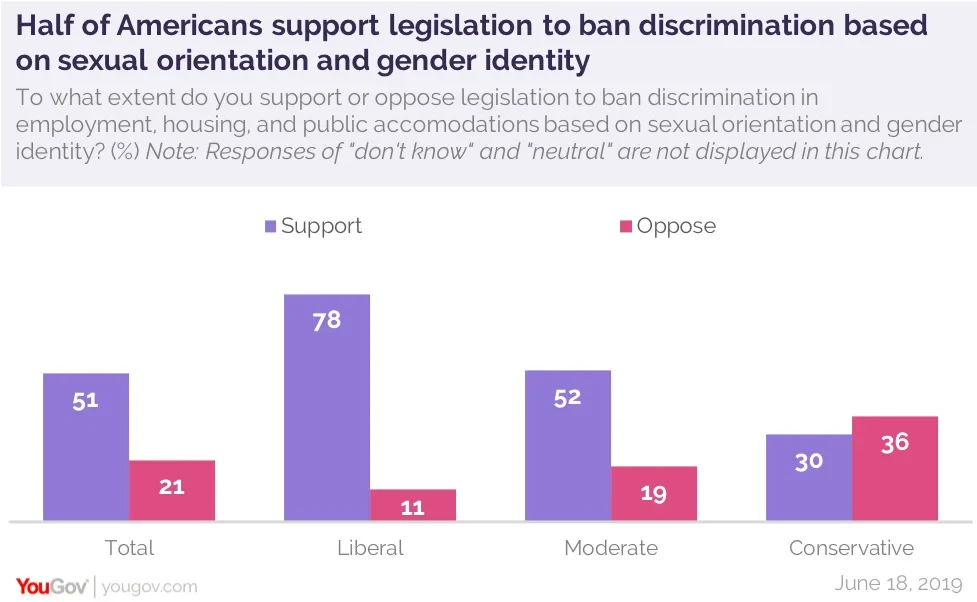 Liberals (78%) are especially likely to support such legislation, while conservatives are more split: 36% are opposed, 30% are in support, and 28% say they're neutral on the topic. A majority of moderates (52%) also support this legislation.
Women (54%) are more likely than men (47%) to support legislation like the Equality Act. Nearly a quarter (24%) of men -- and 19% of women -- are opposed to this legislation.

Across generations, regions, and races, people are generally more likely to support this legislation than to oppose it. For many, the topic may just not matter much: 29% of those living in rural areas and 28% of Republicans say they're neutral about this legislation, meaning they don't really support or oppose it.
Having passed the House, the Equality Act is now awaiting action from the Senate. It was received by the Senate on May 20 and referred to the Committee on the Judiciary.

See full results here and sign up to be a member of our panel here.
Related: Nearly half of Americans say sexuality is a scale
Methodology: Total unweighted sample size was 1,225 US adults ages 18+. The responding sample is weighted to the profile of the sample definition to provide a representative reporting sample. Interviews were conducted online on June 18, 2019.