Beto O'Rourke was the first candidate to speak Spanish during the first nationally televised Democratic primary debate on Wednesday night. He wasn't alone. Senator Cory Booker and former Secretary of Housing and Urban Development Julián Castro also broke into Spanish.
Before the debate, YouGov asked Americans how they felt about their presidential candidates using a second language.
Most Americans (42%) say presidential candidates are "pandering" rather than being "respectful" when they speak Spanish during televised presidential debates, but Democrats and Hispanic Americans believe the opposite. Almost half (46%) of Democrats and 37% of Hispanic Americans see a candidate's effort to speak Spanish during debates as respectful, according to the poll.
The same survey also shows that conservatives and white Americans are more likely to classify these bilingual moments as pandering to an audience. Nearly six in 10 (59%) Republicans call Spanish speeches during a debate "pandering," as do 47% of white Americans.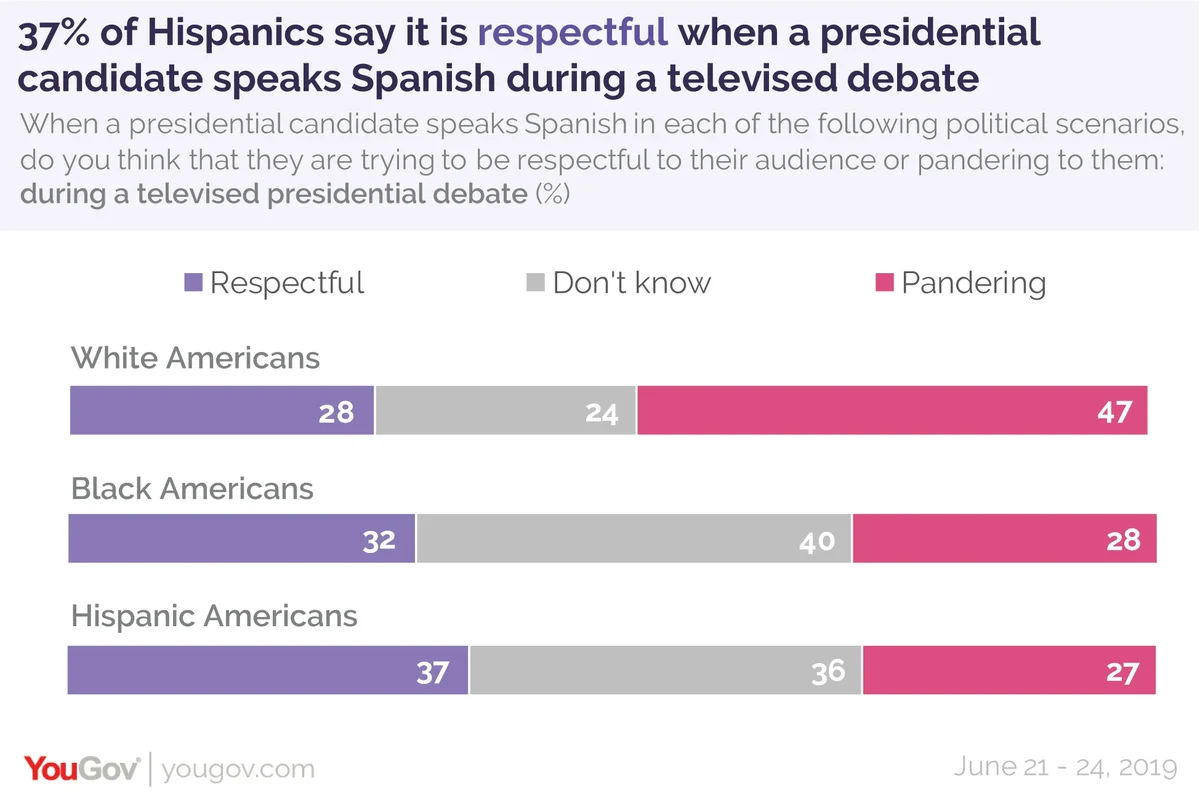 For better or worse, multilingual candidates often get additional attention, and scrutiny, during presidential races depending on their fluency.
South Bend Mayor Pete Buttigieg was lauded in April for delivering condolences about the Notre Dame fire in French. O'Rourke speaks fluent Spanish at campaign rallies, and several other 2020 candidates, including Booker and Castro, have delivered remarks in Spanish. In a 2016 Republican primary debate, Florida Senator Marco Rubio said Texas Senator Ted Cruz "doesn't speak Spanish," prompting Cruz to launch into a counter-attack in Spanish that went viral.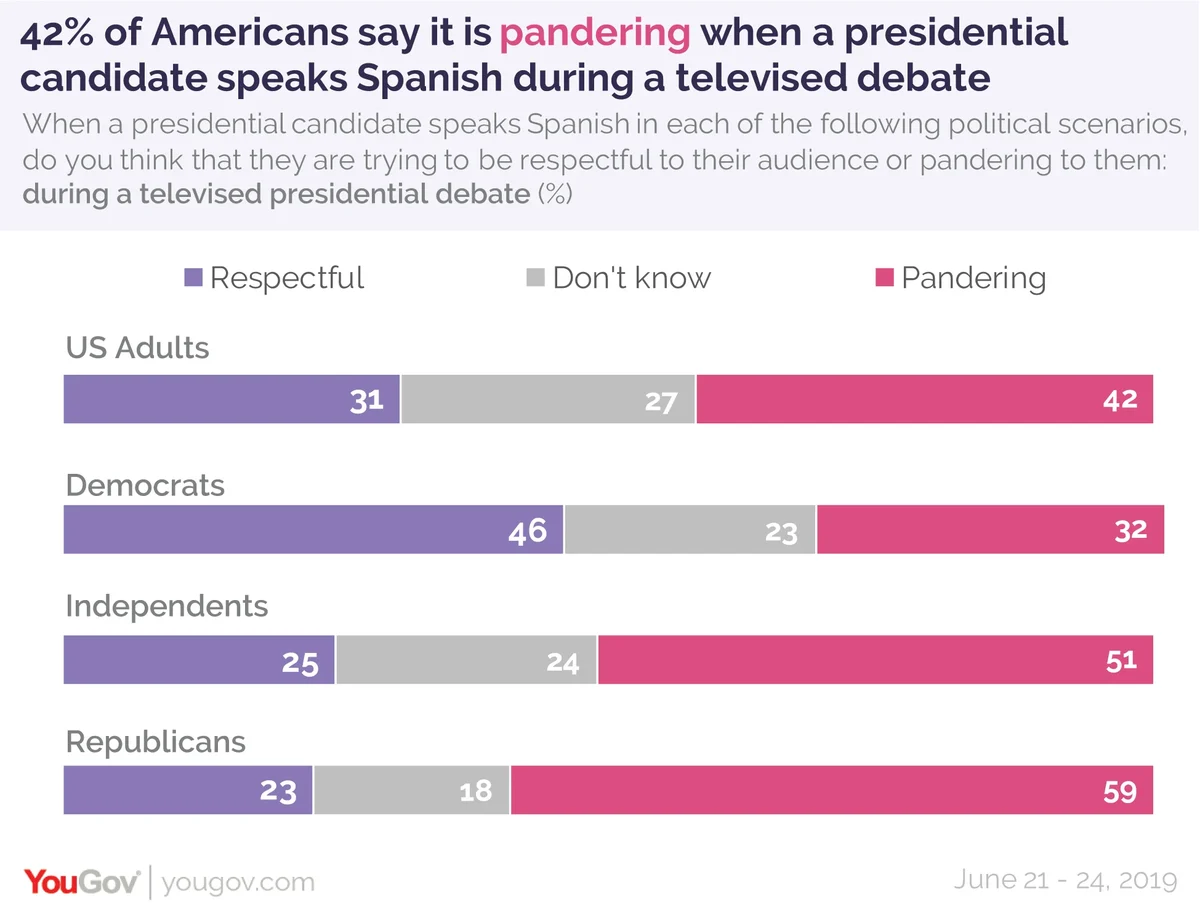 Americans are similarly likely to classify campaign advertisements in Spanish as "pandering" rather than "respectful." More than one-third (36%) of Hispanic Americans call it respectful, while three in 10 (31%) consider it pandering. By contrast, 44% of white Americans call it pandering, while 32% consider it respectful.
Outside of those high-profile televised moments, though, most Americans (56%) say it is respectful for a presidential candidate to speak Spanish during a campaign stop in a predominantly Spanish-speaking community. A quarter (25%) of Americans consider that pandering. In this instance, white Americans (59%) are more likely than Hispanic Americans (48%) and Black Americans (49%) to consider the move respectful.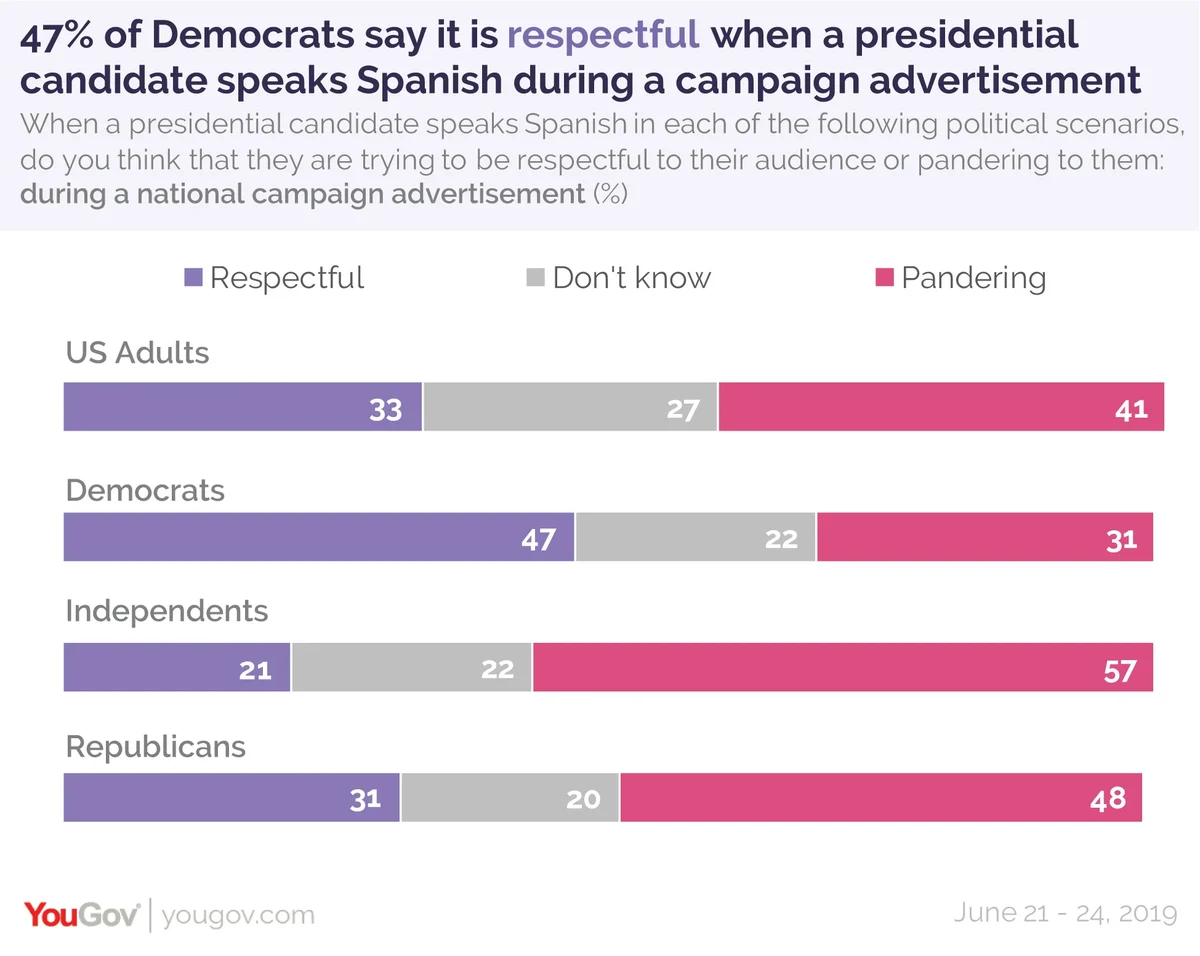 Nearly four in 10 Americans (37%) believe it is acceptable for a politician to attempt to speak a foreign language even if they make a mistake. Three in 10 (30%) say it is only acceptable for a politician to attempt to speak a foreign language if there are no flubs.
Just shy of one in 10 US adults (9%) say politicians should never speak a foreign language. Among Republicans, this is especially true. Republicans are twice (16%) as likely as Democrats (7%) and Independents (8%) to say a candidate should never speak a foreign language.
Several former American presidents have delivered remarks in languages other than English with a handful being considered fully fluent in a second language. George W. Bush delivered several speeches in Spanish and Bill Clinton gave remarks in German.
Nearly six in 10 (59%) Americans believe there will be a future US president who is fluent in Spanish during their lifetime. Democrats (70%) and Independents (62%) are more certain than Republicans (53%) that there will be a future president who is bilingual in Spanish. US adults are more certain there will be a commander-in-chief who is fluent in Spanish than in other languages including French (29%), German (20%), Chinese (19%), or Russian (17%).
Related: What Democrats say they want to see at the presidential debates
Methodology: Total unweighted sample size was 1,258 US adults, which contained 462 Democrats, 305 Republicans, and 330 Independents. The figures have been weighted and are representative of all US adults (ages 18+). Interviews were conducted online between June 21 - 24, 2019.
Sign up to be a member of the YouGov panel and see the survey results here.
Image: Getty