The number of homeless people in America has decreased over the last decade—but the question of who should be doing the bulk of caring for the nation's homeless population remains a contentious question among partisans.
More than a quarter of Republicans (27%) say America's local governments have "no obligation" to the homeless. Within that group, 19% of Republicans say there is no government obligation because charities should be responsible for the homeless, while 8% say "sleeping on the streets should be illegal." These numbers have remained steady since YouGov began measuring partisan opinion on homelessness in 2016.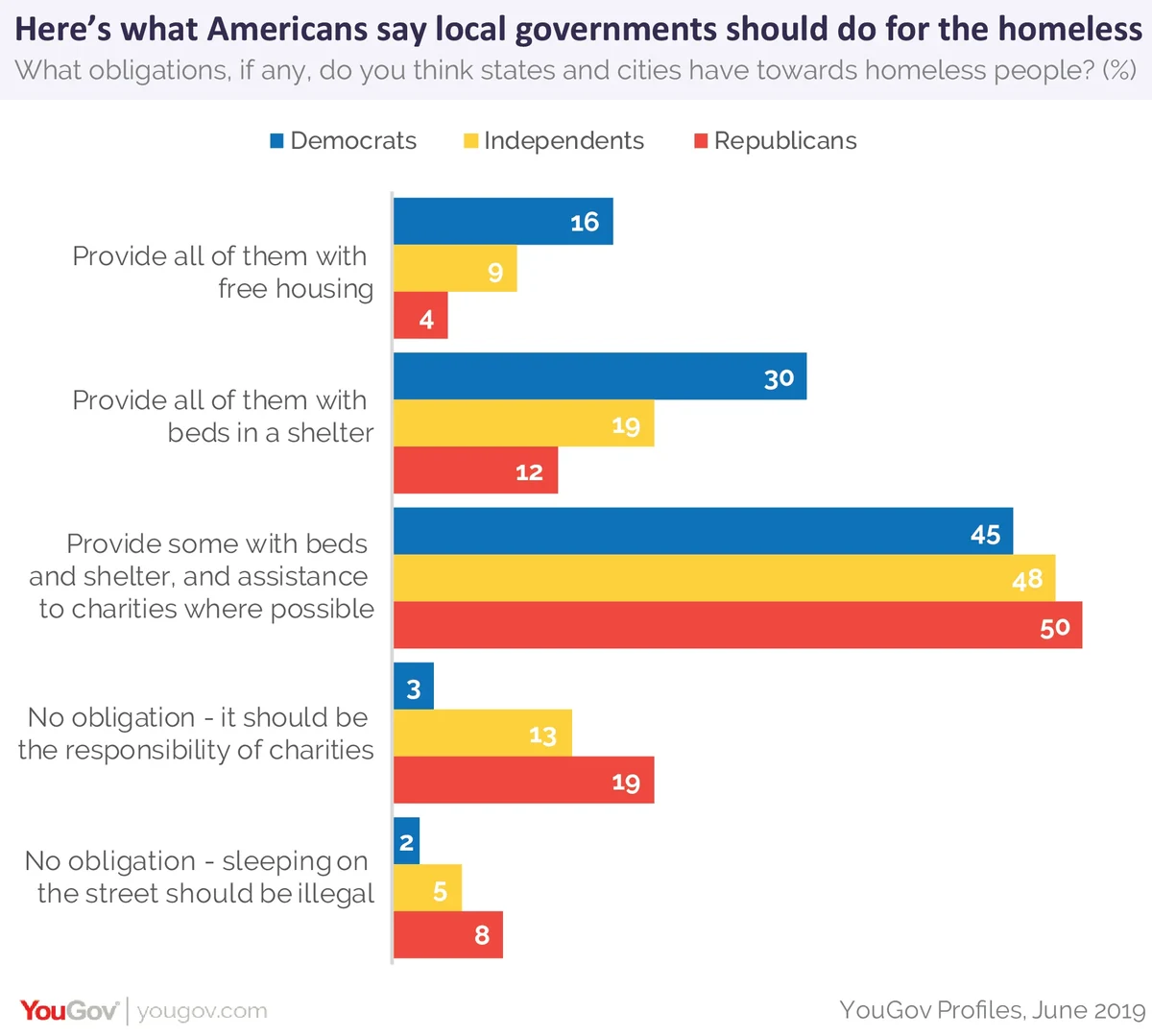 President Donald Trump appeared uncertain about the extent of appropriate federal government involvement during an interview with Fox News' Tucker Carlson last week.
Trump spoke about people living on the street in large cities, saying, "We may intercede, we may do something to get that whole thing cleaned up; it's inappropriate. We're really not very equipped as a government to be doing that kind of work; that's not really the kind of work that the government probably should be doing."
Democrats are much less likely (5%) to say local governments have "no obligation" to the homeless. Only 3% say homeless people "should be the responsibility of charities," and 2% say sleeping on the streets should be illegal. Three in ten (30%) Democrats believe all homeless people should be provided beds in a shelter by their local government, a sentiment that just 12% of Republicans agree with.
The most-likely common political ground: most Republicans, Democrats, and Independents say some homeless people should be provided beds and the government should give assistance to charities where possible. Half of Republicans (50%) support a split of duties between government and charities compared to 48% of Independents and 45% of Democrats.
Methodology: Total unweighted sample size was 47,302 US adults, which contained 15,969 Democrats, 13,014 Republicans, and 14,094 Independents. The figures have been weighted and are representative of all US adults (ages 18+). Interviews were conducted online between June 2018 - June 2019.
Related: Should 2020 presidential candidates try to speak Spanish?
Image: Getty