The president's Fourth of July celebration "Salute to America," and its military display got partisan reviews from a closely divided public in the latest Economist/YouGov poll. But for a significant part of the country, the event may as well not have happened. About a third (34%) of adults heard nothing at all about "Salute to America," and more than half heard none of the president's address, either live or in news reports about it. Many are not sure the event was worth the financial cost.
The most controversial aspect of the event, the showcasing of military equipment during a parade on July 4, receives support from Republicans and opposition from Democrats. Overall, almost as many disapprove (40%) of using military equipment as approve (44%). Those who had heard at least something about the event were evenly divided.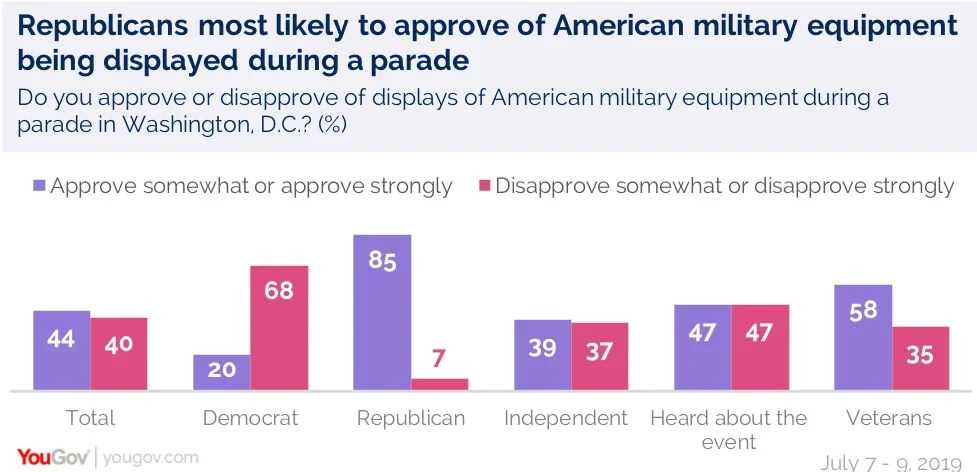 One group, however, is clearly supportive: more than half (58%) of veterans approve of the use of military equipment, while 35 percent do not.
Holding the event at all wins approval from 38 percent, while 31 percent disapprove. This division is also partisan. Nearly three in four Republicans approve of holding the "Salute to America," compared with just 16 percent of Democrats.
Republicans are far more likely than Democrats to have watched or heard the president's July 4 speech (63 percent of Republicans saw some of it, compared with less than half of Democrats. Those Republicans overwhelmingly approved of it: 94 percent of Republicans who heard any of the speech at all approved of it. Two-thirds of Democrats who listened were negative.
But Americans weren't at all sure that "Salute to America" was worth it. Republicans thought it was, while Democrats and independents disagree. Those who paid at least some attention to the event were more likely to say it wasn't worth the expense. On this question, veterans were closely divided.