America's most heinous murders and murderers keep appearing in podcasts, books, and especially on the silver screen.
In January, Zac Efron portrayed Ted Bundy in Conversations With A Killer: The Ted Bundy Tapes on Netflix. Quentin Tarantino's Once Upon a Time in Hollywood will be released on July 26, sharing the story of cult leader and murderer Charles Manson with the help of a star-studded cast, including Leonardo DiCaprio and Brad Pitt.
Young Americans are transfixed by this serial killer culture in a way that older generations are not. Most 18-to-25-year-olds are interested (55%) in consuming serial killer content, which is more than 46-to-55-year-olds (38%) and 56-to-65-year-olds (32%), according to a new YouGov survey. Americans under 35 are the only age group where at least half are "very interested" or "somewhat interested" in serial killer stories becoming entertainment.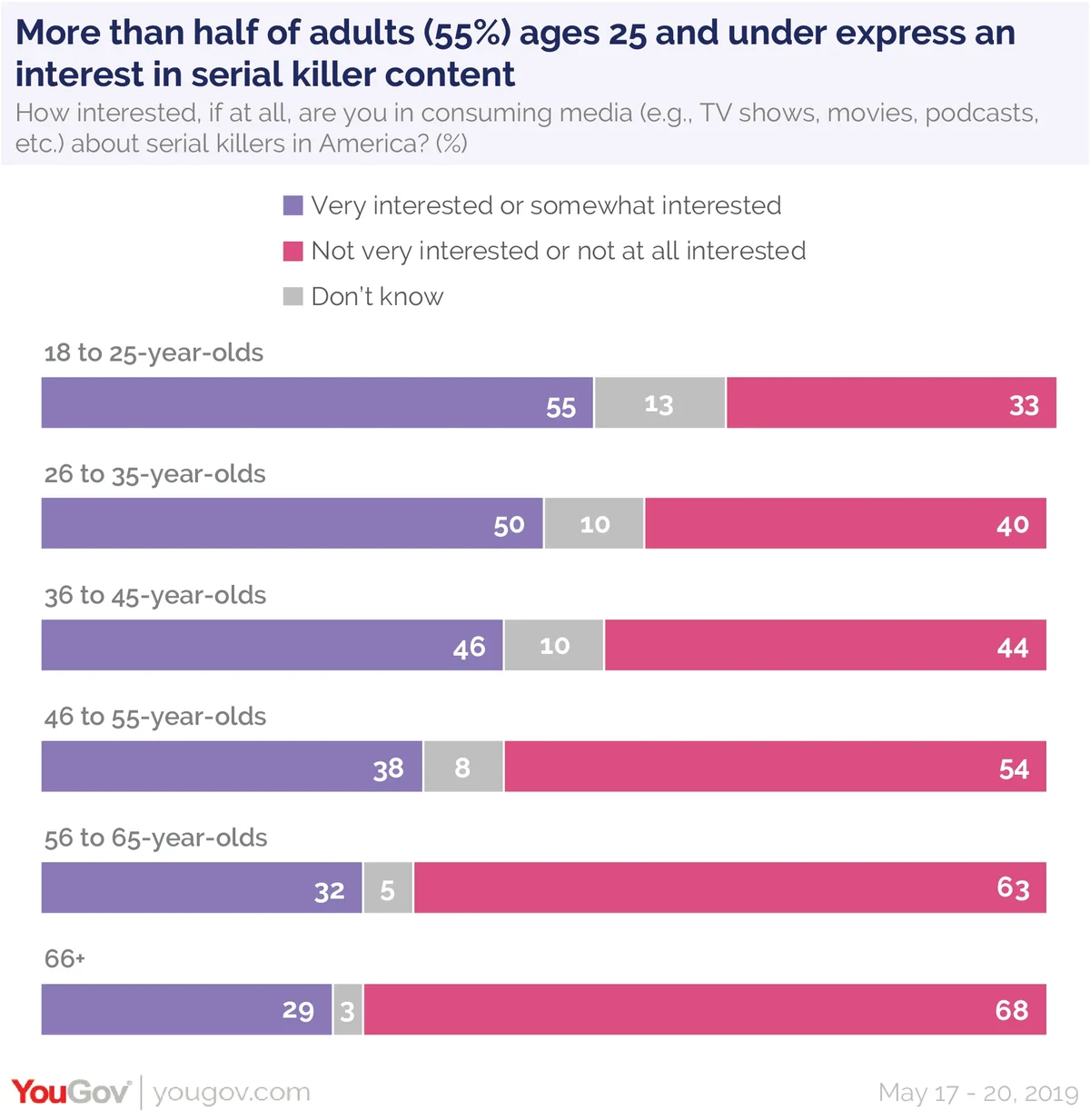 When it comes to big-screen releases, four in 10 (44%) adults say serial killer media is "very" or "somewhat prevalent" in America right now, a statement agreed with by half (54%) of Millennials.
The same YouGov poll asked Americans to submit up to five serial killers that came to mind. Four in 10 (41%) adults named Ted Bundy—the serial killer and rapist who confessed to 28 murders—making Bundy the most notorious serial killer in America by that metric.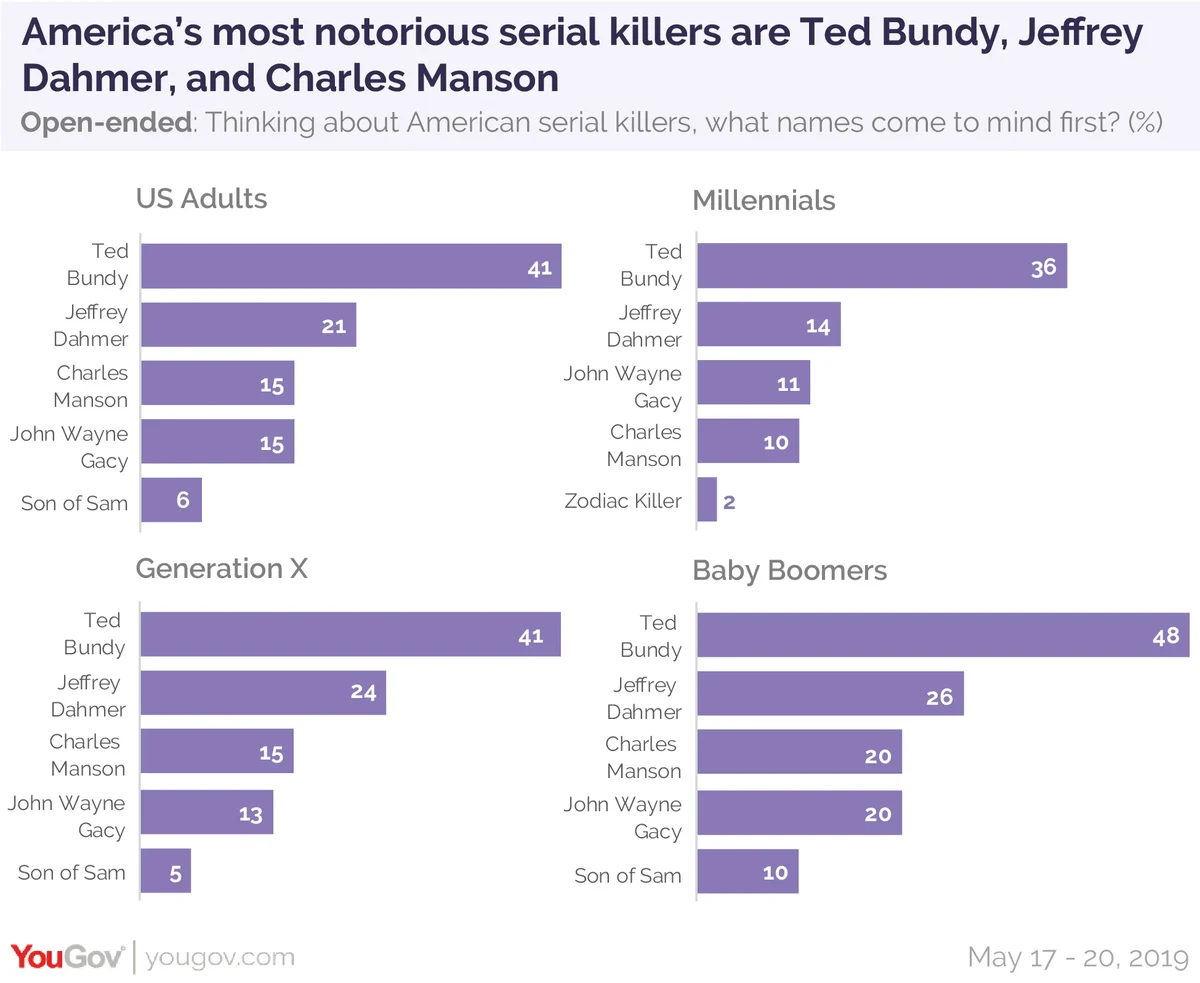 Jeffrey Dahmer, a serial killer known for cannibalism in Milwaukee, was mentioned by one in five (21%) adults. Dahmer is frequently name-dropped across pop and rap music, including Katy Perry's "Dark Horse," Kesha's "Cannibal," and several Eminem and Tyga songs. Dahmer's name-submission was higher in the Midwest (28%), where he committed the murders.
Manson, a cult leader whose followers committed nine murders as The Manson Family, was listed by 15% of US adults, making him the third-most-notorious serial killer in America. John Wayne Gacy, a Chicagoland serial killer who tortured and assaulted 33 young men in the 1970s was also named by 15% of people. Gacy was more remembered by Americans in the Midwest (20%) than other US regions.
The fifth most-notorious serial killer was Son of Sam (6%), a nickname for David Richard Berkowitz. Berkowitz was found guilty of shooting six people to death in New York City throughout the summer of 1976. Nearly one in ten (9%) Northeasterners named Son of Sam. Other serial killers who were named by fewer Americans included the Zodiac Killer (5%), BTK (4%), the Green River Killer (3%), and Richard Ramirez (3%).
The end of summer marks a plethora of anniversaries for serial killer attacks, including the 50th anniversary of the Tate Murders, which were committed by the Manson Family on August 7, 2019. A few days later, August 10th marks the 42nd anniversary of Son of Sam's arrest outside his apartment. August 31 signifies the day that London serial killer Jack the Ripper murdered his first victim, Mary Ann Nicols.
Amid that predominance, 42% of US adults say that it is inappropriate for companies to be making money off the serial killers' stories. Just one in three (34%) Millennials agree that it's a good practice. By contrast, 8% of Americans older than 66 say that it is "somewhat" or "very appropriate" for companies to profit from the murders.