Americans say they personally deserve a summer vacation – but in the latest Economist/YouGov Poll they are far less sure about whether the president and Congress should get a break. The president took 10 days off earlier this month to spend time at his New Jersey golf course, and Congress won't return from its August recess until the second week of September.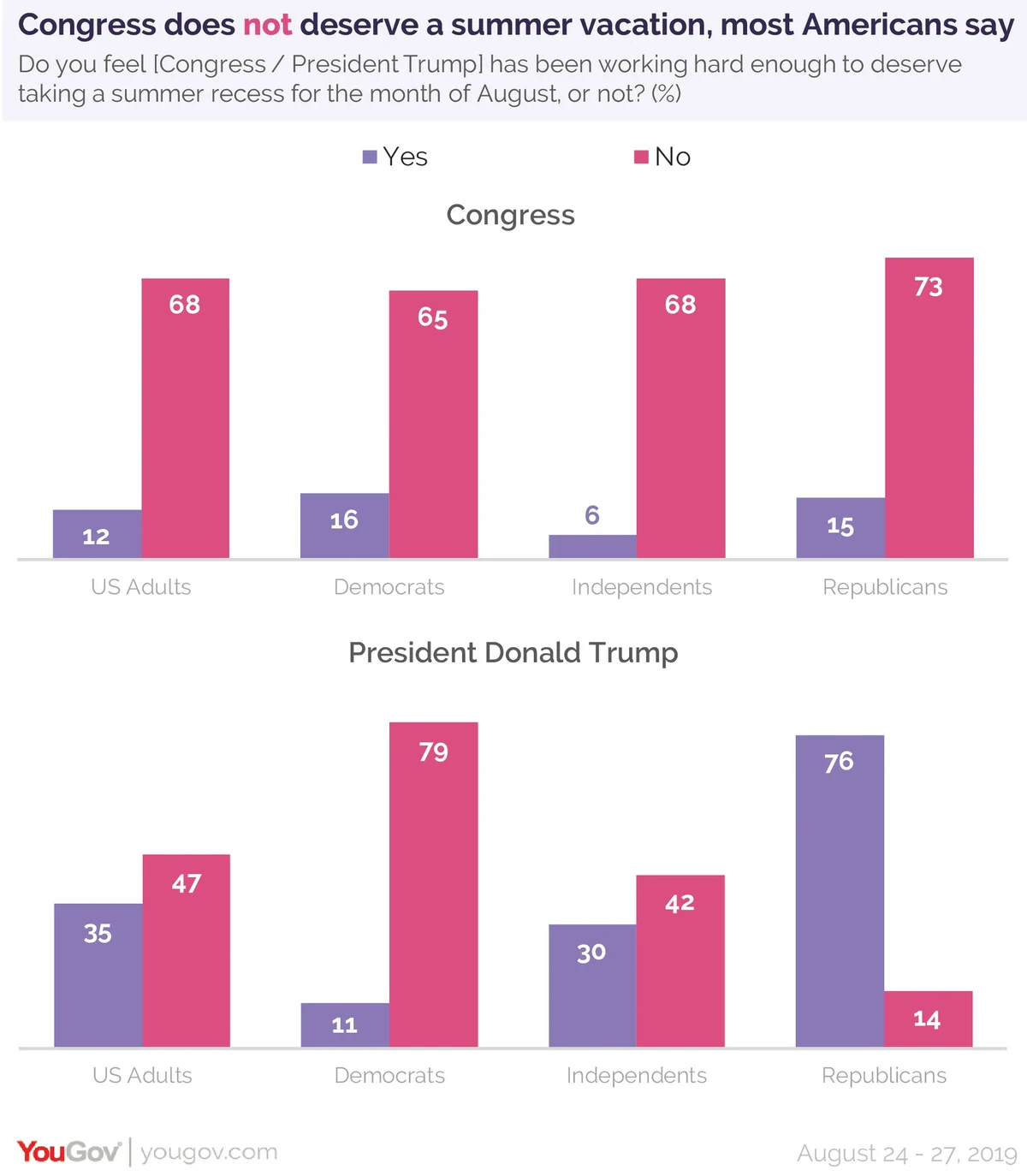 Democrats and Republicans are just about as likely to say they personally deserve a vacation and that Congress does not. But they part ways on the president. About three-quarters of Republicans say he deserves a vacation and three-quarters of Democrats say he doesn't. That's pretty much the same pattern that occurred in Economist/YouGov polls during the Obama administration, with the parties reversed. In August 2014, Democrats felt that the Democratic president deserved a vacation, Republicans did not.
Just because most Americans say they deserve a summer vacation doesn't mean that they take one. Income has a lot to do with whether or not a person usually takes a vacation, and better off and older Americans are more likely than those who are less well-off and younger to believe they deserve one. In fact, only half of those who say they deserve a vacation take one, while a quarter of those who say they don't deserve a vacation do.
When Americans review what they have accomplished in 2019, about half believe they have accomplished about what they usually do at this point in a year. But one in five say they have accomplished more, while about the same percentage say they have accomplished less. That belief affects how Americans answer the question about whether or not they deserve a vacation this year. 81 percent of those who have accomplished more than usual think they deserve a vacation, 24 points higher than the 57 percent of those who think they have accomplished less than usual.
Congressional vacations don't get much support even from those who think the legislative branch has accomplished as much as or more than usual. That's a minority of the public. Half the country say it has accomplished less.
See the full toplines and tables results from this week's Economist/YouGov poll.
Related: When Trump took office, Republicans' most important issue was the economy. Now, it's immigration.
Image: Getty