President Donald Trump tweeted more than 250 times during the first 25 days of August.
That number is not remarkable in its sum, but rather, for the substance he packed into the Twitter missives. Trump called former White House Director of Communications Anthony Scaramucci an "unstable nut job." He quoted someone who compared him to the "King of Israel" or the second coming of God. He canceled a meeting with Denmark after the country said that Greenland wasn't for sale, and "hereby ordered" American companies to start looking for an alternative to China. And he mocked CNN anchor Chris Cuomo, calling him a "Fredo."
These August tweets (those posted between the 1st of the month and the 25th) have earned a median score of -25 among the general population, according to data drawn from YouGov's TweetIndex, a daily tracker of tweets from the @realDonaldTrump account. The median score overall for his collected tweets is -19.
America's opinion of Trump's tweets is sourced from normal Americans. Every day, YouGov asks a nationally representative sample of US adults to rate the president's tweets on a five-point scale from Great (+2) to Terrible (-2), which produces an overall score for how the general population feels about the tweet on a scale from -200 (if everyone thinks it is terrible) to +200 (if everyone thinks it is great).
The lowest-scored tweet among US adults in August was Trump's declaration that Scaramucci was a "nut job" who served "11 days of gross incompetence." In contrast, the highest-rated tweet was the announcement of a presidential memorandum facilitating the cancellation of some student loan debt for severely disabled veterans (+53).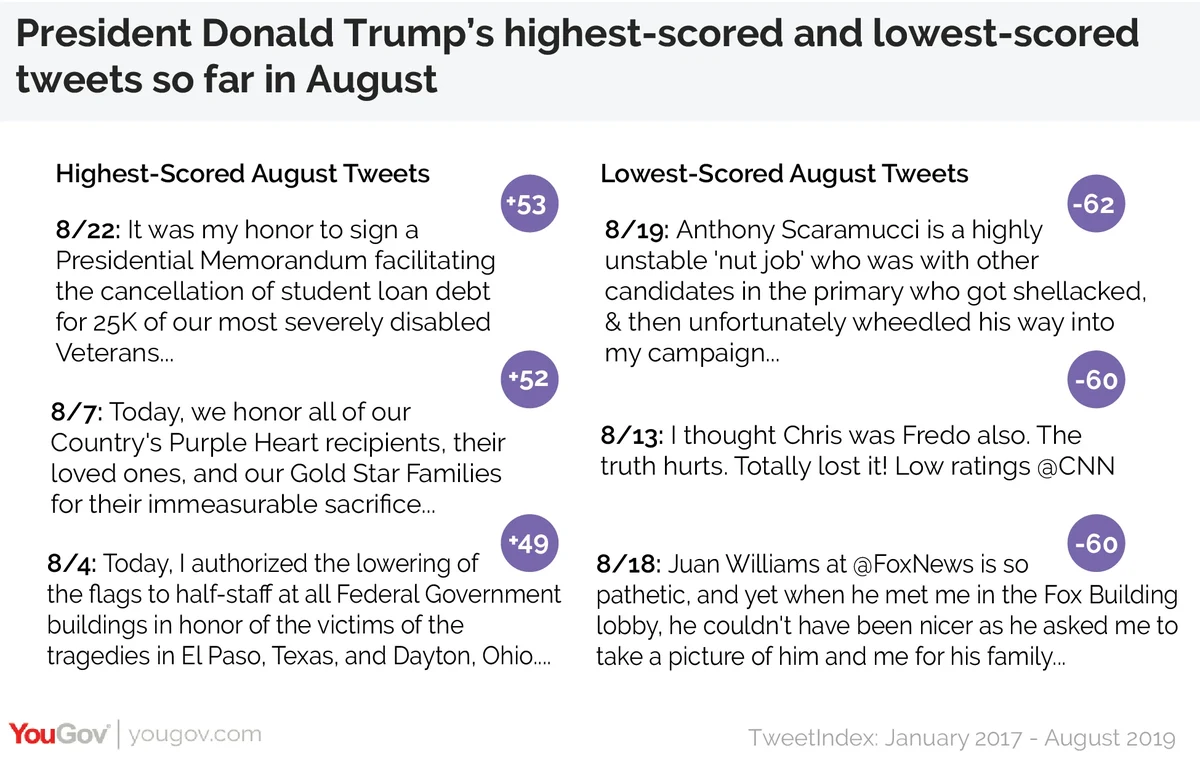 For Republicans, August marked the first time in 2019 that their monthly median score for @realDonaldTrump's tweets narrowly dipped below +100. So far, it has dropped 10-points from July (+109), but his overall median tweet score among Republicans is +102.
Republicans do not rate Trump's personal attacks on white media figures and male business figures highly. In fact, those tweets are rated among the lowest consistently. The only tweet that Republicans have rated negatively (-18) was an attack on the intellect of American businessman and Dallas Mavericks' owner, Mark Cuban, but other low-rated tweets by Republicans include Trump's combative messages toward Arnold Schwarzenegger, Joe Scarborough, Mika Brzezinski, Tom Steyer, and Donny Deutsch.
The president's personal attacks are viewed negatively among all US adults, too. The attacks on Cuban, Scarborough and Brzezinski are the lowest overall for all Americans, and they are joined at the bottom with tweets about Don Lemon, Elizabeth Warren, George Conway, LeVar Ball, and Omarosa Newman.
Beyond a poorly received attack on Scaramuci (-62), most US adults did not appreciate Trump's quoted message comparing himself to the King of Israel (-46) or a canceled meeting with Denmark Prime Minister Mette Frederiksen over Greenland's lack of a "for sale" status (-31). His recent declaration that American companies needed to "immediately start looking for an alternative to China" was marginally more favorable (-24).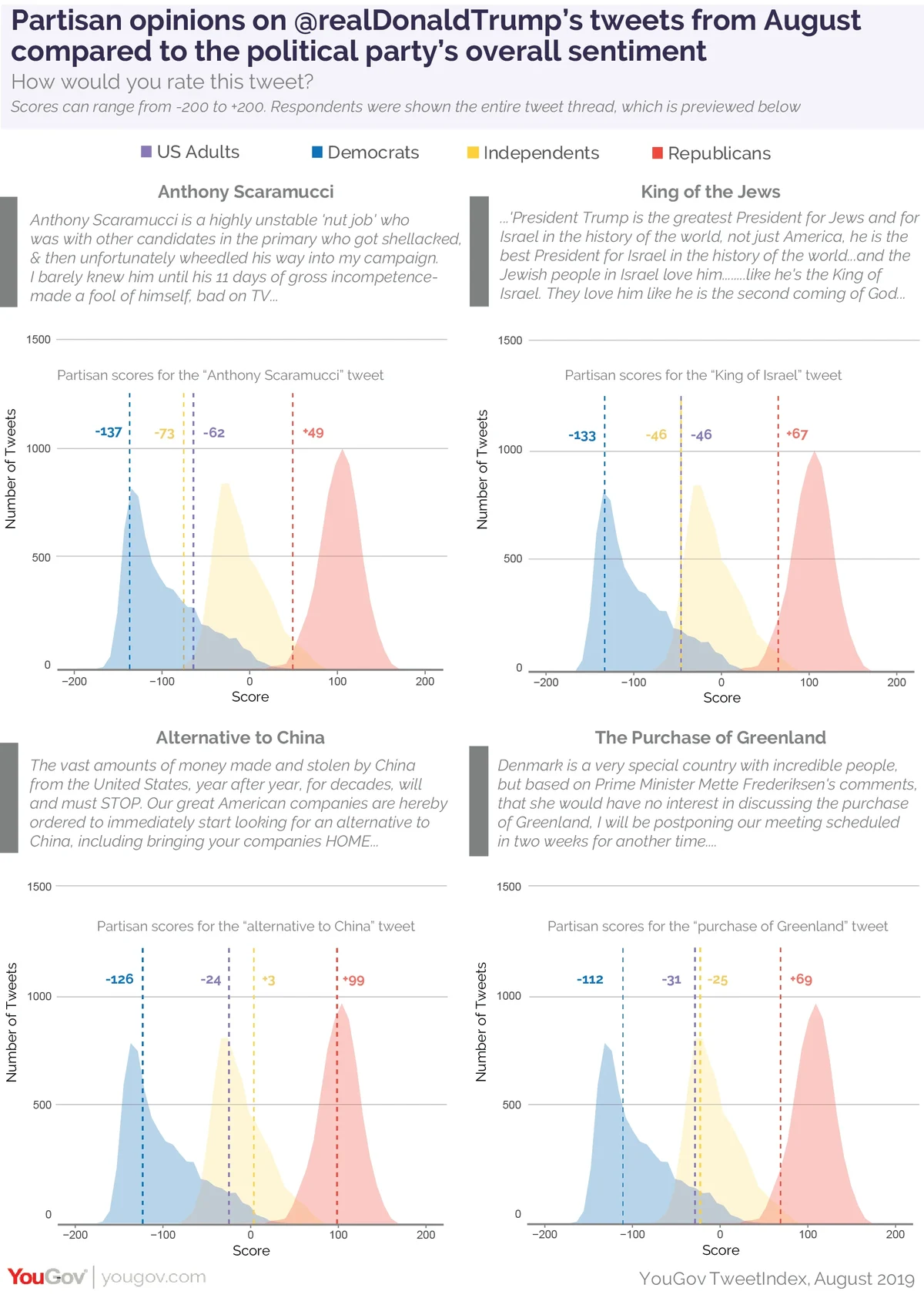 Methodology: YouGov TweetIndex shows how the public rate each tweet from President Donald Trump's official Twitter account. At the end of every day, YouGov shows a representative sample of US adults the tweets sent in the past 24 hours by President Trump. The panelists are asked to rate the posts on a scale Great (+2), Good (+1), OK (0), Bad (-1), and Terrible (-2). Theoretically, scores can range from -200 (if everyone thought the tweet was "Terrible") to +200 (if everyone thought the tweet was "Great").
Related: When Trump took office, Republicans' most important issue was the economy. Now, it's immigration.