Since before Charlton Heston told Americans that they could pry a gun from his cold dead hands, the National Rifle Association has been a polarizing force in America.
In recent years, its role and influence in shaping the political discussion around gun control has grown. In addition to donating $30 million to his 2016 election campaign, the NRA has also reportedly advised President Donald Trump on gun legislation following mass shootings in Ohio and Texas, according to sources who spoke with The Atlantic.
The gun rights organization was also caught up in the investigation into Russian interference into the US elections in 2016 and Russian spy Maria Butina, according to The Guardian.
Those who support the NRA appreciate its stalwart defense of the second amendment of the constitution, which guarantees Americans the right to bear arms. But others see them less positively. In fact, one American city has officially labeled the NRA terrorists.
The San Francisco Board of Supervisors recently passed a resolution to declare the NRA a "domestic terrorist organization." In response, the NRA announced plans to sue San Francisco for allegedly violating laws that protect free speech and association.
But San Francisco may be onto something.
New data from YouGov finds that 43 percent of Americans believe it is accurate to call the NRA a "domestic terrorist organization."
LIVE SURVEY RESULTS
Nearly one-quarter (23%) of Americans say it's "completely accurate" to call the NRA domestic terrorists, while one in five (20%) say it's "mostly accurate." Democrats (63%) are more likely than independents (37%) and Republicans (22%) to say this characterization is accurate.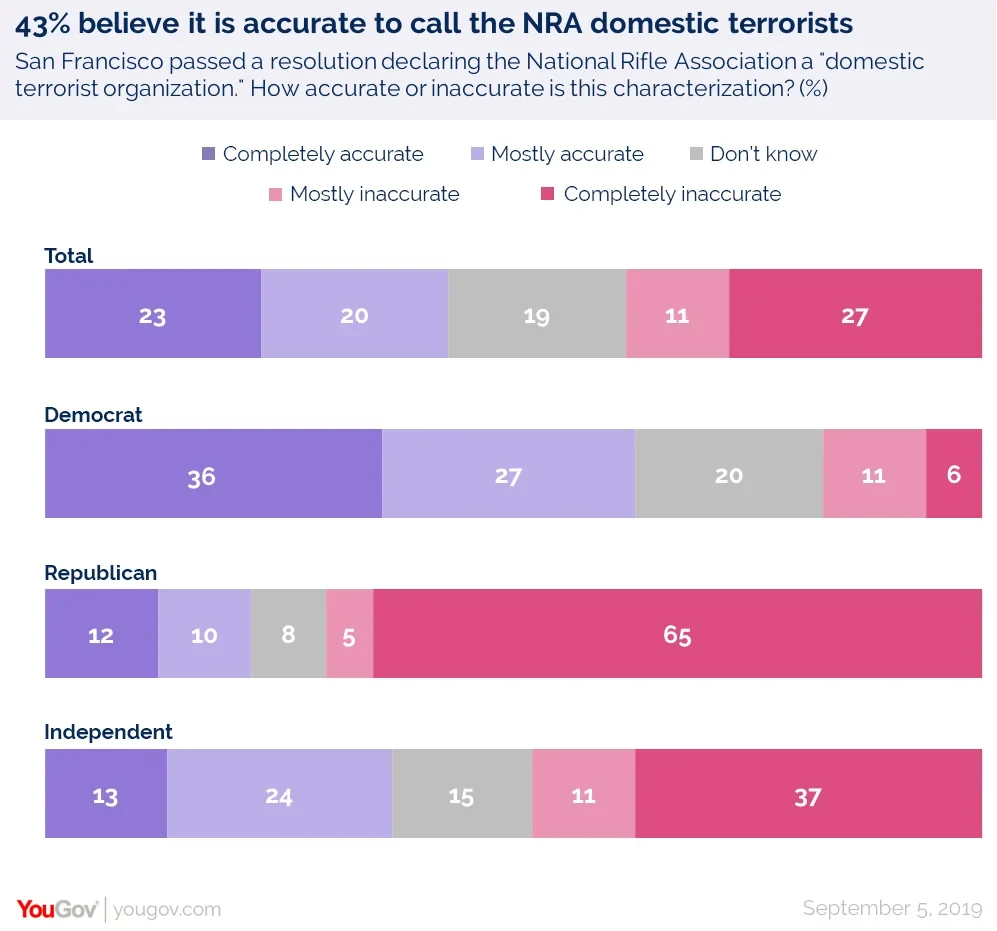 Slightly fewer (38%) Americans say this characterization is inaccurate. Almost two-thirds (65%) of Republicans believe that this is a "completely inaccurate" way to label the NRA. Another 5 percent of this group believes that it's "mostly inaccurate."
Independents (48%) are more likely to see this as inaccurate (vs 37% who say it is accurate). Close to one in five Democrats (17%) believe it is incorrect to call the NRA a domestic terrorist organization.
Further research from YouGov finds that people who live in the Northeast (52%) are more likely than those in the midwest (41%), south (41%), and west (37%) to say it is correct to call the NRA a domestic terrorist organization.
The resolution passed by San Francisco declares, "All countries have violent and hateful people, but only in America do we give them ready access to assault weapons and large-capacity magazines thanks, in large part, to the National Rifle Association's influence."
In their lawsuit against the city, the NRA notes "The Resolution's 'terrorist' designation is a frivolous insult - but San Francisco's actions pose a nonfrivolous constitutional threat."
Do you believe the NRA should be considered a terrorist organization? Sign up for our panel and tell us what you think.
Image: Getty