President Donald Trump faces an impeachment inquiry following his apparent efforts to encourage a foreign power to uncover dirt on a political rival, and he is using his Twitter account to threaten and attack those involved in the inquiry.
The House of Representatives began its impeachment inquiry after learning of the president's conversation with the Ukrainian president in which Trump asked his counterpart to "do us a favor though" by investigating a number of disproved conspiracy theories involving former Vice President Joe Biden. The call occurred while military aid that was approved for Ukraine was being held up. The Ukranian president mentioned the military support on the call, which only came to light after a US government whistleblower filed a formal complaint about Trump's phone call.
In the days since the impeachment inquiry began, Trump has used Twitter to suggest he should be entitled to interview the whistleblower, who is protected with anonymity under US law. He quoted someone saying there would be a Civil War-like fracture in the nation if he was impeached, suggested Congressman Adam Schiff, the leader of the House Intelligence Committee that is leading the inquiry, is guilty of treason, and attacked Senator Mitt Romney for saying that the phone call appeared improper.
While Republicans continue to rate Trump's tweets near the political party's median score (+102), Independents and Democrats continue pushing their ratings lower. Since the YouGov TweetIndex began collecting data, the median score for Trump's tweets among the US population as a whole is -21. The median score among Independents is -15 and the median score among Democrats is -112.
These scores are sourced from regular Americans who consider themselves affiliated with a political party. Every day, YouGov asks a nationally representative sample of US adults to rate the president's tweets on a five-point scale from Great (+2) to Terrible (-2), which produces an overall score for how the general population feels about the tweet on a scale from -200 (if everyone thinks it is terrible) to +200 (if everyone thinks it is great).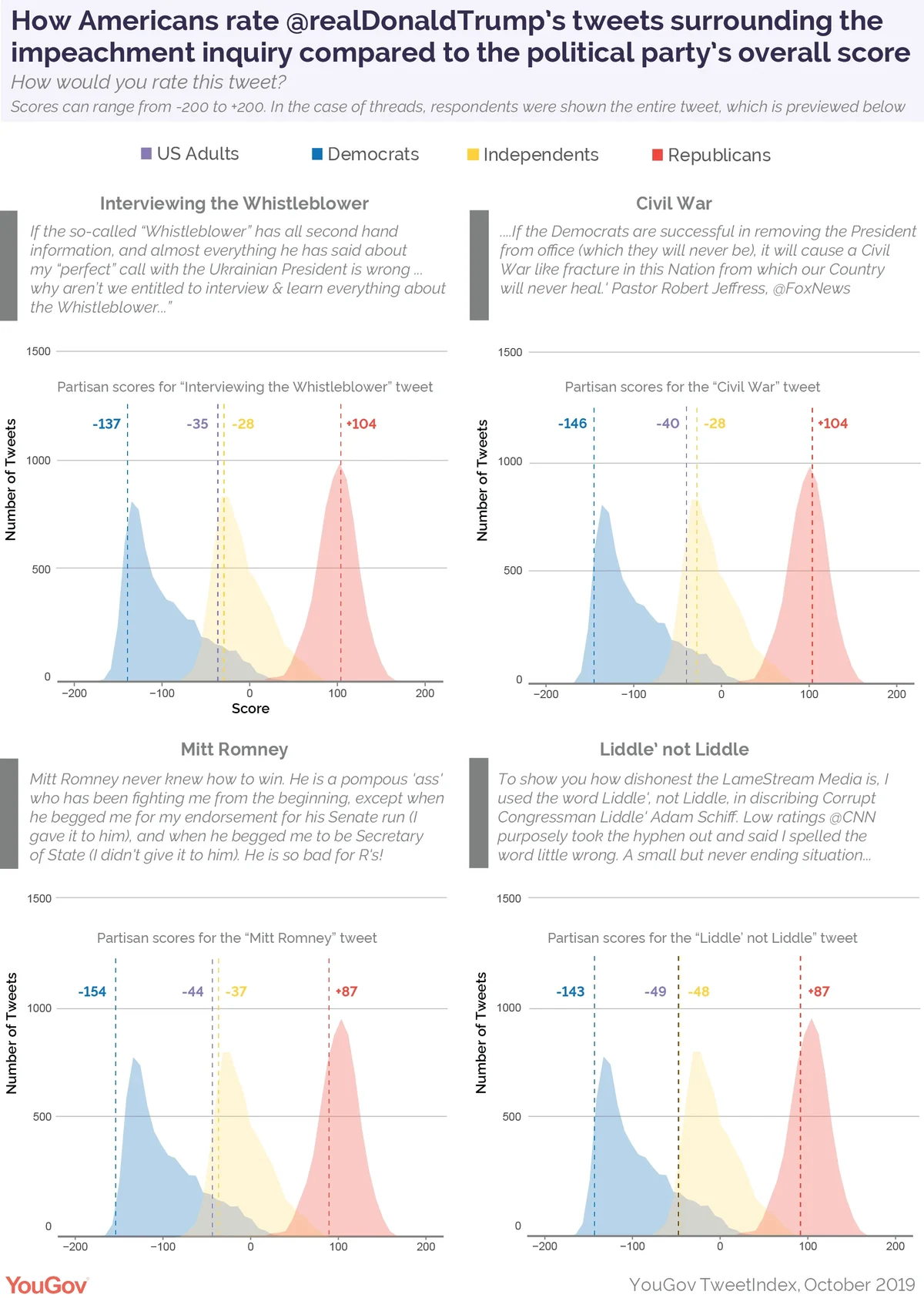 In general, Republicans do not rate Trump's personal attacks on white media figures highly. Republicans handed Trump his only negative score (-18) for an attack on the intellect of American businessman and Dallas Mavericks' owner, Mark Cuban, in February 2017. Other low scores were came when Trump attacked Arnold Schwarzenegger (+4), Joe Scarborough (+6), and Tom Steyer (+21) on Twitter. But each of those low scores came during the first year of Trump's presidency when the personal attacks were still becoming mainstream.
An attack on Donny Deutsch (+25) marks the lowest score Trump has earned from Republicans in 2019, while calling former Republican presidential nominee and current Senator Mitt Romney a "pompous 'ass'" earned a much higher score: +87. The same score (+87) went to a tweet where Trump clarified his nickname for Schiff, the Democrat leading the House Intelligence Committee.
Republicans viewed Trump's suggestion of interviewing the whistleblower (+104) and claim that his impeachment would cause a Civil War-like fracture (+104) about the same as usual. The scores for those tweets hovered around the median for all tweets (+102). Trump's most-popular tweets among Republicans are when he thanks military servicemen and servicewomen (+171).
Related: America's opinion of President Trump's tweets in August
Methodology: YouGov TweetIndex shows how the public rate each tweet from President Donald Trump's official Twitter account. At the end of every day, YouGov shows a representative sample of US adults the tweets sent in the past 24 hours by President Trump. The panelists are asked to rate the posts on a scale Great (+2), Good (+1), OK (0), Bad (-1), and Terrible (-2). Theoretically, scores can range from -200 (if everyone thought the tweet was "Terrible") to +200 (if everyone thought the tweet was "Great").
Image: Getty