As the Supreme Court examines cases it has already heard this term about the rights of gay and transgender people, the American public in the latest Economist/YouGov poll are – for the most part – tolerant and supportive of transgender employment rights. However, Republicans (and in some cases, men) take different positions.
The overall public supports laws prohibiting discrimination in hiring and employment on the basis of sexual orientation and gender identity, with Republicans closely divided.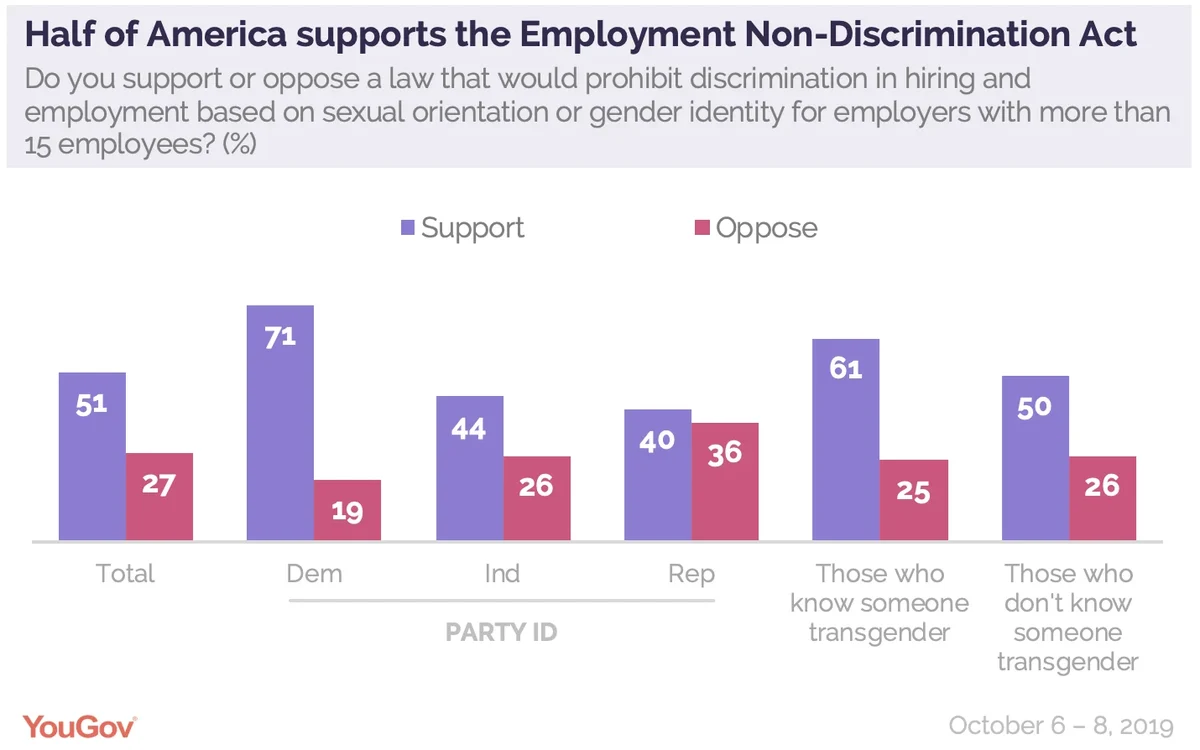 More than one in three (39%) people know someone who is transgender, and the probability of this is even higher among Democrats and younger adults. Those with personal contact are more likely to believe there is "a great deal" or "a fair amount" of discrimination against transgender people. Half of Republicans (50%) and 88 percent of Democrats say there is "a fair amount" or "a great deal" of discrimination against transgender people.
One in five adults (19%) believes employers should be able to fire transgender workers who wear work clothes that match their gender identity. About three times that percentage (59%) disagree. Republicans are more closely divided on this question: a third (32%) say employers should be able to fire those employees, while 44 percent say that should not be allowed.
There is much more opposition to permitting an employer to fire a gay employee. Just 11 percent overall (and 18 percent of Republicans) would permit that. About three-fourths (73%) of the public would oppose such an action, as would two-thirds (65%) of Republicans. Most adults (75%) know someone who is gay.
About half (49%) of Americans support allowing transgender people to serve in the military—opposing the president's executive order banning most transgender military personnel. The order is now being enforced while it continues to be litigated. Republicans (58%) support the ban.
Women – by more than two to one – support allowing transgender people to serve (54%), while men are much more closely divided. One-third (37%) of men oppose allowing transgender people to serve in the military while 43 percent are opposed There is much more support overall for allowing gay people to serve openly, and in this case, Republicans (43%) are narrowly opposed. Both men and women support allowing gays to serve.
People's opinions on religion also factor into their thoughts on this topic. Those who say religion is very important in their lives only narrowly would permit (42%-36%) gays serving openly in the military, and oppose (45%-33%) transgender service. Republicans are nearly twice as likely as Democrats to describe themselves as very religious. A majority of Republicans (57%) and just 30 percent of Democrats call themselves "very religious."
That helps explain why Republicans support (53%-29%) allowing a religious exemption for medical personnel to refuse to provide services they say violates their religious beliefs. The overall public takes the opposite view, 50%-28%. Very religious Republicans favor the exception by nearly three to one; other Republicans are closely divided.
Republicans are very different from the rest of the public when it comes to how they look at transgender people. Republicans mostly believe someone should be thought of as the gender they were assigned at birth, while other adults are more likely to acknowledge the transition.
There appears to be greater acceptance of female to male transitions than male to female ones. Men generally accept a female to male as male (48%), but also believe that someone transitioning male to female is still male (55%).
This impacts people's views of who should use gender-specific bathrooms. Republicans say that those classified as female at birth and those classified as male at birth should use those bathrooms, whatever their gender identity today.
Overall, the public is more uncomfortable with male-to-female transgender individuals using female-designated bathrooms than they are with female-to-male transgender individuals using male bathrooms. There is no gender difference on the latter, but men are much more likely to report being uncomfortable with a male-to-female transgender individual using a female-designated bathroom (55%). Most Republicans are uncomfortable with both scenarios.
A growing number of Republicans see "a great deal" or "a fair amount" of discrimination against Christians today. In 2015, 50 percent of Republicans in an Economist/YouGov Poll said that. In this poll, nearly two-thirds (64%) do. More Republicans see discrimination against Christians than see discrimination against Jews (53%), Muslims (50%), transgender people (50%) or lesbians, gays and bisexual people (40%).
Related: What are impeachable offenses? Republicans and Democrats disagree
Read the full toplines and table results from this week's Economist/YouGov poll
Image: Getty