Two of the three leading Democratic presidential candidates faced campaign difficulties in the last week. Former Vice President Joe Biden and his family were accused of corrupt actions in Ukraine by President Donald Trump, despite no evidence of wrongdoing and Vermont Senator Bernie Sanders faced serious health questions after a heart attack forced him to cancel some campaign events.
The current frontrunner in the Economist/YouGov Poll, Massachusetts Senator Elizabeth Warren, is the only candidate being considered by more than half of Democratic primary voters, and is the first choice of more than one in four.
California Senator Kamala Harris and South Bend Mayor Pete Buttigieg are each the first choice of 5 percent of Democratic voters. About a third are considering each of them. No other Democrat receives more than 3 percent of first choice mentions
Only five other candidates have more than 10 percent even considering supporting them: New Jersey Senator Cory Booker, former Texas Representative Beto O'Rourke, businessman Andrew Yang, former Housing and Urban Development Secretary Julian Castro, and Minnesota Senator Amy Klobuchar
Most Democratic voters aren't worried about Biden's actions toward Ukraine, but that issue has become partisan. Just 13 percent of Democratic primary voters regard the corruption allegations as a legitimate issue, but 70 percent of Republicans say it is. Democratic voters say Biden's urging Ukraine to fire a prosecutor who was accused of corruption was appropriate; Republicans don't. A majority of Republicans even say they believe Biden did something illegal while he was Vice President. Hardly any Democrats agree.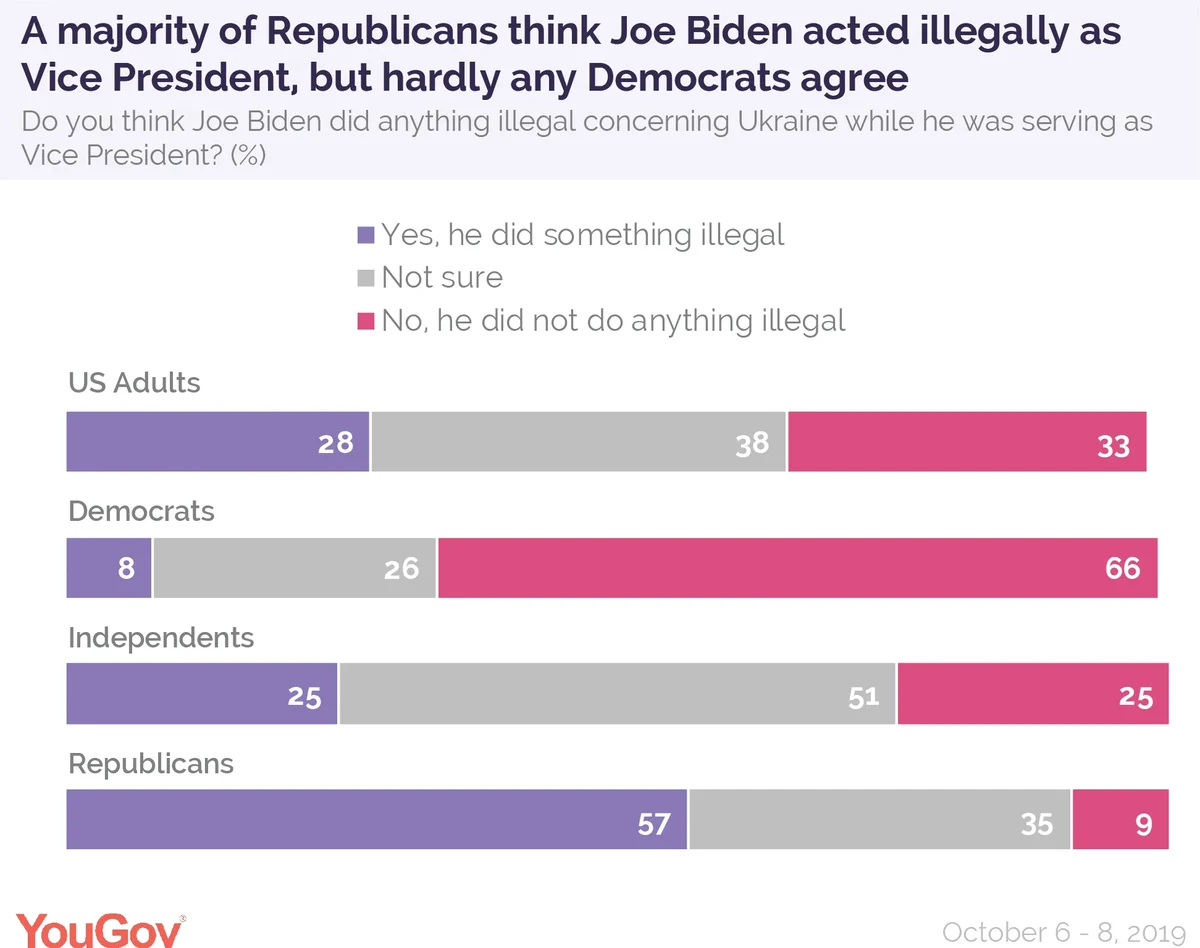 But Biden no longer enjoys the lead he did just a few weeks ago with Democratic voters, who aren't as sure of Biden's son Hunter's behavior in Ukraine as they are of Biden's. Democratic voters are evenly divided on the appropriateness of Hunter Biden joining the board of a Ukrainian company while his father was Vice President.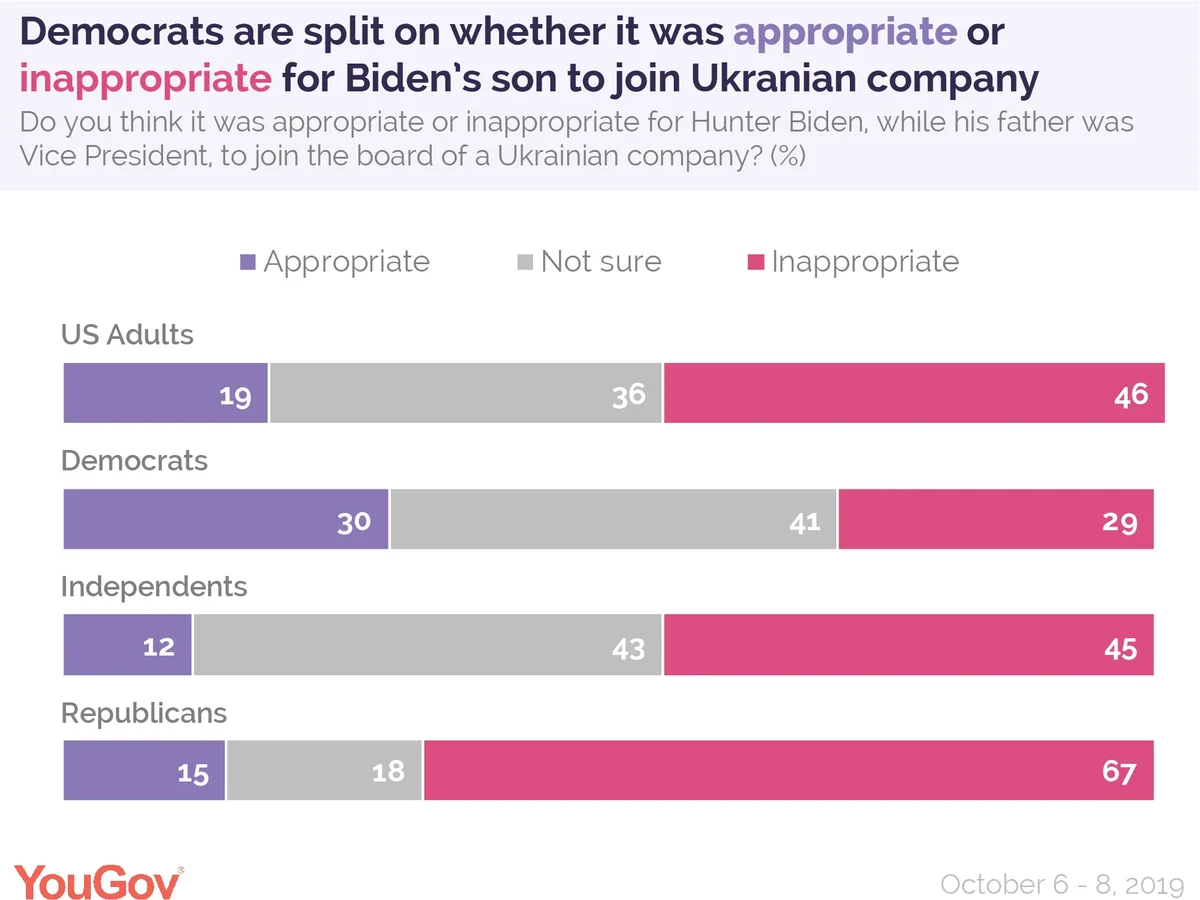 However, just as most Democratic voters believe Joe Biden did nothing illegal, they also think Hunter Biden did nothing illegal.
Earlier this year, Biden's favorable ratings among the overall public matched his unfavorable ones. Now nearly half (49%) overall view him unfavorably, with 39 percent favorable. On the other hand, Warren is nearly as likely to be viewed favorably as not by Americans overall. Her new status makes her a target for Republicans: in this week's poll, 76 percent of Republicans view her negatively. On the other hand, 51 percent of Democratic voters view her very favorably.
Sanders runs well behind both Warren and Biden on the question of first choice, even though just about as many Democratic voters have a favorable opinion of him as hold a favorable opinion of Warren (75% to 79%). Concerns about Sanders' health in this poll are shared by Democrats and Republicans alike. Eight in 10 had heard news about Sanders' heart attack, and two-thirds of Democratic primary voters (along with a similar share of the overall public) view it as a legitimate issue in the campaign.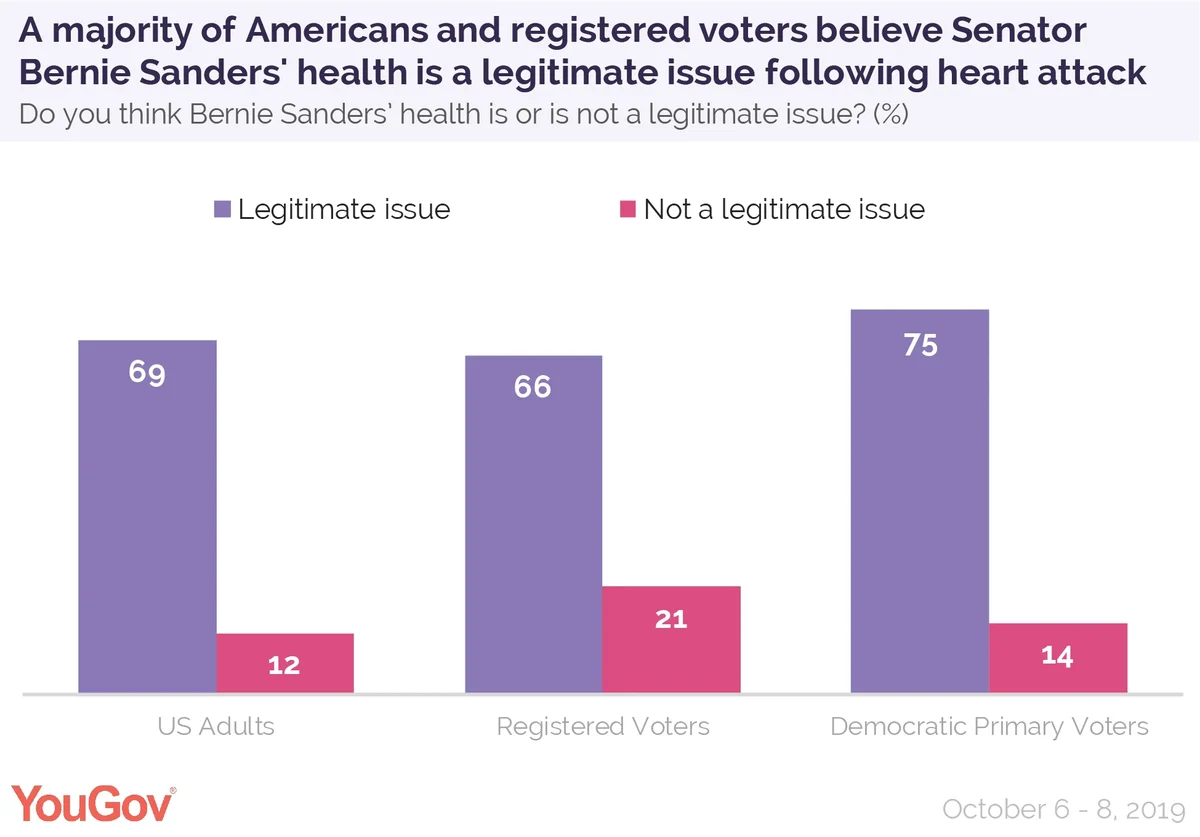 A quarter of Democratic voters (23%) don't think the Sanders campaign was being transparent about the candidate's health issues, but 52 percent say it has been.
All three of the Democratic leaders – as well as President Trump – are 70 or older (Warren is the youngest at 70), and Sanders' heart attack may have brought them all additional scrutiny when it comes to their age. Only 4 percent of the public thinks that the 70's is an ideal age for a president. More than half identify the ideal age as under 60.
Biden and Sanders, if elected, would both reach the age of 80 during a four-year term. That's too old, according to many voters. Senior citizens agree. Democrats are closely divided, and that difference is reflected in whom they support.
Warren is the clear first choice of Democratic voters who think an 80-year old President would find the job too difficult. More than a third (36%) in this group choose her, nearly twice as many as the 19 percent who name Biden. Only 4 percent who think 80 is too old say Sanders is their first choice. Biden does much better among the voters who think age brings experience: 35 percent choose him, and 19 percent each favor Warren and Sanders.
Related: As the Supreme Court begins a new session, most Americans see it as partisan
Read the full toplines and table results from this week's Economist/YouGov poll
Image: Getty