Americans view the impeachment inquiry into President Donald Trump and his possible removal from office as parallel. Nearly all of those who favor impeachment by the House of Representatives say the Senate should remove the president from office if the House votes to impeach. In the latest Economist/YouGov poll, Democrats favor the Senate removing Trump (84%), while three-fourths (75%) of Republicans are opposed and independents remain divided.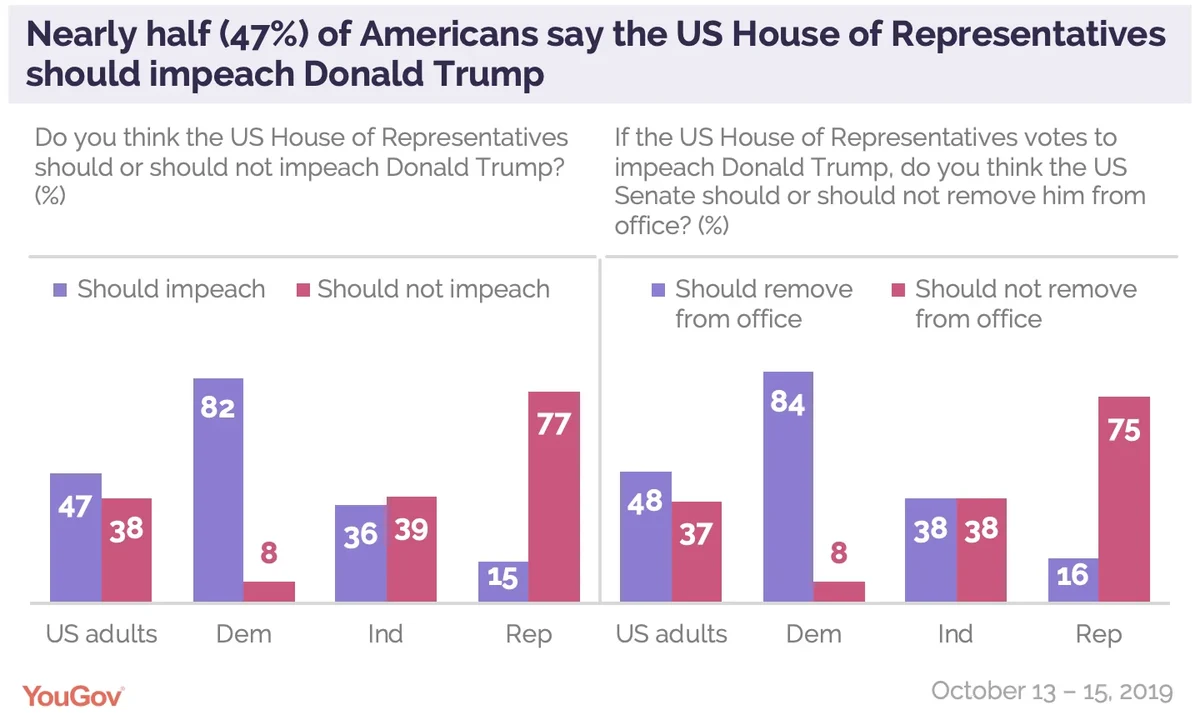 Few people who have been involved or named in the impeachment inquiry come out unscathed, according to the latest favorability ratings from Economist/YouGov. Several important government agencies that have been cited in the investigation get mixed reviews. The President's personal lawyer, Rudy Giuliani earns negative ratings from the public overall, though Republicans remain favorable. Seven in 10 (70%) of Republicans view Giuliani favorably.
Attorney General William Barr and House Intelligence Committee Chair Adam Schiff also are seen negatively, though their partisans disagree. By 59 percent to 19 percent, Republicans have a favorable impression of Barr; by 52 percent to 17 percent, Democrats like Schiff.
As for government agencies, two-thirds overall (65%) and eight in 10 (80%) of Republicans have "a great deal" or "quite a lot" confidence in the military. The same cannot be said of the Central Intelligence Agency, the Federal Bureau of Investigation, or the diplomatic corps. A third or less express "a great deal" or "quite a lot" of confidence in each of them, and the partisan differences aren't large.
Various government agencies are described by some as the "deep state," which often alludes to an unproven notion that career bureaucrats are sabotaging the Trump administration. Without being prompted with a definition, 70 percent of Republicans say the "deep state" is trying to overthrow Trump. Nearly two in five (38%) of independents 13 percent of Democrats agree.
This majority belief may put Republicans in a very different frame of mind when they answer questions about Trump's actions that are at issue in the impeachment inquiry. By two to one, the public believes that withholding military aid to Ukraine while requesting an investigation of the family of former Vice President Joe Biden is inappropriate; similarly, Americans agree that it was inappropriate to ask China to investigate the Bidens. Most Republicans find nothing inappropriate with either action.
The low GOP support for impeachment rises among those who find each action "inappropriate," but even those Republicans who say each action is inappropriate continue to oppose impeachment.
This should come as no surprise, as Republicans overwhelmingly support the President: 86% approve of how he is handling his job, and 82 percent say they want him to run for re-election.

Related: Republicans approve of Trump's moves in Syria, most Americans do not
Read the full toplines and tables results from this week's Economist/YouGov poll
Image: Getty