President Donald Trump tweeted cryptically on Saturday night, "Something very big has just happened." By Sunday morning, the president revealed on television that an American military raid had resulted in the death of the Islamic State leader Abu Bakr al-Baghdadi.
In the days following the death of al-Baghdadi, Trump used Twitter to promote a video of his remarks during which he praised a "beautiful" and "talented" military working dog who was injured during the raid. By Monday afternoon, Trump had declassified and tweeted a photo of the dog. The post — which marks a departure from the president's ongoing tweets about the impeachment inquiry focused on his conduct — earned respectively high scores among Republicans (+140), Democrats (-31), and Independents (+40).
These scores are sourced from regular Americans who consider themselves affiliated with a political party. Every day, YouGov asks a nationally representative sample of US adults to rate the president's tweets on a five-point scale from Great (+2) to Terrible (-2), which produces an overall score for how the general population feels about the tweet on a scale from -200 (if everyone thinks it is terrible) to +200 (if everyone thinks it is great).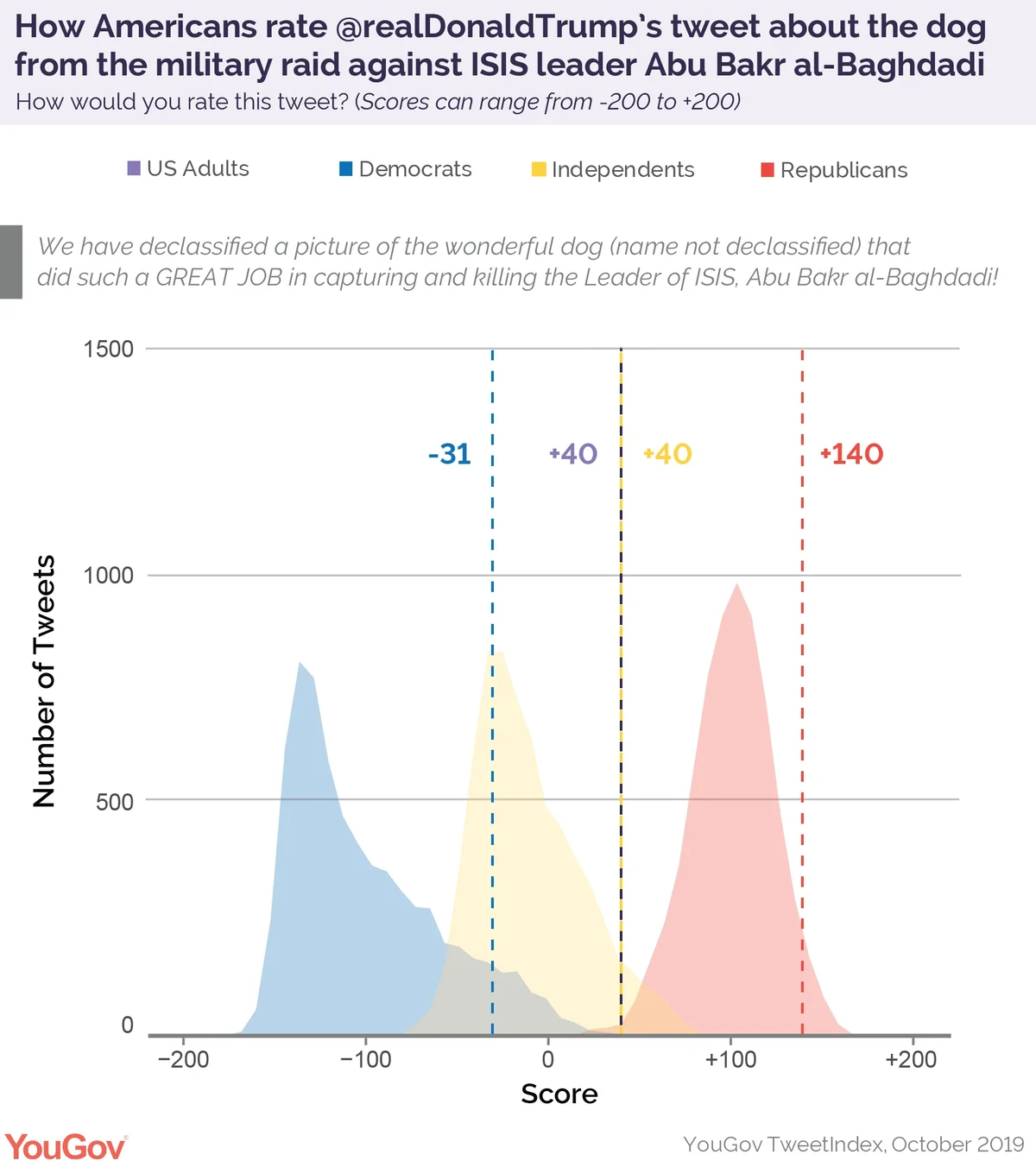 Since the YouGov TweetIndex began collecting data, the median score for Trump's tweets among the US population as a whole is -21. The median score among Independents is -16, for Democrats it is -114, and the Republican median is +102.
Trump's highest-rated tweets among Republicans are often when he thanks military servicemen and servicewomen. His highest scoring tweet among Republicans (+171) came in May 2017 when he thanked heroes on Armed Forces Day.
The highest-rated tweet among Independents (+98) happened in July 2017 when Trump paid tribute to the first responders who were hurt in a shooting on a congressional baseball practice. Among Democrats, his most-favorable tweet happened in February 2018 when he tweeted congratulations to the US Women's Hockey Team on their gold medal.
Related: On President Trump's impeachment tweets, partisanship drives approval
Methodology: YouGov TweetIndex shows how the public rate each tweet from President Donald Trump's official Twitter account. At the end of every day, YouGov shows a representative sample of US adults the tweets sent in the past 24 hours by President Trump. The panelists are asked to rate the posts on a scale Great (+2), Good (+1), OK (0), Bad (-1), and Terrible (-2). Theoretically, scores can range from -200 (if everyone thought the tweet was "Terrible") to +200 (if everyone thought the tweet was "Great").
Image: Getty