Two things happened in the last week that have the potential to American attitudes toward the possible impeachment of President Donald Trump. Neither probably will.
First, the House of Representatives officially approved the impeachment inquiry, fulfilling GOP demands.
Then a major witness changed his testimony to say he did know about quid pro quo. Gordon Sondland, the US Ambassador to the European Union now says he told Ukrainian officials that American military aid depended on Ukraine committing to investigations that could help Trump in the 2020 election.
But the first has not shrunk the partisan gap on impeachment, and the second probably won't either.
Making the House inquiry official appears not to have changed many GOP minds, as 80 percent of Republicans oppose the House impeachment. Last week, an equivalent share (81%) of Republicans opposed impeachment.
Opinion about impeachment has been stable for the last few weeks. The same share of Democrats favor impeachment as Republicans oppose it. This week, independents are narrowly in favor, though the difference is within the error margin for this group.
More important, perhaps, is that Sondland's change of testimony is unlikely to move Republicans. Most Republicans polled in recent days believe there was no quid pro quo. Two-thirds (66%) say he did not purposefully withhold military aid to Ukraine in order to prompt the country to investigate Biden.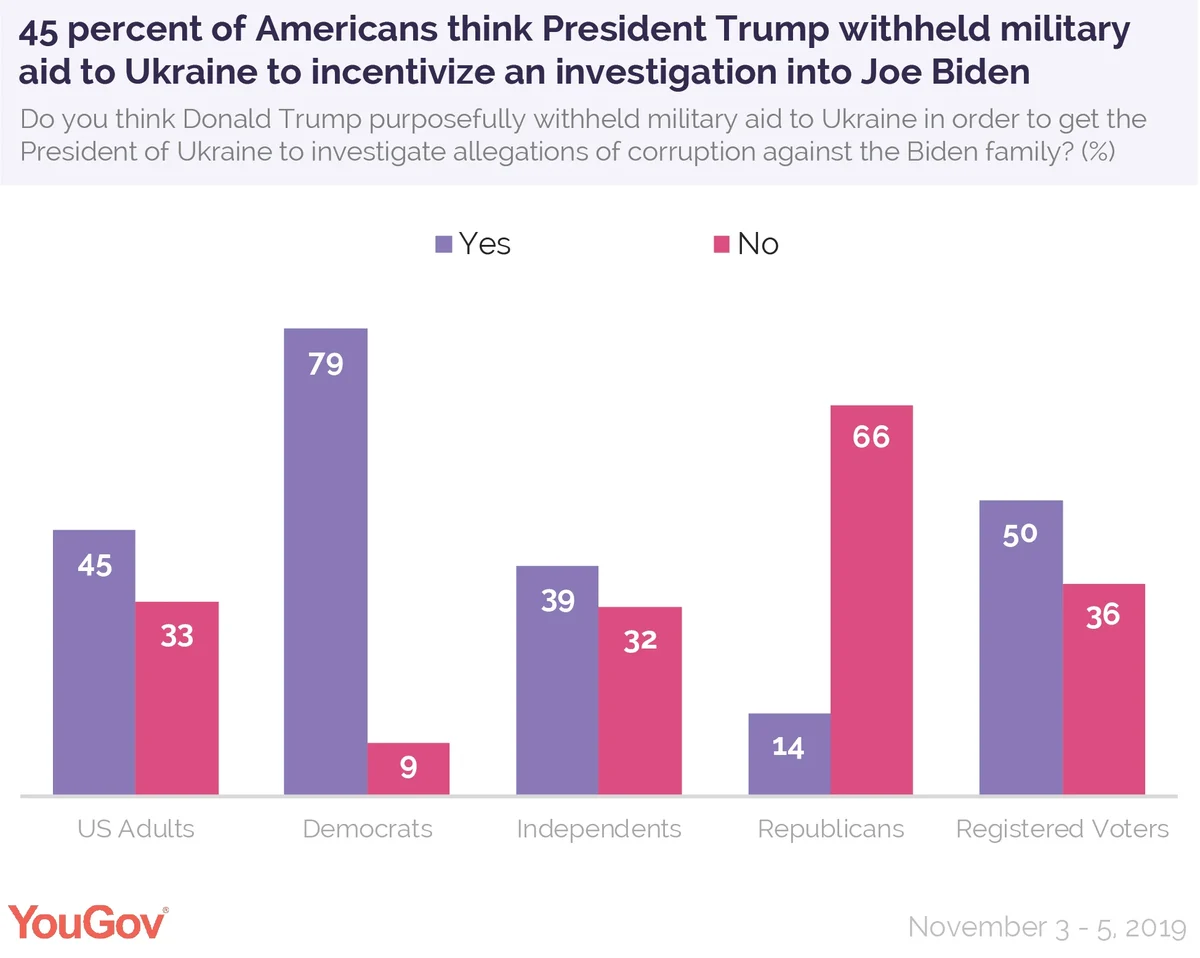 While that percentage may change with the new information, it may not make a difference to the outcome. Several Republican Senators, like South Carolina Senator Lindsay Graham and Texas Senator John Cornyn, have suggested that a quid pro quo might not rise to the level of an impeachable offense, though they both have noted that it would depend on the circumstances. In this poll, most Republicans believe even if the request was for an investigation into Vice President Joe Biden and his son Hunter's action in Ukraine, it wouldn't matter, as it would not be an impeachable offense.
Republican support for Trump has increased in recent months, following the release of the Mueller Report the start of the impeachment inquiry. For most of his administration, 80 percent or more of Republicans have said they approve of how the president is doing his job. However, the share of Republicans strongly approving has shifted. That percentage declined in mid-2017 to 40 percent, but is now back up.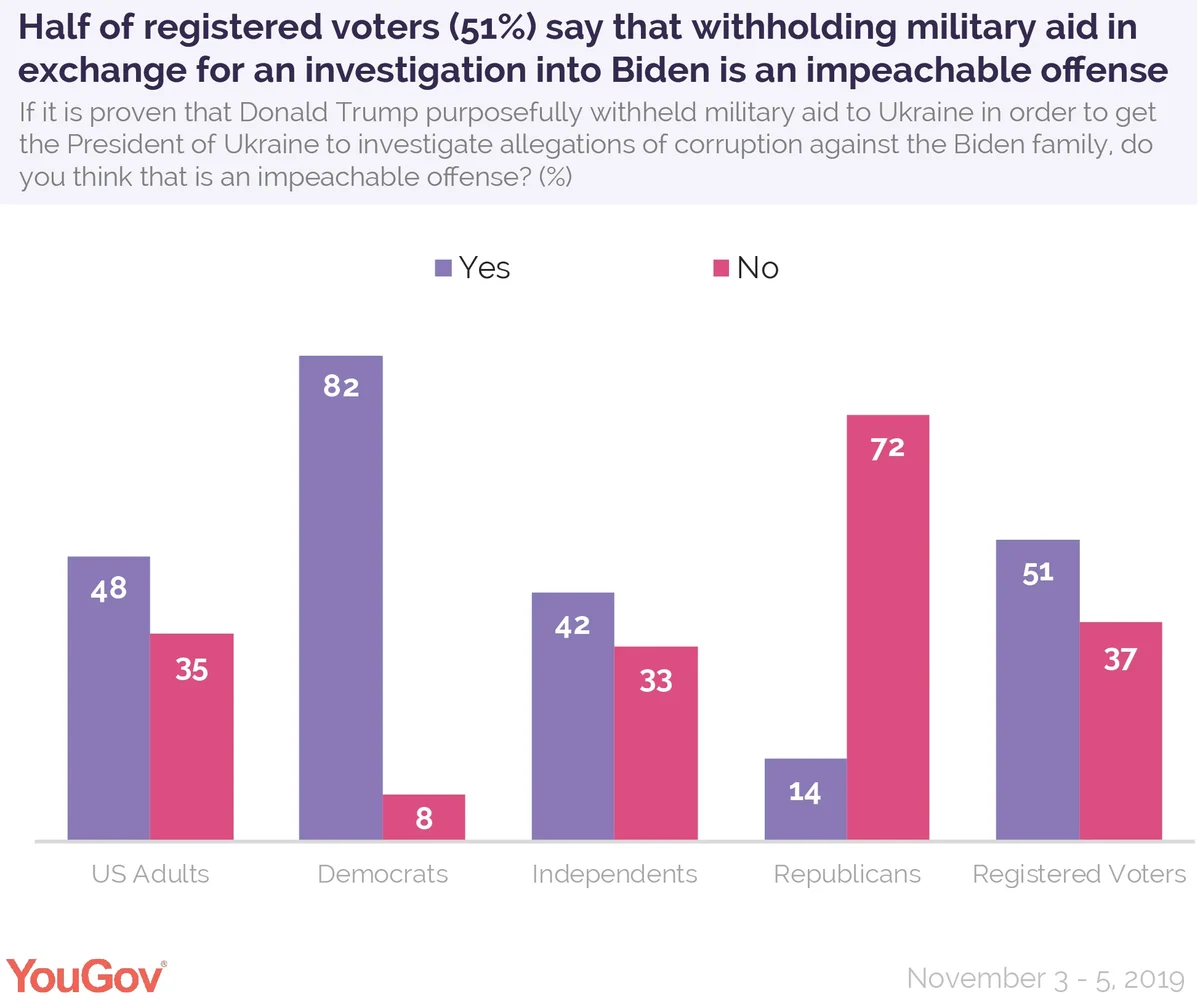 Last week, 65 percent of Republicans strongly approved, matching the highest share of Republicans in Economist/YouGov Polls ever to say that. This week, 61 percent of Republicans strongly approve. Adding to that percentage the share of Republicans who somewhat approve shows 85 percent of Republicans approving of how the president is handling his job. His approval rating among all Americans is 41 percent; 50 percent disapprove.
In contrast, Democrats are overwhelming negative: 86 percent disapprove, with 77 percent strongly disapproving. Earlier this year, 83 percent of Democrats, the highest ever, strongly disapproved.
In recent months, polls have suggested that the economy, always the president's strongest area with the public, was causing concern. This week, just about as many Americans say the economy is getting worse as think it is getting better. But the president's approval rating for handling the economy remains positive: 48 percent approve of how he is handling that issue, seven points higher than his overall approval rating. Even more than one in five Democrats (22%) approve.
Majorities of both Republicans and Democrats believe a president can do a lot about the economy. But, in the aggregate, the public sees little difference in what will happen after the 2020 election, no matter who is elected.
As on all political questions, there are enormous party differences. About the same share of Independents say the economy will get worse whomever is elected, though more think it will improve under Trump than under a Democratic president.
See the full toplines and tables results from this week's Economist/YouGov poll.
Image: Getty