The Supreme Court is weighing President Donald Trump's plan to eliminate the Deferred Action for Childhood Arrivals (DACA) program. If it rules in the administration's favor, the Court will take a position that a majority of the public opposes, according to the latest Economist/YouGov Poll. That changes on party lines and Republicans in the poll would approve of the ruling.
That doesn't mean all Republicans oppose DACA. Nearly four in 10 support the program, though half oppose it. The first time this question was asked in the Economist/YouGov Poll, in September 2017, as the president was considering ending the program, support was higher, partly because Republicans then were narrowly in support of DACA. In 2017, 43 percent of Republicans supported DACA, while 38 percent opposed it, a five-point margin in favor. Now, Republicans oppose DACA by an 11-point margin.
Immigration was an important issue for Trump voters in the 2016 election. It still is. In this week's poll. 16% of Republicans say immigration is their most important issue – second only to the economy, named by 21%. Hardly any Democrats rank immigration as their top issue. For Democrats, the top two issues are health care and the environment. Two-thirds of Republicans, but only 13% of Democrats regard illegal immigration as a very serious problem facing the country as a whole, though fewer see it as very serious in their own communities, with opinion on this influenced more by partisanship than by geographic location.
Although the parties differ on DACA (with nearly half of Republicans opposing the Obama-era program), opinions of DACA recipients are better than that of other illegal immigrants. Half of Republicans say they care – at least somewhat – about the DACA "Dreamers," although only 12% care "a lot." As for undocumented immigrants in general, Republicans would simply force them to leave the country.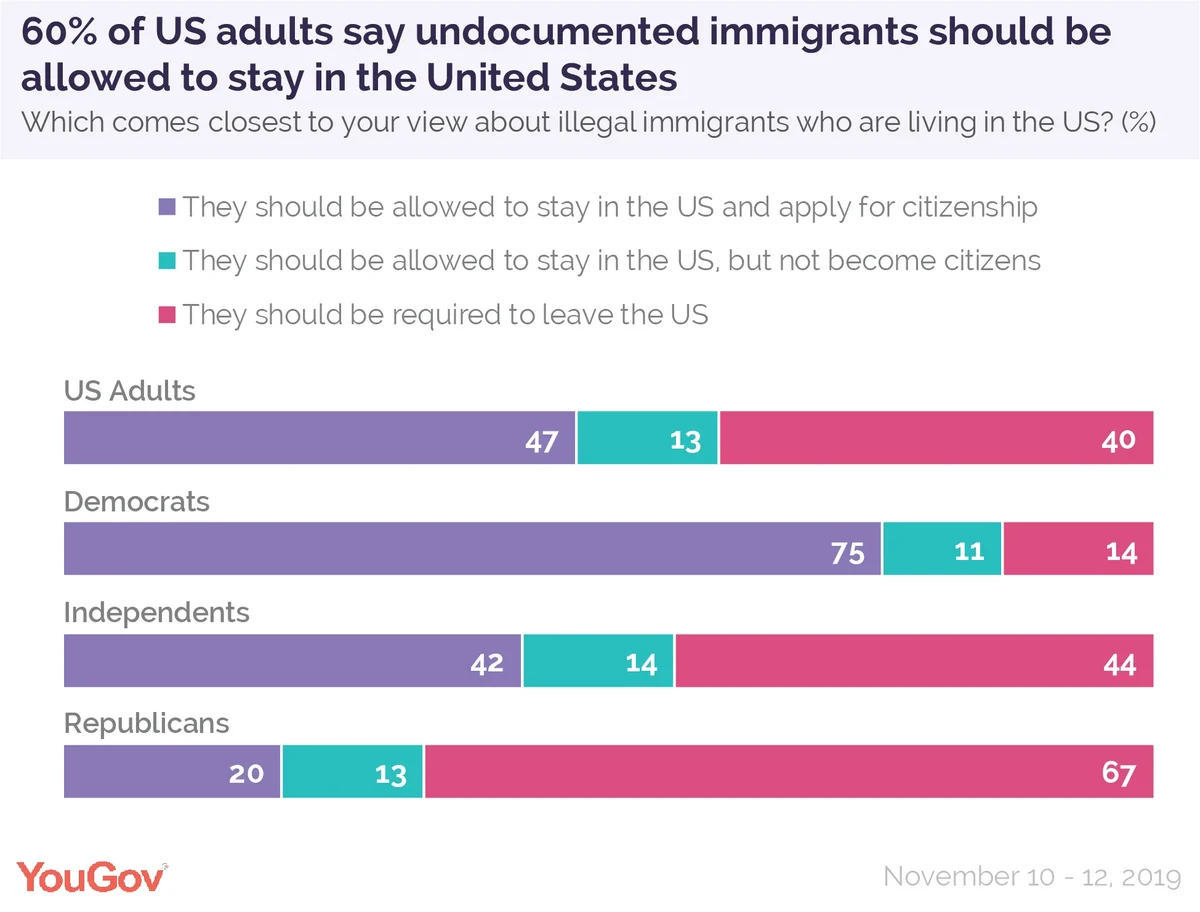 Overall, most of the public would let undocumented immigrants stay – though fewer than half would grant them a path to citizenship.
These opinions are not new – Republicans have favored deporting illegal immigrants in Economist/YouGov Polls at least since the 2016 campaign. But the two sides have hardened their positions. In May 2016, 58 percent of Republicans favored deportation (now up nine points to 67 percent), while 62 percent of Democrats supported a path to citizenship. That percentage has jumped 13 points to 75 percent now.
Republicans have also come to support the administration's policy of family separation of undocumented immigrant families at the border. In May 2018, Republicans disapproved of the program, 46 percent to 39 percent. In this week's poll, they approve by nearly two to one, 56 percent to 29 percent. Overall, the public continues to disapprove of family separation.
The Supreme Court arguments on Tuesday – and the Justices' questions -- have led a number of reporters to note that the Court seems ready to approve the president's termination of the DACA program. Opinions of the Court are often related to how the public perceives the decisions it has made. This week's poll, conducted before Tuesday's arguments, finds a partisan split. Republicans overwhelmingly view the Court favorably, while Democrats express – more narrowly – their disapproval.
See the full toplines and tables results from this week's Economist/YouGov poll.
Related: How did Trump's tweets affect Sean Spicer on Dancing with the Stars?
Image: Getty