As the House impeachment inquiry opens its public phase, the impact on opinions may be limited, as most Americans may not be open to new information. Overall opinion about impeachment in Economist/YouGov Poll has not changed in the last few weeks, with a plurality, but not quite a majority, in favor of the House of Representatives impeaching President Donald Trump.
Ahead of the impeachment hearings beginning, likely viewers of the hearings were nearly twice as likely to be found among Democrats (most of whom are already committed to impeachment) as among Republicans or independents.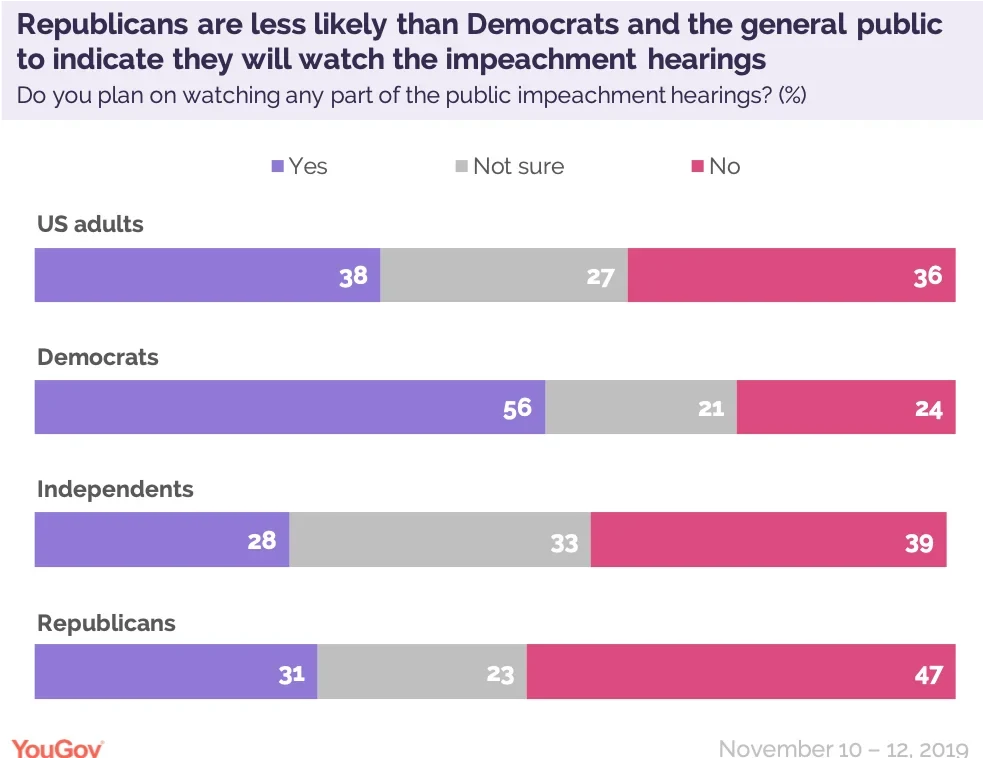 Among those who said that they would be watching, one in four said they would be glued to their screens and watch everything (28%); another third said they would watch "most" of the hearings (36%).
Most Democrats (59%) are "very interested" in the hearings while another three in ten (31%) reported being "somewhat interested." About a quarter of Republicans (28%) say they are "very interested" in the hearings and nearly four in 10 (39%) are "somewhat interested." A third of Republicans claim they are "not interested at all" (33%) – something only one in 10 Democrats (10%) report.
The stable opinion about impeachment exists on many questions, including ones on whether the House should impeach the President; whether there was there a quid pro quo, whether President Trump withheld military aid to Ukraine to push investigations into former Vice President Joe Biden and his son Hunter; and whether that would be an impeachable offense. The percentages are similar on all these questions.
For example, 45 percent of Americans believe it is an impeachable offense if Trump purposefully withheld military aid to Ukraine in order to get the president of Ukraine to investigate allegations of corruption against the Biden family. About one-third (37%) of US adults overall say it would not be an impeachable offense. Eight in 10 (82%) Democrats say would be, and three-quarters (74%) of Republicans say it would not be. Those margins are similar for all of the questions surrounding impeachment.
Ahead of the impeachment hearings, Republican's approval rating for the president was a soaring 86 percent, with just 13 percent saying they "somewhat disapprove" or "strongly disapprove" of how he is handling his job. In contrast, 41 percent of US adults approve of Trump's job performance compared to 50 percent who disapprove.
One effect of the impeachment inquiry is the new prominence of a country that many Americans didn't know much about – Ukraine. Americans, both Democrats and Republicans, now look on Ukraine as a friend: 14 percent call it an ally, and 36 percent a friendly country. 21 percent say it is unfriendly or an enemy. Nearly half the country can rate its newly elected President, Volodymyr Zelensky, the former comedian. Opinion of Zelensky is mixed: 24 percent are favorable, 21 percent are not.
By two to one, the American public does not think that Ukraine interfered in the 2016 election (49% say it did not, while 24% say it did). Republicans are even surer than Democrats are about the lack of Ukrainian interference. A majority of Republicans (59%) say that Ukraine did not interfere in the 2016 presidential election and a quarter (24%) say it did.
In last week's Economist/YouGov Poll, by two to one, Americans agreed that Russia interfered in the 2016 elections. But while Democrats – by nine to one – agreed that happened, twice as many Republicans claimed that didn't happen than said it did.

Read the toplines and tables results from this week's Economist/YouGov poll here

Image: Getty