Ten Democrats will take the stage tonight in the party's fifth debate, and while South Bend Mayor Pete Buttigieg may have climbed to the front of the pack in early state polls, on a national level, former Vice President Joe Biden and Massachusetts Senator Elizabeth Warren remain the first choices for the largest share of Democratic primary voters.
The latest Economist/YouGov Poll suggests that the impeachment hearing – and President Donald Trump's criticism of Biden and request to have Ukraine investigate Biden's family may be helping Biden –- at least among Democrats.
In the last week, Biden has picked up four points and Warren has lost four among Democratic primary voters; the percentage considering Biden has risen nine points. Vermont Senator Bernie Sanders and Buttigieg are further back, with the other candidates trailing.
Warren continues to have the highest favorable ratings; Biden is a close second. Just one person on the debate stage Wednesday receives negative ratings from Democratic voters: Hawaii Representative Tulsi Gabbard. Only about a quarter (24%) of Democratic primary voters are favorable and 44 percent — almost twice as many — are unfavorable. Every other candidate on the stage is someone Democratic voters view favorably. While 2 percent of Democratic voters say Gabbard is their first choice, only 6 percent would consider her candidacy (with men three times as likely as women to say this).
One facto propelling Biden is that Democratic voters are more likely to see him, not any of the other leading candidates, as likely to defeat Trump. Two-thirds say he would probably defeat the president, only half say that about Warren or Sanders.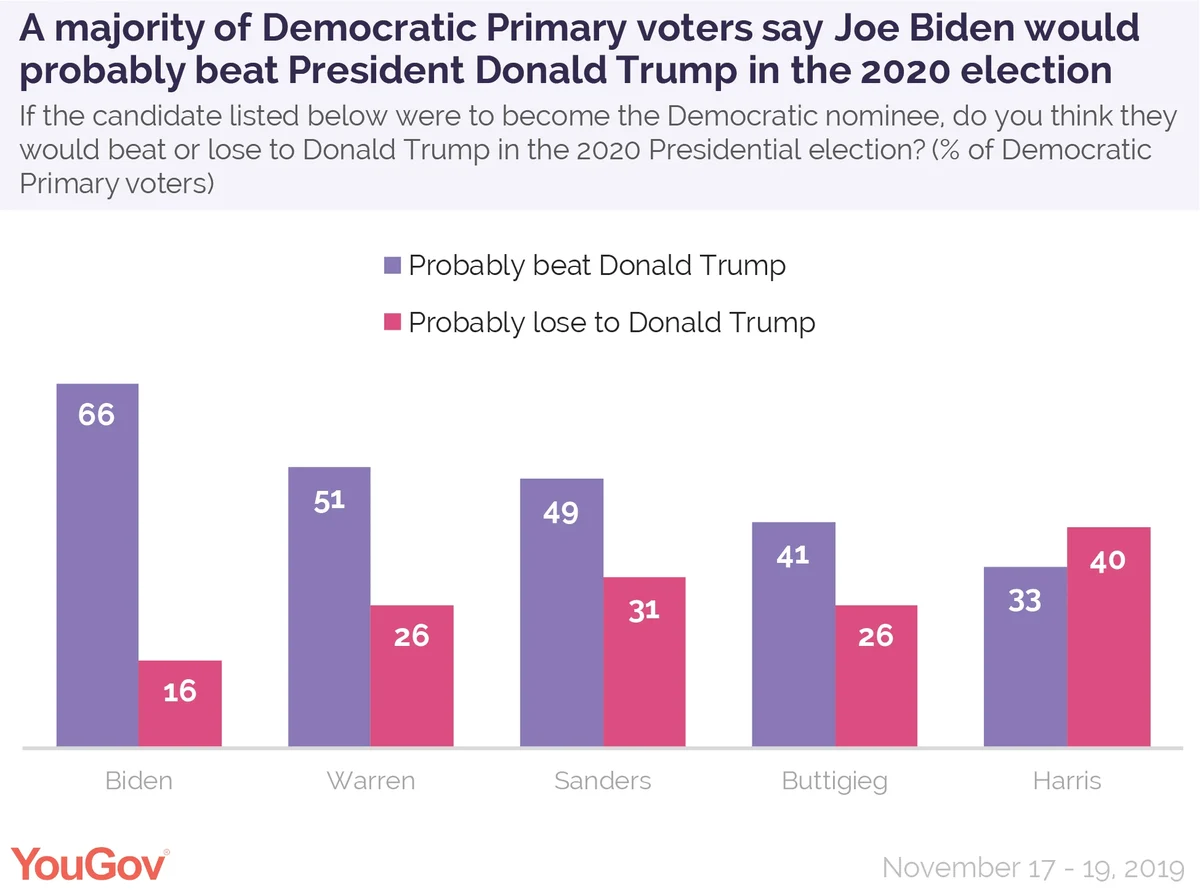 Fewer than half think Buttigieg would win, and more believe Harris would lose a contest with the president than say she would beat him. But while Democratic voters may be convinced their candidates can win, the rest of the public is not.
Republicans overwhelmingly think the president would beat all of the leading Democrats (75% of Republicans say that about Biden, who fares the best). Independents currently also are more likely to see a Trump victory than one by any of the Democrats. However, when registered voters are asked how they would vote –- for the Democrat or for the GOP President –-the unnamed Democrat holds a significant lead: 49 percent would support the Democrat, 40 percent the President and 9 percent are undecided.
Democratic voters have yet to lose interest in the primary debates: more than half say they will watch; seven in 10 say debates will be important in determining their vote. As in previous debates, voters are most likely to believe Warren will once again be the debate winner.
Since the last debate, there has been one new Democratic entrant, former Massachusetts Governor Deval Patrick. But he hasn't excited voters. Just 3 percent of Democratic primary voters are even considering his candidacy. As for the other possible entrant, former New York City mayor Michael Bloomberg, he has not gained support. Only 18 percent of Democratic voters say they would like new candidates to run, and very few of them volunteer Bloomberg as the candidate they want to see. Democratic voters overall have mixed opinions about him; the overall public is unfavorable.
Related: How America rated President Donald Trump's tweet about Ambassador Marie Yovanovitch
Read the toplines and tables results from this week's Economist/YouGov poll
Image: Getty