Americans can choose their friends, but not their relatives. So it is no surprise this Thanksgiving that there could be political tensions during family parties and dinners. However, most people in the latest Economist/YouGov Poll say they try to avoid political discussions at Thanksgiving, even though they may not always succeed.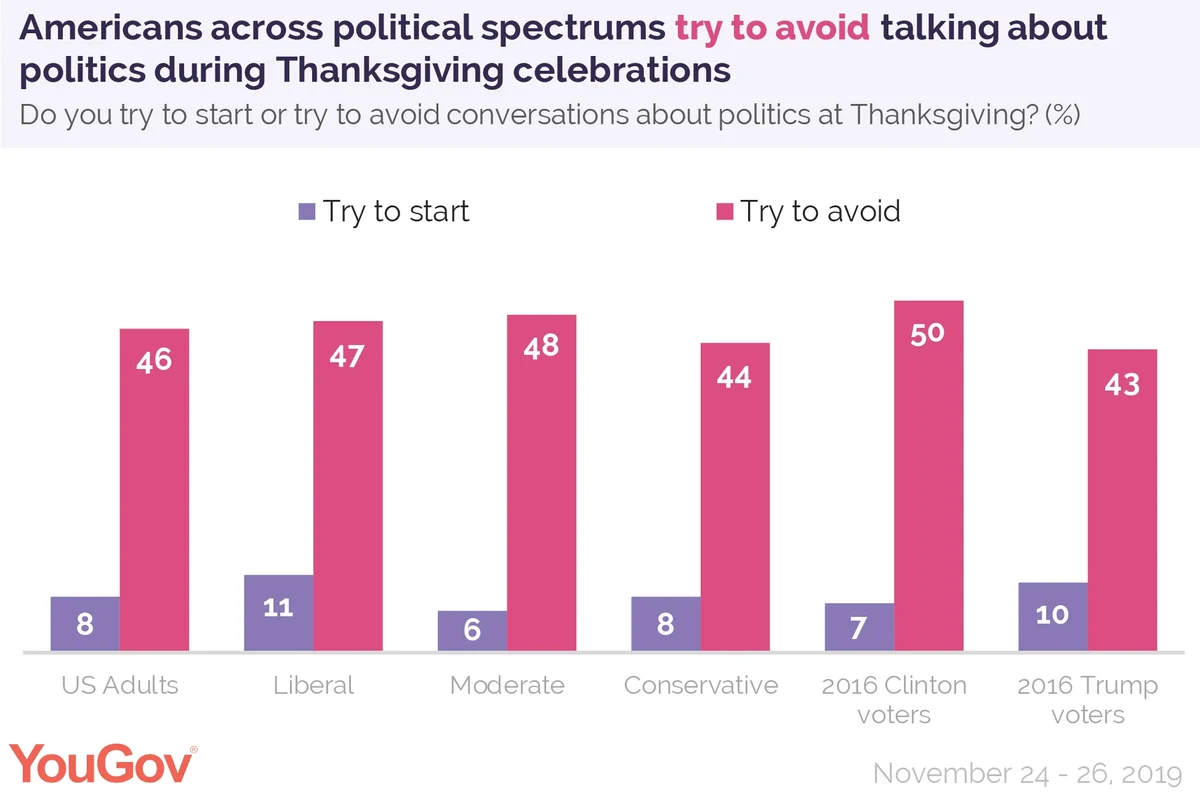 Fewer than one in 10 (8%) welcome and encourage political discussions.
There isn't much difference between liberals and conservatives on the desire to avoid politics at Thanksgiving. Only 7 percent of Americans who voted for Hillary Clinton in 2016 and 10 percent of those who voted for President Donald Trump in 2016 say they try to start political discussions.
About a third of those who try to avoid political discussions over Thanksgiving dinners fail: one in three say that politics is "sometimes" talked about at their family gatherings. Meanwhile, 80 percent of those who try to start political discussions succeed – those discussions (or arguments) are usually part of holiday dinners. For the four in 10 Americans (41%) who neither start nor actively try to avoid political discussions, they say those discussions are mostly bound to happen anyway.
Liberals may have a harder time than conservatives when it comes to family dinners. Although half of liberals (49%) believe that most (if not all) of their relatives are also liberal, conservatives appear much more likely to have relatives who share their ideology. Two in three conservatives (64%) say most of their relatives agree with them ideologically. There is less difference when it comes to friends: nearly two in three liberals (63%) and conservatives (62%) say their friends agree with them about politics.
Those who oppose the impeachment of President Trump may also have an easier dinner than those who favor it. Most Americans have relatives who agree with them on this subject. But those who support impeachment are twice as likely as those who do not to believe most of their relatives disagree with their position on impeaching the president. They are also less likely to think all their relatives agree with them.
Related: The worst thing to talk about during the holidays is not politics
See the full survey results and toplines from The Economist/YouGov poll
Image: Getty