As President Barack Obama begins his fourth year in office, and faces a re-election battle, he finds many Americans dissatisfied with his accomplishments and expecting little from him in the coming year. In the latest Economist/YouGov Poll (Week of 12/31/2011), 43% approve of the way the President is handling his job. That is not much different from the 46% approval recorded in the poll a year ago.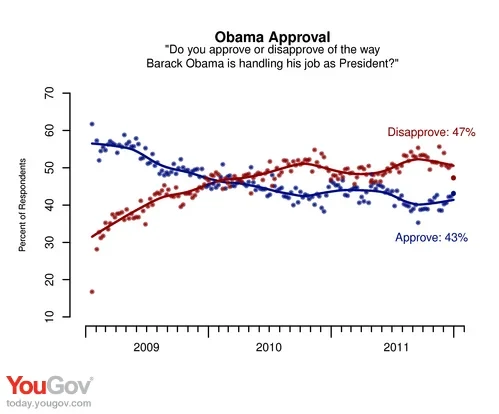 The President's approval rating has remained low all year, although it rebounded slightly after the killing of Osama bin Laden. Americans think the President has made little or no progress fulfilling three of his campaign promises: changing the partisan tone in Washington, improving the U.S. image in the world and improving the economy. In fact, when it comes to the country's most important issue — the economy — 62% think President Obama has made little or no progress this past year on that.
Looking ahead, most Americans expect little progress on those issues in 2012. Just over a third think the President will make even some progress on improving the economy.
Democrats, as well as Republicans, increasingly think the President is accomplishing less than they expected of him. Overall, 42% say he has accomplished less than they expected, up from 37% a year ago. Democrats have changed even more: 36% now say the President has accomplished less than they expected, up from 25% last year.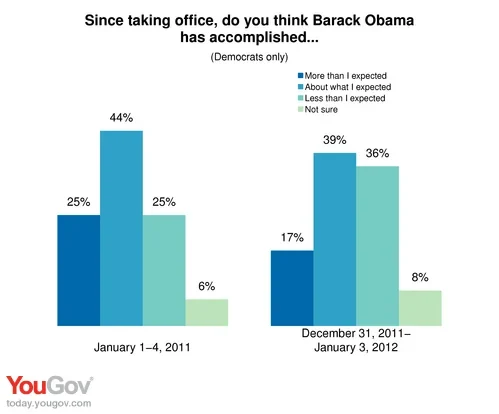 Looking ahead to how future generations will assess the Obama Presidency, just 29% think it will be thought of as above average or better. Nearly as many (24%) think Obama will be remembered as a "poor" President. 
Photo source: Press Association