The televised impeachment of President Donald Trump has changed American opinions very little. People are still split on whether or not he should be impeached and removed from office. Opinions in Economist/YouGov Polls in mid-October are essentially the same as opinions today: a small plurality supports impeachment, with the partisan breakdown almost unchanged.
As in October, many Independents are still not sure what to think: this week, one in four Independents takes no position on impeachment, the same as two months ago.
The Trump impeachment battle has affected what partisans consider impeachable today. Democrats of the House Judiciary Committee have written two articles of impeachment: Obstruction of Justice (formulated as Obstruction of Congress) and Abuse of Power. Many Republicans do not believe a president can be impeached for committing those offenses.
About four in 10 Republicans (41%) today agree that obstruction of justice, one of the two charges made against President Bill Clinton in 1998, is an impeachable offense. The rest say it isn't (29%) or aren't sure (31%). In 1998 polls, most Republicans approved of the impeachment of President Clinton on these charges and most Republicans in the House voted in favor.
Nearly the same percentage of Republicans (40%) today reject "abuse of power" as an impeachable offense. Abuse of power was also one of the charges against President Richard Nixon (who resigned before the full House of Representatives voted on them), and the other charge against President Trump. Just 28 percent of Republicans say "abuse of power" is not an impeachable offense while about one-third (32%) are unsure.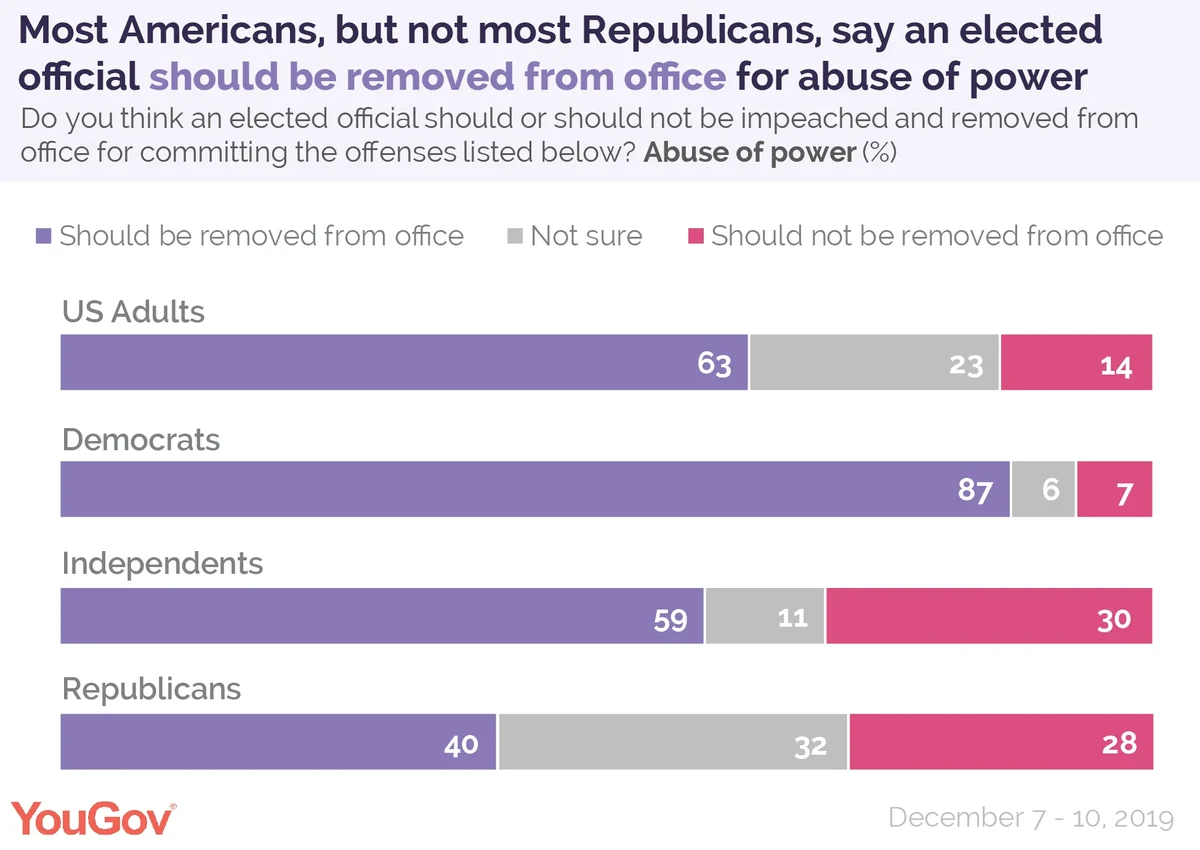 Even fewer in the GOP are willing to say that if it was proven that military aid to Ukraine was withheld in return for a political investigation (part of the abuse of power charge), it would still not be impeachable. Currently, Republicans don't believe there was any quid pro quo (71 percent say there was not; 14 percent say there was).
Republicans are less than half as likely as Democrats to say they are very interested in the impeachment hearings, were less likely than Democrats to watch them, and when Republicans did watch, they were more likely to have seen only highlights of the hearings. GOP support for the President continues to be solid: 86% approve of how he is handling his job, just 11 percent do not. The President's overall approval rating hasn't moved much during the hearings. This week. 42 percent approve, 49 percent do not.
Some have changed their view when it comes to evaluations of Congress, especially when it comes to the influence of the Democrats. A majority of the public disapproves of how Congress is handling its job, but that's nothing new. Americans have consistently viewed Congress as doing less than it has in the past. Half the public in this week's poll says that, up from 42 percent in April, about 100 days into the current Congress and its split party control (Democrats controlling the House, Republicans the Senate). That's not a large movement. But who gets blamed for that has changed.
In April, Americans who thought Congress was accomplishing less than usual were just about as likely to blame the Republicans as the Democrats. By mid-October, more blamed the Democrats, and even more say that today.
Today, nearly two-thirds of Democrats blame Republicans for lack of accomplishment in Congress, but nearly nine in ten Republicans blame Democrats. Independents are more than twice as likely to hold Democrats responsible as to blame Republicans.
Nearly half (45%) of Americans disapprove of the way Nancy Pelosi, the Speaker of the House of Representatives, is handling her job and 36 percent approve. But, perhaps more important for her leadership, three-quarters of Democrats approve, making her more popular with her party than the Senate Majority Leader, Republican Mitch McConnell, is with his -- 42 percent overall disapprove of how McConnell is handling his job, while 30 percent approve. Among Republicans, 63 percent approve of McConnell's performance, 13 points lower than Democratic approval of Pelosi.
Related: On the brink of impeachment, President Trump holds onto a good economy
See the toplines and table results from this week's Economist/YouGov poll
Image: Getty