The Democratic-led House of Representatives appears ready to move forward with the impeachment of Republican President Donald Trump. Opinions about the process are polarized just like the atmosphere in Congress. According to the latest Economist/YouGov Poll, 88 percent of Democrats nationally, and just 8 percent of Republicans, favor impeachment.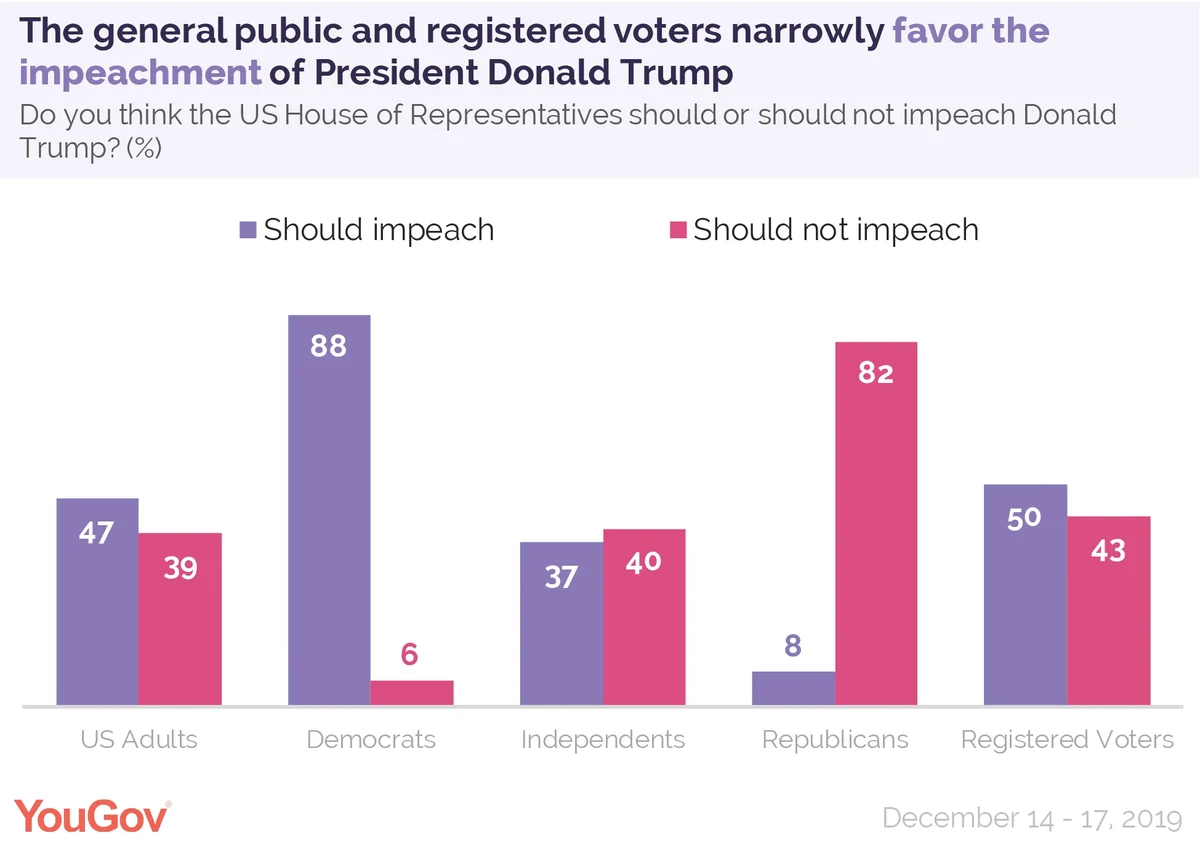 The parties continue to diverge on what they believe are the facts of the case. A majority (81%) of Democrats believe there was a quid pro quo – a potential trade of military aid for Ukraine in return for investigation of former Vice President Joe Biden and his son, while only 10 percent of Republicans do. They also differ on what exactly is an impeachable offense (by 70% to 12%, Republicans say that even if there were such a deal, it would not rise to the level of an impeachable offense).
The ferocity of the debate may have shaken some Democrats' faith that impeachment is the right decision. Americans blame Democrats more than they blame Republicans for inaction in Congress, and the level of blame for Democrats has been rising all year.
That uncertainty is bleeding into the presidential race, too. This week, Democrats express far more doubt than Republicans do that their candidate can win the general election, even though the Democratic candidate holds an advantage in preference. Asked whether they would vote for an unnamed Democrat or for Trump, the Democrat has a nine-point lead. That said, registered voters are split when asked whether they believe a Democrat or Trump will win next fall.
Just 2 percent of those who now say they will vote for Trump believe he will lose the 2020 election. About one in 10 (11%) of those favoring the unnamed Democrat think their candidate will suffer defeat.
At the moment, registered voters don't think any of the Democratic frontrunners will defeat the president next November. Biden comes closest: 40 percent of registered voters think he will win, while 46 percent believe the president will be re-elected if Biden is the nominee. Among Democrats, only Biden and Vermont Senator Bernie Sanders have a majority that believes they can win.
A plurality of Democratic primary voters think Massachusetts Senator Elizabeth Warren would win; a plurality say South Bend Mayor Pete Buttigieg would not.
But it may not be just worry about candidate electability and impeachment jitters that drive Democratic concern. The strong economy is helping the president. Although his approval rating remains low (40 percent in this week's poll), his approval rating for handling the economy is at 50 percent, his second-best rating ever on that issue (earlier this year, in a May Economist/YouGov Poll, 51 percent approved and 36 percent disapproved).
One in three Americans believes the economy is getting better, while 26 percent believe it is getting worse—another positive evaluation. And when asked whether they personally are better off than they were four years ago, more say they are than say they are not. But like nearly all economic measures, partisanship matters. Republicans say they are better off by seven to one (77% to 11%) but Democrats are twice as likely to disagree as agree (25% to 51%).
Related: Kamala Harris' departure changed little in the Democratic primary race
See the toplines and table results from this week's Economist/YouGov poll
Image: Getty