Americans say they like free trade agreements. But there is clearly a hint of protectionism as well, and a sense among some in the latest Economist/YouGov Poll that their country may be a victim of unfair trade practices — from some countries.
The trade issue becomes more critical after last week's United Kingdom election and Conservative Boris Johnson's clear victory as Prime Minister. The likelihood now is that Brexit – the departure of Great Britain from the European Union – will happen soon. Johnson gets mixed evaluations from the public: 29 percent are favorable, 32 percent are not. There is a partisan split. By five to one, Republicans have a favorable opinion of Johnson; by four to one, Democrats don't.
About four in ten (43%) Republicans believe that Johnson's win in Britain makes it more likely that President Donald Trump will win in 2020 (Democrats overwhelmingly think there is no relationship). But those in both parties agree that the two men are much alike.
For Democrats, that may not translate into a positive assessment of either man: a majority (54%) of Democrats have a "somewhat unfavorable" or "very unfavorable" opinion of Johnson, and even more (89%) view Trump the same way
Other G-7 leaders are generally seen favorably by Americans, while overall opinion of Johnson is divided. France's Emmanuel Macron, Germany's Angela Merkel, and Canada's Justin Trudeau are all liked by the general public – except by Republicans.
Russia's Vladimir Putin is the only one of the five Republicans and Democrats agree about: both sets of partisans view him negatively. About four in five (79%) Democrats and 65 percent of Republicans say their opinion of the Russian leader is "somewhat unfavorable" or "very unfavorable".
Views of Johnson and other world leaders aside, two-thirds of Americans (66%) would like to have a free trade agreement with the United Kingdom. That's as many as favor a free trade agreement with Canada. A majority (55%) support a free trade agreement with the EU.
But there are suspicions about several countries, especially among Republicans. Canada and South Korea are two countries in this poll that are perceived by both Republicans and Democrats as having fair trade policies with the United States. On the other hand, Republicans say both Mexico and the European Union have unfair trade policies. Democrats disagree. But both Democrats and Republicans see China and Russia as unfair international traders.
Tariffs, which President Trump has been increasing during his trade negotiations, could limit the free trade that Americans generally support. In this week's poll, Democrats say tariffs hurt the United States' economy; Republicans believe they help.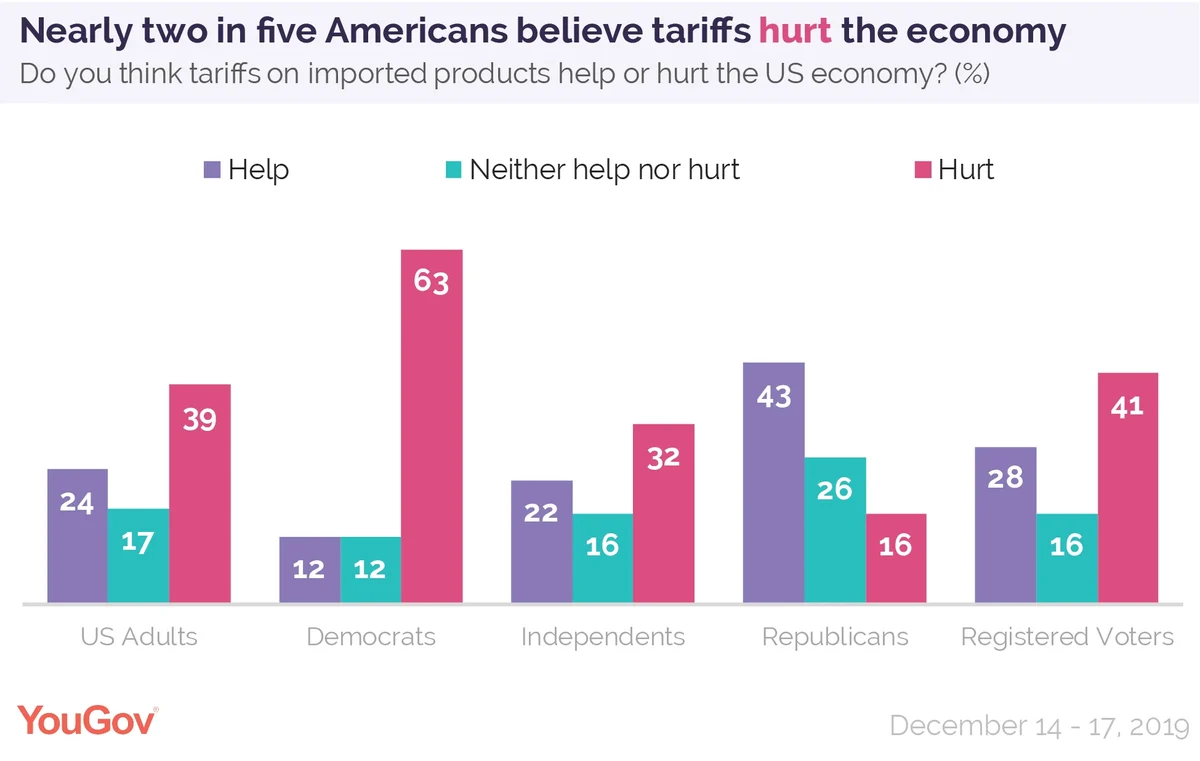 Nearly three-quarters of Democrats see the trade war with China as hurting the US; two-thirds of Republicans say it has helped or had no impact. As for recent negotiations, only 15 percent say they have heard a lot about the President's "phase one" negotiations for a trade deal with China. More than half the public can't say if it will be good or bad for the country.
Related: America believes in debates
See the toplines and table results from this week's Economist/YouGov poll
Image: Getty