It's all about the witnesses.
Democrats did little to shake Americans from the opinions they held going into the Senate trial of President Donald Trump, according to the latest Economist/YouGov Poll. The public remains almost evenly divided on whether the Senate should remove the president from office. But there has been a change in America's appetite for witnesses.
The public still wants former National Security Advisor John Bolton to testify, but are not at all sure that Hunter Biden, former Vice President Joe Biden's son, should.
All party groups have moved in the direction of rejecting the need for Hunter Biden to testify. This week, more than a third of Republicans said they don't think his testimony is necessary, an increase of 10 points from last week. Less than half of them believe Biden should testify.
In general, Americans want the Senate to hear new evidence and to call witnesses. About half (49%) support new evidence, 32 percent do not. Republicans take a different position: by three to one, they oppose hearing any additional evidence. Similarly, Americans support additional witnesses beyond Bolton and Biden, 49 percent to 26 percent. Republicans disagree by two to one, 53 percent to 24 percent. However, Senate Majority Leader Mitch McConnell has told the GOP caucus that he lacks the votes to block calling witnesses.
One striking finding this week is the increase in those who doubt that the Senate will hold a fair and unbiased trial. That percentage has risen five points, and now a clear plurality do not think the trial will be fair. Nearly two in three Democrats, along with a plurality of Independents and a quarter of Republicans take this position.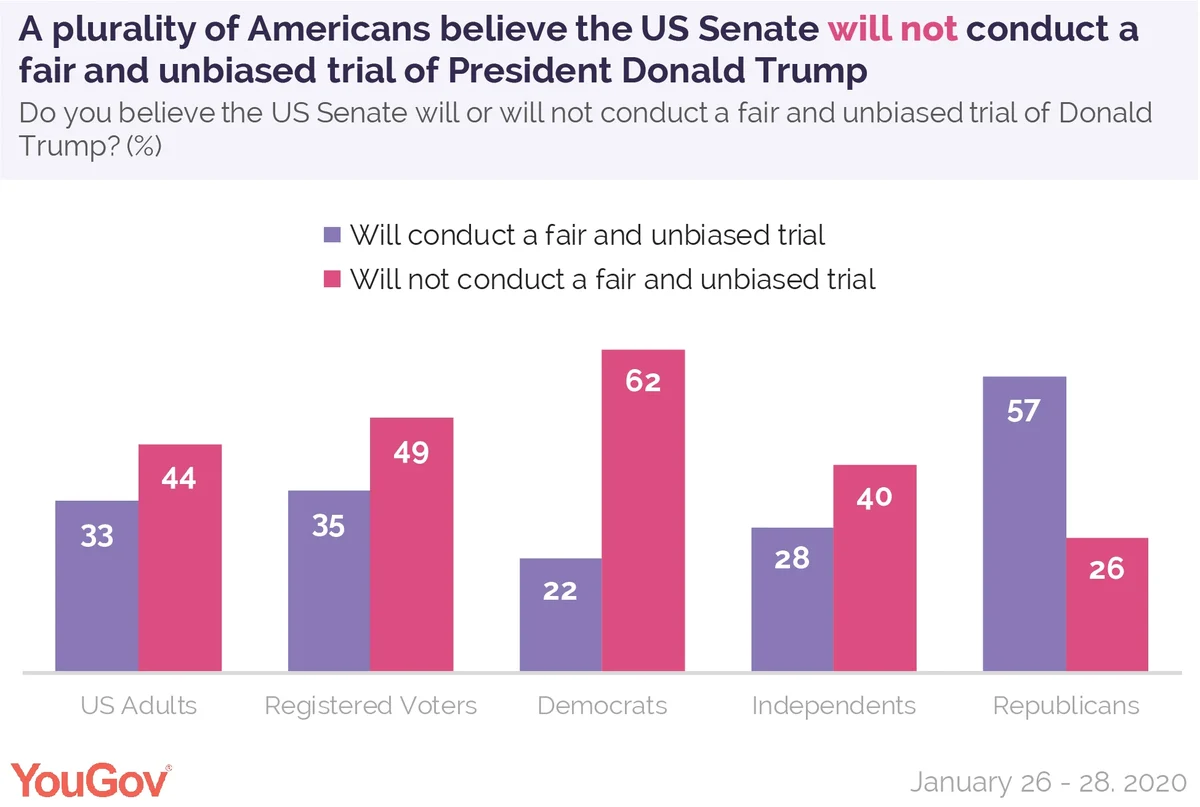 Republicans who think of themselves as conservative expect a fair Senate trial by nearly three to one (63% to 23%). But non-conservative Republicans are evenly divided in their expectation that the Senate trial will be fair. It is worth noting that public opinion of Chief Justice John Roberts, who is presiding over the trial, remains favorable, 38% to 22%. But four in 10 have no opinion of him.
Underlying opinions about impeachment have changed little in the last few weeks. Americans believe the two Articles of Impeachment are true: the public believes the president did try to hold back military aid to Ukraine to force the country to investigate Hunter Biden's business actions there, and that President Trump obstructed Congressional investigations.
But opinions of his impeachment and possible removal remain almost evenly split: 47 percent approve of the House impeachment votes, and 41 percent do not. Public opinion of whether the Senate should remove the president from office is even tighter.
Few expect Donald Trump will be removed from office: just 17 percent think it is likely he will leave office before his term ends next January.
See the full toplines and crosstabs from this week's Economist/YouGov poll
Image: Getty