One problem that former Massachusetts Governor Mitt Romney faces as he seeks to win over the more than two-thirds of GOP voters who don't currently make him their first choice for their party's presidential nomination is that he is perceived by many as someone who doesn't really speak his mind. In the latest Economist/YouGov Poll (Week of 1/14/2012), half of registered voters who expect to participate in the GOP delegate selection process this year say they think Romney mostly says what he thinks people want to hear — not what he really believes.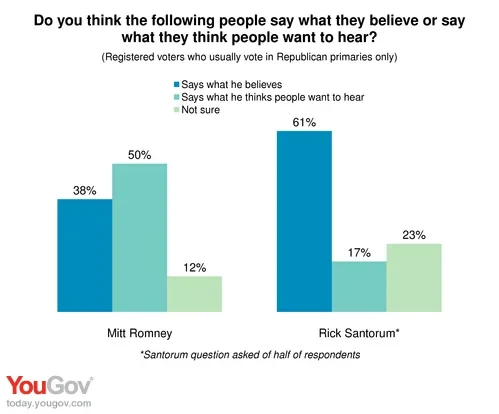 The contrast is especially noticeable when GOP voters are asked the same question about former Pennsylvania Senator Rick Santorum, now battling former House Speaker Newt Gingrich for second place among GOP voters. 61% of Republican voters think Santorum says what he really believes.
Many GOP voters hold other negative assessments of Romney. Nearly one third say Romney doesn't care about people like themselves; 41% don't think he sticks to the positions he takes. There is almost unanimous agreement that Romney cares about wealthy people: 92% of GOP voters believe that's the case.
He is also less likely to be viewed as a conservative than are Santorum and Romney.
But there are some positives for Romney, too. Most Republicans voters like him; more have a favorable view of him than have a favorable view of Gingrich. Santo-rum also is liked, and by a similar number as Romney.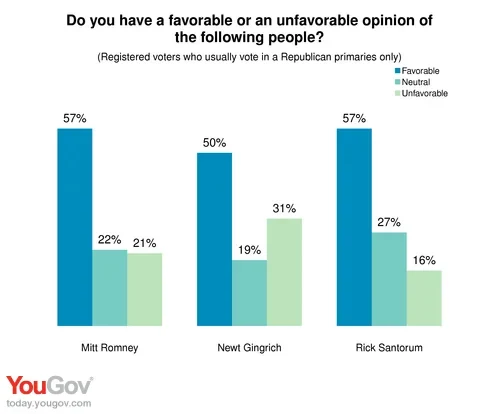 And including those who name Romney as their second choice candidate brings Romney's GOP voter support to more than half — far more than Gingrich and Santorum's.
Romney continues to be the most electable Republican candidate, judging from this poll's head to head hypothetical fall election contests. Romney trails President Barack Obama — if the November election were being held today — by just four points. Santorum is 11 points behind; Gingrich trails the President by 16 points.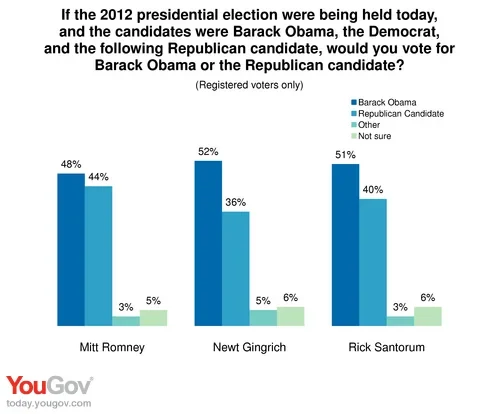 Photo source: Press Association