There's less than three weeks to go before the Academy Awards are given out, yet four in ten adults interviewed in the latest Economist/YouGov Poll admit having seen none of the ten films nominated for Best Picture. And the most-viewed movies are not necessarily the ones with the greatest Oscar buzz.
The most-seen of the nominated pictures is Toy Story 3, seen by 39% of respondents. That's followed by Inception (27%) and True Grit (22%). Only 12% have seen The Social Network, 10% Black Swan, and 7% each The King's Speech, The Kids Are All Right, and The Fighter.
Toy Story is the most-seen movie in nearly all demographic and political groups. The exception comes among those 65 and older. More of these older Americans have seen True Grit than have seen Toy Story. However, those over 65 are the least likely to go to the movies at all. 64% of them claim to have seen NONE of the nominated movies.
Not seeing a movie doesn't keep some people from having opinions about what should win. Although majorities of adults aren't sure what should be the Best Picture, and who should win Best Actor and Actress, those who are may not have seen the movies and characterizations they support. 10% say The King's Speech should be Best Picture, more than have seen it (and more than choose any other movie).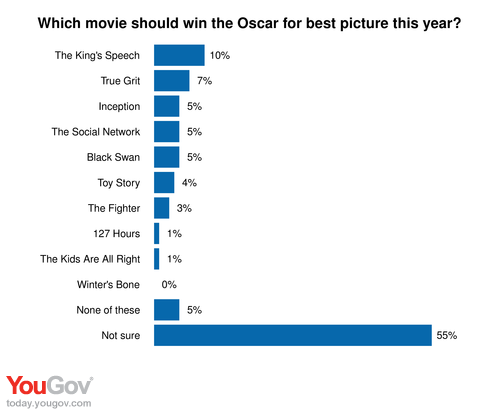 15% (twice as many as have seen The King's Speech) choose Colin Firth, from that movie, as Best Actor for his portrayal of the stammering Duke of York. But he is in a tight race with the public with last year's winner, Jeff Bridges of True Grit. There is no contest for Best Actress: 22% name Natalie Portman of Black Swan, more than twice as many who say they have seen that movie.
Image source: Flickr (Dave_B_)