About a quarter (26%) Americans who watched the tenth Democratic debate on Tuesday believe that Vermont Senator Bernie Sanders made the best case that he could beat President Donald Trump in the general election, according to a post-debate CBS News/YouGov survey of likely Democratic primary voters who watched the debate.
About one in five (21%) Democratic primary voters believe former Vice President Joe Biden made the strongest case that he could defeat Trump. More than one in ten indicated that Massachusetts Senator Elizabeth Warren (12%) and former New York City Mayor Michael Bloomberg (11%) made the best case for defeating the Republican incumbent president.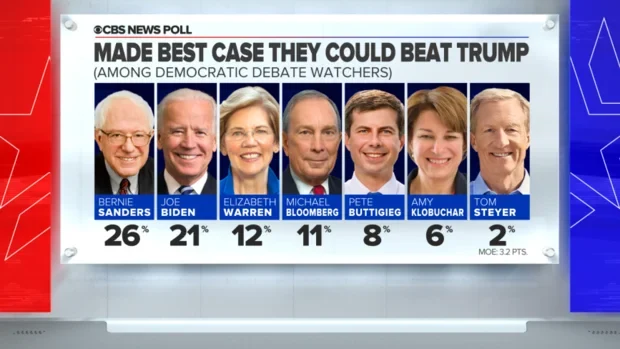 About half of likely Democratic primary voters who watched the debate (45%) said that Sanders was an impressive candidate, closely followed by Biden (43%). Two in five (40%) thought Warren was impressive, followed by former South Bend Mayor Pete Buttigieg (38%). About one in three (31%) named Minnesota Senator Amy Klobuchar as impressive.
A plurality of the debate watchers (37%) say that Klobuchar had the most memorable moment of the night when she warned Democrats that if they continued to tear each other apart, President Trump will ultimately reap the benefits. Senator Klobuchar said, "If we spend the next four months tearing our party apart we're going to watch Donald Trump spend the next four years tearing our country apart. So my argument here is that we need to get back to what's happening right now."
About half (47%) of the likely Democratic primary voters who watched the debate say they are "nervous" about the group of Democratic candidates they have to choose from. Slightly fewer say they are feeling "optimistic."
The South Carolina debate was the candidates' last showcase before the state's primary on Saturday. The latest CBS News/YouGov Battleground Tracker indicates that while Biden is the most likely first choice in South Carolina (28%), Sanders is close on his heels (23%). Following the South Carolina primary on Saturday, the Democratic candidates will face Super Tuesday — the day when 14 states will grant their primary delegates.
Related: Biden leads in South Carolina with Sanders in striking distance
See the full results from the CBS/YouGov Post-Debate poll of Democratic debate watchers
Methodology: This CBS News survey is based on 1,554 interviews of U.S. adults who watched the Democratic debate on Tuesday, February 25, 2020. An initial survey was conducted by YouGov between February 20-22, 2020 using a nationally representative sample of 10,000 U.S. registered voters, including 6,498 self-identified Democrats, as well as Independents who plan to vote in the Democratic primary this year. Respondents who planned to watch the debate were recontacted for this survey. Only those who watched the debate were included in the analysis. The margin of error is 3.2% pts.
Image: Getty and CBS News