Debates matter. Perceptions changed about the Democratic presidential candidates after last week's much-watched Nevada debate, the first with participation by former New York City Mayor Michael Bloomberg, according to the most recent Economist/YouGov survey. The poll was completed before the Tuesday night South Carolina debate.
Massachusetts Senator Elizabeth Warren, standing next to Bloomberg in last week's debate, attacked him on both policy (New York City's "stop and frisk" rule that especially disadvantaged African-Americans) and his management of his giant media company (non-disclosure agreements with women employees over their treatment at work).
Warren was once again seen as the debate winner by Democratic voters. About two in five (39%) say she did the best job in Nevada, compared with about one in five (21%) who named Sanders. That debate cost Bloomberg a lot, at least for now.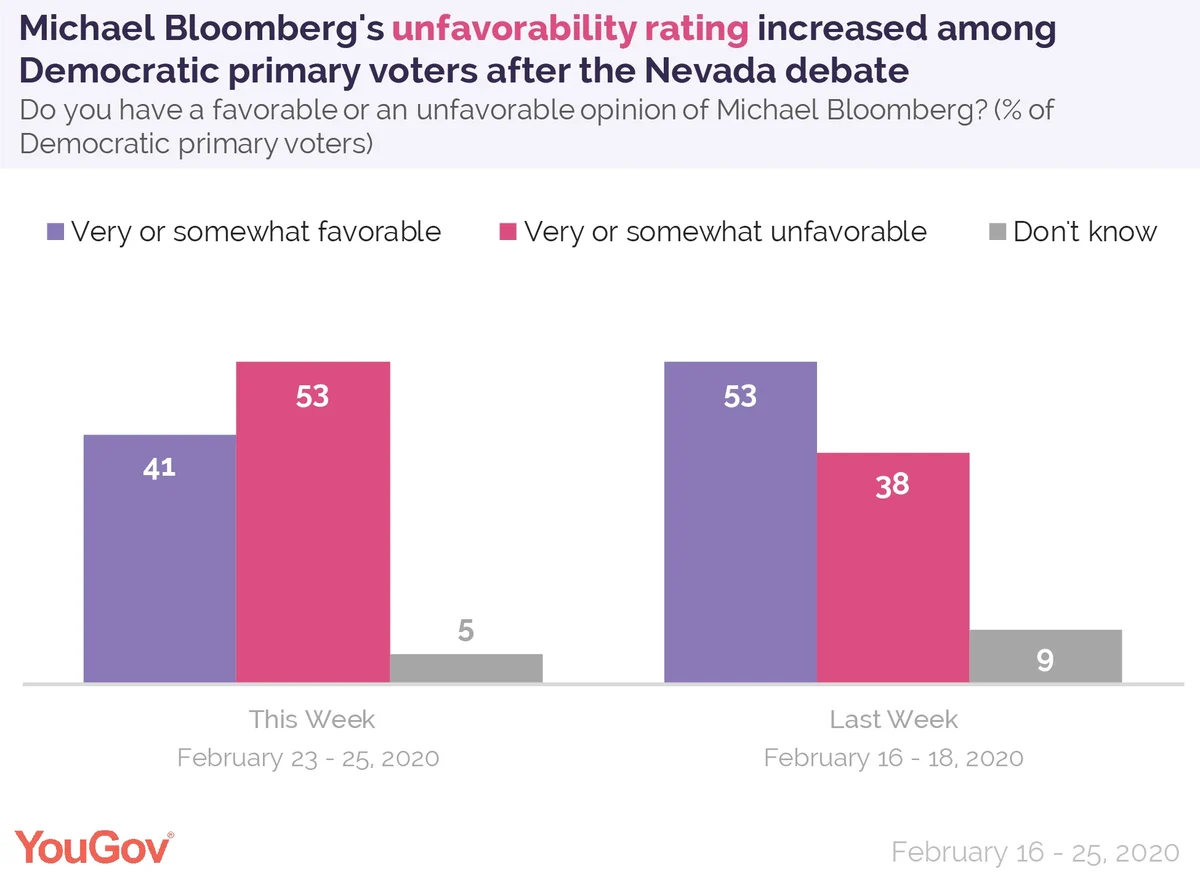 While Vermont Senator Bernie Sanders' gains in Democratic voter preference may also have been affected by his strong performance in Saturday's Nevada caucuses (not completely counted when polling began, though Sanders was ahead in the entrance polls), Bloomberg was more directly impacted.
Last week, a majority of Democratic primary voters had a favorable impression of Bloomberg; this week a majority do not. Last week, about half (51%) of Democratic voters believed that if Bloomberg were nominated, he would beat Donald Trump, something most prioritize over issue agreement with a candidate. This week, that percentage dropped seven points. Only 44 percent of Democratic voters now believe Bloomberg can win.
Only Sanders and former Vice President Joe Biden are thought of as likely to defeat President Trump. Worse, perhaps, for Bloomberg is that 44 percent of Democratic voters say they would be "disappointed" if Bloomberg were nominated. That's the largest percentage for any candidate. Last week, just 30% said they would be disappointed with a Bloomberg nomination.
Hawaii Representative Tulsi Gabbard would elicit nearly the same amount of disappointment as Bloomberg would, but her percentage on this question has not changed. One in four would be disappointed if Biden, Sanders, or businessman Tom Steyer were nominated; those numbers also have remained relatively consistent. Both Minnesota Senator Amy Klobuchar and former South Bend Mayor Pete Buttigieg, who quarreled with each other during last week's debate, see disappointment with their nominations up in this week's poll.
Sanders' lead over Biden as Democratic voters' first choice was six points last week; it is ten points now. Bloomberg remains the first choice of one in 10Democratic voters. But majorities of liberals, men, and white Democratic voters would be disappointed if Bloomberg were the nominee, along with 66% of Democratic voters under the age of 30 (among that group, 55% support Sanders). There is a sizable age gap. Sanders is favored by a majority of young Democratic voters but is in fourth place among voters 65 and older, behind Biden, Warren, and Bloomberg.
Sanders' lead is even more impressive, as a majority of his supporters (59%) are considering only his candidacy. Most of those supporting other candidates are considering several candidates.
The final question in last week's debate was about what should happen if no candidate comes to the Convention with a majority of pledged delegates. Superdelegates, the party and elected officials who are automatically Democratic convention delegates, are not popular with Sanders supporters, who criticized Hillary Clinton's superdelegate support in 2016 (Clinton did wind up with a majority of pledged delegates, though that was not always true during the nominating process). This year superdelegates, who are all unpledged, do not vote unless there is no nominee on the first ballot.
Democratic voters are not clear about what will happen at the convention. As many think a candidate will win the nomination outright before the convention takes place as think there will be an open convention, and superdelegate votes will be needed. If that is the case, Democratic voters, by two to one, want superdelegates to support whoever carries their state, not make a decision based on their own preference.
There is no consensus among Democratic voters about how the nomination should be decided, More think it should be the candidate with the most total votes than say it should be the person with the most delegates. Only 16 percent think the delegates should choose the person most likely to win.
Related: America thinks President Trump tweets too much
Read the full toplines and crosstabs from this week's Economist/YouGov poll
Image: Getty