Only a few months ago, it would have been uncommon and unusual to see Americans donning face masks as they go about their days. But things have changed rapidly amidst the coronavirus crisis and the rate of Americans who say they use face masks has soared within the last month.

According to the latest wave of YouGov's eight-week COVID-19 study, Americans are six times as likely to say they wear a face mask when in public now compared with what they said just three weeks ago (29% in week 4 vs. 5% in week 1). Even compared with week 3 of the study, the rate of people who say they use face masks jumped 12 points this week. The marked increase coincides with the new guidelines from the White House administration and Centers for Disease Control and Prevention (CDC) recommending the use of cloth face coverings in public areas.



This new recommendation, announced April 2nd, is a different direction from what was the mainline public health message just days ago. Prior to the change, health officials recommended the use of face masks and coverings only for people who were sick, not for those who were healthy. Now, the revised policy encourages broader use—regardless of health and especially when in public areas where it is difficult to practice social distancing (e.g., grocery stores/pharmacies).

Along with the revised recommendation last week, the CDC also provided instructions on how to make face masks at home. A separate YouGov poll of over 6,000 Americans from April 2nd reveals that 13 percent of Americans have already made their own face masks and an additional quarter (25%) say they would consider doing so. At the time, more than half of Americans (58%) said they have not considered making their own protective face masks.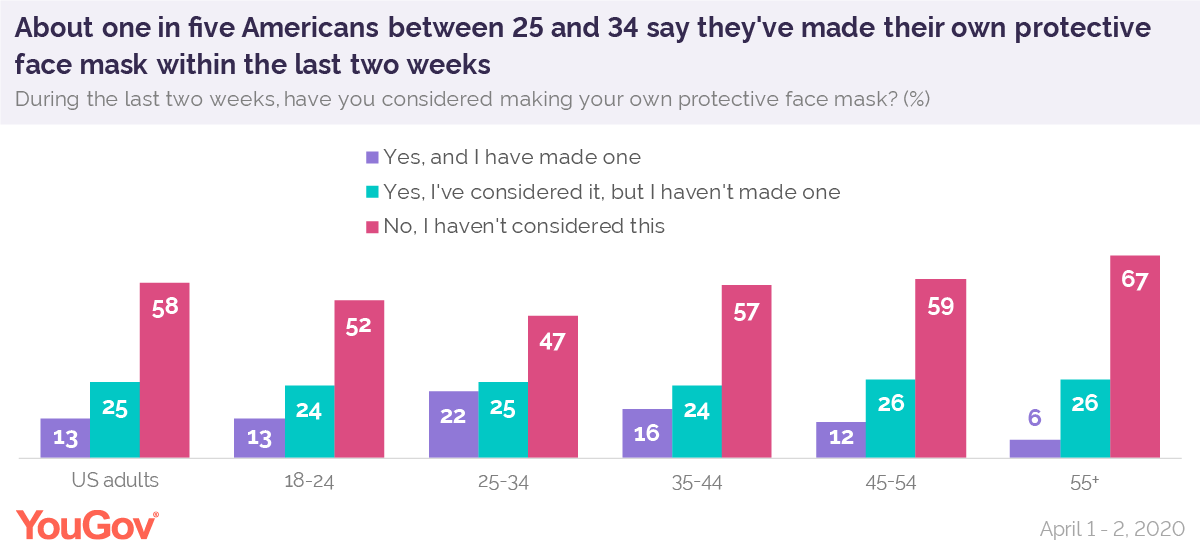 Methodology: YouGov's study on attitudes and behaviors around COVID-19 is launched every Thursday (starting March 12, 2020) to 1,000 US adults aged 18 and over for eight weeks and provides results of that weeks' tracking on the Monday-Thursday of the following week. All interviews are conducted online and weighed to be nationally representative.

Read other insights into how Americans are responding to COVID-19

Follow what people around the world say and think about COVID-19

Image: Getty