Americans in the latest Economist/YouGov Poll (Week of 2/4/2012) may be beginning to feel better about the state of the country: the percentage saying that it is off on the wrong track has dropped six points in the last few weeks. Though it is still a majority, it suggests that the declining unemployment rate, released on Friday, may be beginning to have an impact on public perceptions.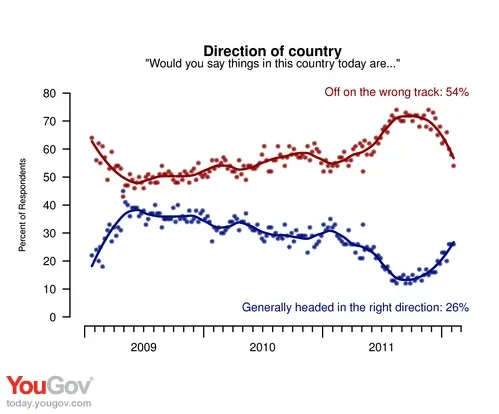 And approval of the President's handling of the economy — the country's most important issue – is also up a bit: 37% this week approve, though 53% disapprove. More important, only 28% blame his Administration for the state of the economy. 39% blame his predecessor George W. Bush's Administration.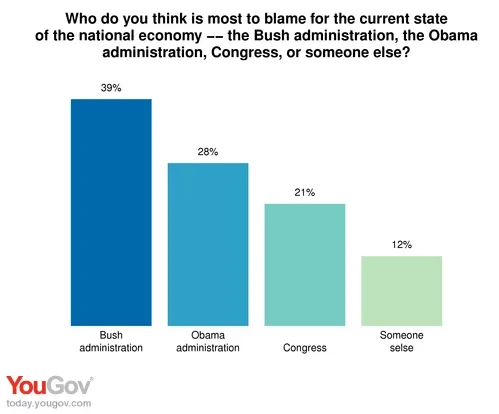 And the improving jobs situation (along with the rough battle for the GOP nomination) may also have improved the President's chances of winning the November election. In this week's head to head matchups, President Obama leads former Massachusetts Governor Mitt Romney and Texas Congressman Ron Paul by 12 points, former Pennsylvania Senator Rick Santorum by 15 points, and former House Speaker Newt Gingrich by 18 points.
However, the President's overall approval rating remains below 50%. This week 42% approve, while 48% do not.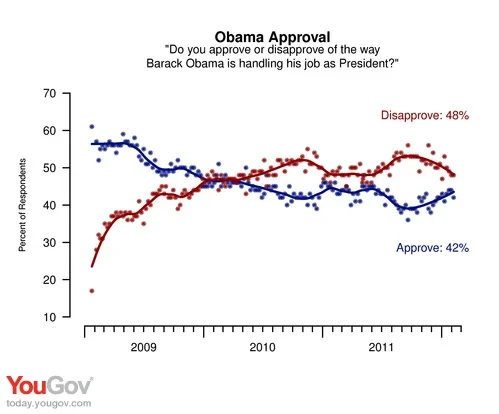 There are still economic problems. Asked whether the nation's economy is getting better or worse, more say it's getting worse than getting better, and there has been hardly any improvement recently.